Sloto Magazine Blog
Details

Category: Sloto Magazine
The Holidays are near!
And this means our Winter Sloto Magazine is about to ship out to thousands of lucky subscribers! This is your chance to get your own in the mail and discover dozens of exclusive coupons!
Winter 2019 Magazine Features:
Our world famous Promotions Calendar
In every Sloto Magazine edition you will find exclusive coupons that grant Free Spins, Courtesy Tokens and Huge Reloads. Go to the middle section of the magazine to find a 3-month calendar that will certainly bolster your luck!
Crossword Puzzle, Trivia and Screen Shot Contest
Test your wits to reveal Free Spins and Free Cash tokens. Throughout the magazine you will find puzzles, trivia and contests!
Read our tips on how to optimize your planning for 2020. You will also find an inspiring horoscope that will guide your luck to new horizons.
Read articles about Santa Claus and the origin of his reindeer!
Be sure to look for those free chips, free spins and matching deposit bonuses to use playing all our amazing bonus slots.
SlotoCash online casino is here to enhance your online casino real money play.  Check us out - you will NOT be disappointed!
Details

Category: Sloto Magazine
As featured on Sloto Magazine
Halloween is approaching and you might be running late to find the perfect costume this year. Luckily Sloto Magazine is here to help you find creative and easy DIY (do-it-yourself) Halloween costumes.
Giant baby face
Difficulty level: low
Time requirement: 10 minutes
Yep, it can't get any creepier than this. Find an old doll and tape its arms and legs to your face. Take it to the next level and find a pacifier to carry in your mouth. Guests will love (and simultaneously dislike) looking at you!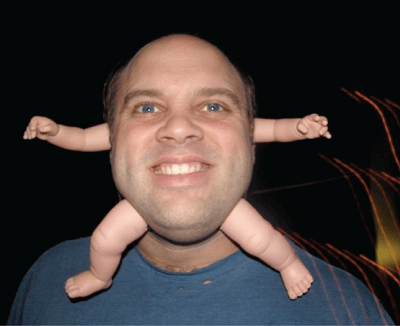 A living famous painting
Difficulty level: medium
Time requirement: 1-2 hours
This one is relatively easy. Find an old (light) wooden frame and dress up as you favorite portrait. We recommend the famous American Gothic painting by Grant Wood. This is ideal for couples and all you need for the man is denim overalls, a black blazer and a pitchfork; for the woman an old-fashioned dress and the hair pulled tightly back. Be creative, you could also do a famous Van Gogh, a Picasso or a fully abstract painting!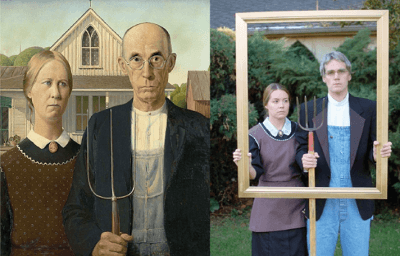 A cluster of grapes
Difficulty level: low
Time requirement: 1 hour
This is easy and fun. Blow up a couple dozen purple balloons and tied them around your purple outfit. A green hat or bonnet finishes the costume. Find a real cluster of grapes to carry around and offer to children!
And then....when all the trick-or-treating is done, when all the apples have been bobbed, and when you feel you can't move from "Did I eat ALL that candy???" it's time to find your favorite easy chair, plop down and login to the Sloto Cash casino lobby to check out all the treats there - free spins, free chips, match bonuses, new bonus slots to try out.....the list goes on and on.  SlotoCash online casino is YOUR address for fun and excitement - and a little relaxation too!
Details

Category: Sloto Magazine
Defining Differences
As featured on Sloto Magazine
Eleven years ago Bitcoin was released to the world, and except for a handful of technology geeks, few people were excited about it. In fact, the vast majority of people continued living their lives without the slightest idea that a revolution was on its way.
Fast forward to 2019 and you can now find over 1,600 cryptocurrencies. A new technology has flourished and it promises to change the way we view money, financial transactions and online security.
Bitcoin is perhaps the most familiar of all cryptocurrencies, but it's not the only one available. In fact, it has two children that go by the name of Bitcoin Cash (BCH) and Litecoin (LTC), which are very similar to their predecessor. They were released to solve practical issues encountered by Bitcoin.
Litecoin appeared in 2011, and its goal was simple: to reduce transaction costs and transaction times.
Bitcoin Cash appeared much later, in 2017. Its creators aimed at increasing the scope and capacity of the cryptocurrency's network, while also lowering fees and transaction times.
Here's a look at the main differences between the 3 cryptocurrencies:
| | BITCOIN (BTC) | Bitcoin Cash (BCH) | Litecoin (LTC) |
| --- | --- | --- | --- |
| Max. Number of Coins | 21 million | 21 million | 80 million |
| Average Block Size | 1 MB | <200KB | 32 MB |
| Average Transaction Time | 10 minutes | 10 minutes | 2.5 minutes |
| Average Fee (USD) | $2 | $0.005 | $0.07 |

And what does all this mean to us?  It means that banking just got easier at SlotoCash online casino.  Login to the Sloto Cash casino lobby and go directly to Banking.  There you can choose from a wide range of banking options - including Bitcoin and Litecoin we've spoken about here.  Make your deposit and you're on your way to some mega online casino real money FUN!!!