Sloto Magazine Blog
Details

Category: Sloto Magazine
As featured on Sloto Magazine
Halloween is approaching and you might be running late to find the perfect costume this year. Luckily Sloto Magazine is here to help you find creative and easy DIY (do-it-yourself) Halloween costumes.
Giant baby face
Difficulty level: low
Time requirement: 10 minutes
Yep, it can't get any creepier than this. Find an old doll and tape its arms and legs to your face. Take it to the next level and find a pacifier to carry in your mouth. Guests will love (and simultaneously dislike) looking at you!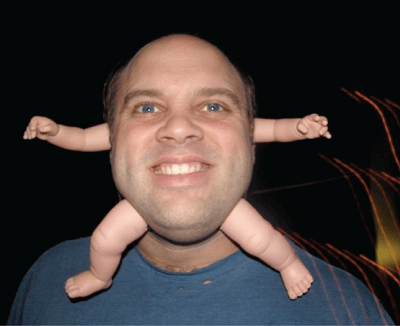 A living famous painting
Difficulty level: medium
Time requirement: 1-2 hours
This one is relatively easy. Find an old (light) wooden frame and dress up as you favorite portrait. We recommend the famous American Gothic painting by Grant Wood. This is ideal for couples and all you need for the man is denim overalls, a black blazer and a pitchfork; for the woman an old-fashioned dress and the hair pulled tightly back. Be creative, you could also do a famous Van Gogh, a Picasso or a fully abstract painting!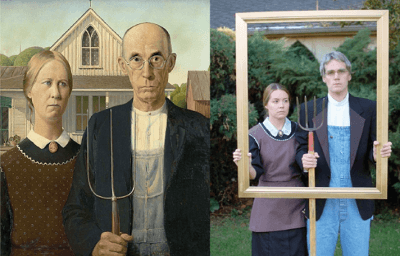 A cluster of grapes
Difficulty level: low
Time requirement: 1 hour
This is easy and fun. Blow up a couple dozen purple balloons and tied them around your purple outfit. A green hat or bonnet finishes the costume. Find a real cluster of grapes to carry around and offer to children!
Watch your Youtube Video with our costume suggestions :)
And then....when all the trick-or-treating is done, when all the apples have been bobbed, and when you feel you can't move from "Did I eat ALL that candy???" it's time to find your favorite easy chair, plop down and login to the Sloto Cash casino lobby to check out all the treats there - free spins, free chips, match bonuses, new bonus slots to try out.....the list goes on and on.  SlotoCash online casino is YOUR address for fun and excitement - and a little relaxation too!
Details

Category: Sloto Magazine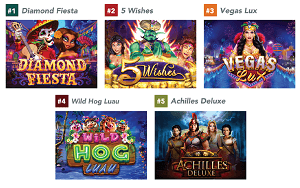 Our most popular game releases since 2020
As featured on Sloto Magazine

As we have seen in this magazine, the rate of new game releases in 2021 is impressive and is setting a new standard in this industry. The new games at Sloto'Cash are not marketing stunts to create headlines and get more clicks; on the contrary, they are quality additions that become the favorite games for thousands of players worldwide.
The most popular new games at Sloto'Cash since 2020 as per most spins received since their release are:

#1 - Diamond Fiesta
#2 - 5 Wishes
#3 - Vegas Lux
#4 - Wild Hog Luau
#5 - Achilles Deluxe
What has made these games so popular? Some of these games present unconventional and experimental features that players have found very alluring.
Take Diamond Fiesta that has an Expanding Reels feature, where players see the reels (a standard 3x5 grid) begin to expand with added reel columns and one extra row of symbols, in order to reach a 4x8 grid that generates explosive winnings!
Or look at Wild Hog Luau that has a Lucky Streak Re-Spin feature where winning symbols are held on the reels for an extra free Re-spin, with a random multiplier ranging between 2x to 10x added to the win!
Add to these unique features high-quality graphics, sound-effects and fun themes, so you have a set of games that become irresistible to play!
Details

Category: Sloto Magazine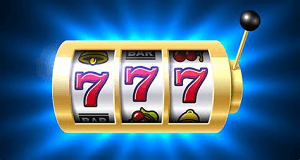 The Evolution of Traditional Slots
As featured on Sloto Magazine Fall 2021
When you think of a 3-reel slot, you'll probably think of a simple machine with one to five pay-lines; with Bars, 7's and Cherries symbols and the triple 7's at the top of the pay chart. While this was always the case some years ago, now 3-reel slot machines have evolved to include many advanced features that will keep you at the edge of your seat!
Three of our most recent slot machine releases are 3-reel slots with revolutionary features. 

777
This 3-reel slot has a single pay-line crossing the 3 reels, so following winning combinations are as easy as it gets. Below the reels you find a new feature which is the 'Hold' option for each reel. If a symbol falls on the pay-line during a spin, once the spin is completed, you are able to hold that symbol on the pay-line for subsequent spins. You will receive a new value for your bet and if agreed upon, you can spin with one or two held reels until you achieve your desired winning combination. An additional feature is the progressive jackpot that can be activated when you play in the highest denomination of the slot. Add to all this Wild symbols and you have a completely engaging 3-reel slot that transcends the traditional way of playing these machines. 
Wild Fire 7's
This 3-reel slot has 5 pay-lines across the 3 reels, allowing more winning combinations to occur. The novel features here are the mini-fourth reel on the side of the slot that has a triple function: it may award a random multiplier to a win on the main reels, grant 7 free games with a fixed 5x multiplier or trigger the progressive jackpot. Another example of how 3-reel slots have progressed over the last few years, to include many innovative features!
Sparky 7's

Our latest release is a traditional 3-reel slot with 5 pay-lines on the reels with a lot of interesting twists. Its design is spectacular, with beautiful visuals of the inner machinery of a magical slot machine.
Earn double comp points on these games until November and enjoy some exclusive offers throughout the month. All infos are available here