Sloto Avatars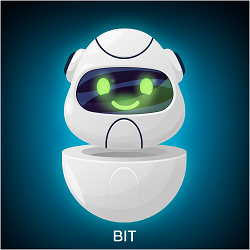 And so it begins, the start of a brand-new era at our Sloto World
Do you fancy taking a tour of the Slot Machines Factory, the beating heart of our Sloto World, where the games you love are born? 
From the design stages to the creation of the games, from production of the smallest components to the assembly of our fantastic machines: everything is here under the same roof. 
BIT, our own Basic Info Technician, will greet you at the start line and show you all about the elementary pieces of slot machines.
What's behind the flashing lights and spinning wheels?
Spaghetti wires: Deliciously complex! Our red, black, green and yellow network of wires are designed to connect the slot machines just the right way – the way to the jackpot prizes!
The Winning Crank: Everyone's favorite part and debatably the most important component of any slot machine: the spin button. This part makes the reels spin and eventually stop on your dream winning combo!
The Hamster Wheels: It's not a pet shop without a hamster spinning the wheel, right? The slot machine wheels are just like the hamsters' but the outside has a special layer where the magical combinations of cherries, bells, sevens and dollar signs spin round in those tempting combinations!
Take your time to roam around our manufacturing facility and get ready to get a feel for the controls.
You'll learn about the ins and outs of slot machines and get a chance to start using your ingenuity in this new world while it steadily opens up as you make progress. There are always new locations or edges of the map to explore!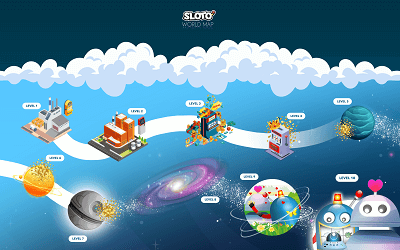 BIT
BIT is our Basic Info Technician and is responsible for guiding you through everything you need to know about Level 1 – our Slot Machine Factory.
Being BIT requires critical abilities that not everyone has. His interpersonal skills keep you on your toes and help you navigate through the factory as you avoid tripping on all those wires, bolts and colts lying around!
Said to be one of the friendliest characters in Sloto World existence, BIT has extensive knowledge of Level 1 – the Slot Machine Factory. He serves as your most trusted advisor here.
First Dialogue between BIT and Player
BIT: "You are formally invited to visit our fascinating Slot Machines Factory!"
PLAYER: "Fantastic! Where do we begin?"
BIT: "Just follow me and allow me to show you around our Slot Machines Factory, our own Willy Wonka land of slots! Want to know how our games are created?
PLAYER: "I am ready BIT, let's go!"
BIT: "Oh! I just remembered! I found a reward! I'm sure you need this to help you get going, so here, take it."