Sloto Magazine Blog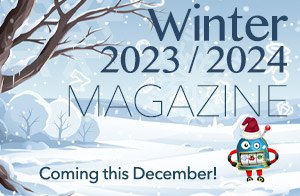 Winter wonderland of jackpots! 🌸💵
It is the season to be jolly and fill your Sloto'Cash account with jackpots! Our Winter Sloto Mag Edition is here to boost your luck to new levels this season! Optimize your playing sessions by collecting exclusive coupons up until February 2024!
Winter 2023/24 Magazine Features:
New Rewards are here!
Learn about the revamped Sloto Shop and the new Multi-Game Free Spins available with special coupons. 
Exclusive insights into games!
Our latest magazine reveals stats from our reports so you can play the top paying games of 2023. Plus, discover the best bonus features of our new games. 
Exclusive tournament!
Get access to the secret password so you can join our Winter tournament that has a $2,024 cash prize!
Bonuses, bonuses & more bonuses!
In the middle section of Sloto Magazine, you'll enjoy a 3-month calendar full of exclusive coupons that will expand your luck well into 2024!
Sing to the tune of Holiday Jackpots!
Sloto Magazine can help you achieve your dreamt-of jackpot with our exclusive material and coupons. Join hundreds of winners this season and look forward to a bright 2024!
Subscribe me now!
Promotions must be redeemed in order.
Redeem both with your next $25+ deposit. Offers holds a 25x rollover ONLY❗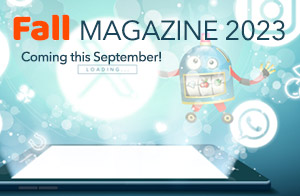 Autumn's Magical Moments 🍂💵
Sloto Magazine Fall Edition is soon being shipped out to thousands of players that will enjoy countless hours of fun during the autumn months. As we enter one of the most dazzling seasons of all, we invite you to redeem exclusive coupons from our magazine, so you can watch magical jackpots unfold in your Sloto'Cash account!
Fall 2023 Magazine Features:
A universe of entertainment 
Sloto'Cash is much more than just a gaming hub. We have expanded to cover all main social media platforms, so you can get maximum entertainment throughout the day. Our social media revolution has begun - aimed at making you a smarter and luckier player that cashes out more often!
Best Games of the Season!
Our Sloto Magazine editor presents a curated list of slots to play in the fall. Discover exclusive coupons for these games!
Lifestyle trends and tips
Our magazine has a strong focus on empowering our Sloto community. Learn how to thrive this season in all aspects of your life!
The Promo Calendar
In the middle section of Sloto Magazine there is a 3-month calendar with generous coupons that will extend your luck through September, October and November!

Transform your seasonal luck!
As the trees are shedding their leaves to prepare for next year's renewal, it's time for you to abandon your spells of bad luck and enter a new season of profits!
| | | |
| --- | --- | --- |
| Deposit | Get | Coupon Code |
| $25+ | 100% Easy-Win Subscriber Bonus | EASY2023FALLMAG |
Redeem with your next $25+ deposit. Offer holds a 25x rollover ONLY❗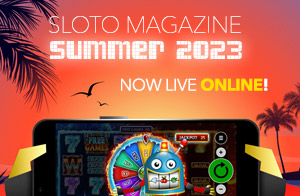 Hot Games - Fiery Jackpots! 💵🔥
We hope you are already experiencing hot summer payouts! As a token of appreciation for your loyalty, we have published our Sloto Summer 2023 Magazine:

Summer 2023 Magazine Features:
Never a dull moment with so many new games
Our new Sloto Magazine highlights many of our recent slots added to Sloto'Cash. Discover bonus coupons for our new slots in our Summer Edition. 
Learn while having fun!
We have a variety of articles that will make you smarter while keeping you entertained, including one that provides insight on how to use AI smartly in your life. 
New tournament format
The tourney revolution has begun! Learn about our new revamped tournament schedule, which has close to $10K in tourney prizes every month. 
Bonuses, coupons & chips
In the middle section of Sloto Magazine, you'll find our famous 3-month calendar with exclusive coupons that will multiply your luck!
Hot, hot jackpots!
Don't get burnt with bad luck, rather, collect fiery jackpots all summer long. This is your chance with the extra luck we provide in the form of our Sloto Magazine!
Redeem coupons in order with your $50+ deposit. Both offers hold 25x rollover ONLY❗
| | | |
| --- | --- | --- |
| Deposit | Subscriber Bonus | Coupon Code |
| $50+ | 150% Match up to $1,500 | HEATED-1 |
| - | $150 FREE CHIP | HEATED-2 |