Sloto Magazine Blog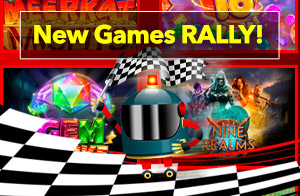 Winning the Race of New Game Releases
As featured in Sloto Magazine Fall 2022 Edition
Every year every online casino wants to end on top with a record number of new game releases. There is nothing like having a fresh online casino with brand-new slots that players can enjoy every year. Sloto'Cash! is no different and we are now in the process of building an impressive repertoire of casino games. Over the last 12 months, our team has been releasing as a minimum a new game every month, so our total game collection is growing to never-before-seen levels.

Our approach has not been to release commonplace games that repeat themes that we have seen ad nauseam. Quite the opposite, our game developers are adding innovative slots and each release brings features that are at the forefront of the industry. The motto here is not quantity but quality. You can now select any random game from our list, and you will be pleasantly surprised to discover unique features, that include morphing symbols, slippery reels, contest-like bonus features, and multiplying rewards that culminate in astronomical winnings. With such additions on a regular basis, you can always get the excitement of a new experience at Sloto'Cash!
Variety Matters!

Long gone are the days all slots carried cherry, bar, and 7 symbols on their reels. Modern-day slots offer a greater variety of themes, by turning every imaginable place, story or civilization into a fountain of entertainment. Testament to this is the wide-ranging variety of game themes we have seen over the past 3 months.
Spring brought us the release of two animal-themed slots with the launch of Copy Cat Fortune and Run Rabbit, Run! Within two weeks of the release of our fun rabbit-themed slot, we saw the release of a game based on one of the most significant historical figures of Asia: the Buddha. The lovable smiling Buddha has been bringing good fortune and fantastic luck to our players since late April this year.

The next games that were released brought us a playful gang of Arctic penguins in Penguin Palooza, that features a locking scatter that triggers free re-spins with fixed scatters on the reels. Within two weeks, we traveled from the North Pole to Ancient Greece with the release of Khrysos Gold, an epic 20-line video slot with innovative features such as the morphing and slippery wilds.
The summer has brought us an unbeatable bouquet of slots with the names of Meerkat Misfits, Gem Strike, Nine Realms, and the long-awaited sequel Sweet 16 Blast!

The year is not yet over, and the race carries on. Sloto'Cash still has many other slots in production, and you'll be amazed by how many different games you will be able to enjoy by the end of 2022. Now that we are racing to the top, make sure you go full speed toward your top jackpot of the year!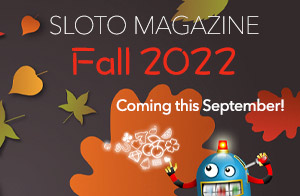 Jackpots calling! 📞
Watch the multicolored leaves fall to the streets this season, while simultaneously enjoying jackpots generated through the coupons of Sloto Magazine 🍂 Edition! Our latest edition comes with tons of free spins, bonuses, contests, puzzles, and extra surprises! Dazzle your autumn with our latest issue here
Fall 2022 Magazine Features:
Deluxe Slots for the Season
Discover our suggestions for the best slots to be played this season. Our editor has handpicked ideal games to be enjoyed during the fall. 
Contests, puzzles & more!
Our latest issue has puzzles that you need to solve to reveal Free Spins coupons. Plus find the password for our exclusive FreeRoll Tournament of the season!
Lifestyle tips
Our magazine is not only about games; it also features articles that may inspire you to live a stronger, healthier, and happier life!
Bonuses, coupons & tokens
In the middle section of the magazine, there is a 3-month calendar filled with exclusive coupons that will keep you busy spinning our reels all autumn long!
Calling lucky winners!
Players that get our Sloto Magazine cash out more thanks to all the exclusive coupons found in our innovative mag. Become of the big winners this season - good luck!
| Deposit | Get | Coupon |
| --- | --- | --- |
| $25 | 100% Match | EASY2022MAG |

Coupons must be redeemed in order!
Offers hold 20x roll over ONLY. All deposit bonuses hold no max cashout. Read our current magazine issue here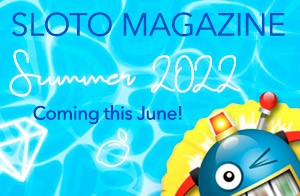 Our new Sloto Magazine is being printed right now. Are you up for receiving dozens of Free Cash Coupons? Our latest edition focuses on bringing peace and harmony to our troubled world. Get inspired and win jackpots as we build a better world!
Jackpots for Peace
Various pages in our new magazine bring inspiration for making this a better world. Learn how you can embody a peaceful attitude in your life that will spread to others!
Two Puzzles
Do you love puzzles? Solve our two original puzzles to reveal exclusive coupons for Free Spins!
Games of the Season
Discover our new hot games and exclusive coupons to play them this summer!
The Legendary Bonus Calendar
In the middle section of our magazine you'll find a 3-month calendar with exclusive coupons for June, July and August!
May your luck shine!
Our new Sloto Magazine has the ability to lift your luck into new heights. Make this a summer to remember thanks to the jackpots you'll win when you redeem our exclusive Sloto Magazine coupons!