Sloto School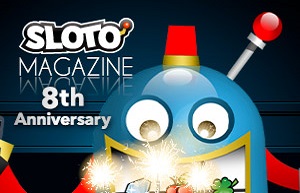 AI or Artificial Intelligence is the general term used to define the ability computers and digital devices have to solve problems and make decisions. As we further probe into the 21st century, we have seen a growing trend with AI getting involved in more and more areas of our lives. While there can be risks when we depend exclusively on AI, there are also great benefits that come with this innovative technology.

Have a look at how you can positively improve your life with the help of AI


1) Maps and Navigation

For several years now we have used apps like Google Maps and Waze to find the best route to our next destination. This technology helps you reach your destination as quickly as possible, while providing updates on traffic levels and possible roadwork. Google Live View allows your phone's camera to scan your surroundings to provide even more accurate directions. As useful as this technology is, we also encourage you to use your common sense and the good old method of asking passersby for directions, when you're out of battery or the app has provided inaccurate information.
2) Smart Assistants 
Nothing like having your own personal assistant. Amazon's Alexa and Google's Assistant are all-round AI platforms that respond to voice commands and help you organize your day. From setting alarms, events in your calendar, playing music, turning off house lights and keeping your shopping list up to date; these AI assistants can simplify your life as you go about your day.
3) Smart Homes
An array of AI home appliances and devices have multiplied in recent years. Save time by allowing these mini-robots to do all the work. Here's a list of smart AI devices that can optimize the way you run your household:
Robotic lawn mowers

Automatic pet feeders

Self-cleaning litters for cats

Automatic garden sprinklers

Laundry folding machines

Self-running vacuum cleaners
Join the wave of the future and apply AI safely in your life!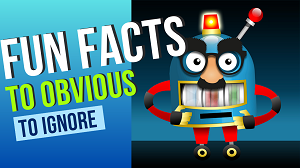 While we are busy taking care of our lives, we might overlook simple, obvious facts that are no-brainers once you think about them. We have collected a series of facts that are as true as they are obvious to any keen observer. We thought you would get a good kick out of these silly facts we don't even bother to mention anymore.  
Fun Fact #1
Cats, dogs and other animals with a snout can't look directly below their eyes. Why? The snout gets in the way!
Fun Fact #2
Percentages are reversible, try it! 20% of 75 is the same as 75% of 20!
Fun Fact #3
Cats will drink cow milk, but they are actually lactose intolerant!
Fun Fact #4
The short version of refrigeration is fridge… remember the d!
Fun Fact #5  
Fasting means you abstain from eating. That's what we do when we sleep. Therefore, we break the fast when we have breakfast!
Fun Fact #6
Chipotle peppers are actually smoked dry jalapeño peppers!         
Fun Fact #7
Tear ducts in your eyes are not responsible for tears, in fact they are there to absorb and remove extra fluids in your eyes that will develop into tears if unchecked!
Fun Fact #8
You never bite down because your top teeth don't move. It's your jaw that moves up and down, so you are actually biting UP!
Deposit $25+ get 333 FREE SPINS on top!
Redeem Code:  FUNJACKPOTS

Offer holds 30x rollover. Spins game: Miami Jackpots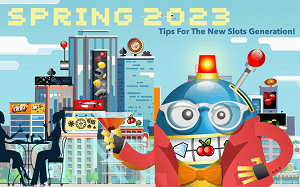 Every year our slot collection grows not only in volume but also in quality. Our game developers always set their ambitions high and are constantly rethinking what an online slot machine can do. Over the last few months, we've seen the release of several slots that are taking online gaming to the next level. As editor of Sloto Magazine, I have the enormous pleasure of playing all the new games and discovering features that can be easily overlooked if you don't read each game's info tab. Worry no more, I'm here to reveal the most innovative bonus features that can change your luck overnight!
There is an immersive experience waiting for you when you play Mermaid Royale. While this is a 25-payline, 5-reel slot, it does bring something new to the table in the form of a Bonus Row. There are 3 extra symbols on top of the 5x3 grid. As you spin the reels, the bonus row will spin and can reveal wilds and extra scatters that can trigger fun bonus features!

Editor's Tip: Try to land 3 Treasure Chest Scatters on the bonus row to trigger an oversized 3x3 symbol locked in the reels for 3 Bonus Re-Spins!
Step into an underworld realm of riches. Goblins: Gluttony of Gems is an astounding 50-payline, 5-reel slot, with enchanting music and graphics. Two goblins will become your allies as they regularly appear on the reels to conquer reels 2 and 4 as expending wild symbols. Mega winnings are possible when you trigger the Free Games Feature.

Editor's Tip: Don't leave the game until you've managed to trigger the Free Games. Here you have the possibility to choose between two modes of Free Games:

Version 1: Play 6 Free Games with held expanded wilds on reels 2 and 4.

Version 2: Play 6 Free Games with Golden Coins held on reel 5. This enables you to easily trigger the Golden Coins Feature!
Enter this world of fantasy as you revisit the legend of King Arthur and Merlin the wise sorcerer. Merlin's Riches is a 25-payline, 5-reel video slot with several new features that add to the excitement of playing online slots. When you trigger the Free Games feature by landing 3 dragon scatters in a spin, you are offered a gamble: 50/50 coin toss to double your Free Games if you win, or half them if you lose. During the Free Games, between 1 and 3 expanded wilds will appear in each Free Game!
Editor's Tip: Merlin's Riches also gives you an option to buy the Free Games feature at any time. You'll have to pay 35x the trigger bet and you'll be able to play (at least) 10 Free Games. My suggestion is that you do not play the coin-toss gamble. Since you are paying for the Free Games already, make sure you get to play them in full, rather than risking playing only half of what you paid for.

Promotions details:
All offers require a $25+ deposit, and they hold 25x rollover on spins winnings ONLY! Redeem each offer daily until end of the month.