Sloto School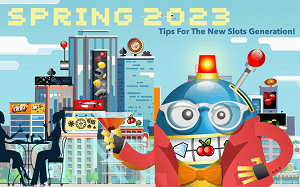 Every year our slot collection grows not only in volume but also in quality. Our game developers always set their ambitions high and are constantly rethinking what an online slot machine can do. Over the last few months, we've seen the release of several slots that are taking online gaming to the next level. As editor of Sloto Magazine, I have the enormous pleasure of playing all the new games and discovering features that can be easily overlooked if you don't read each game's info tab. Worry no more, I'm here to reveal the most innovative bonus features that can change your luck overnight!
Mermaid Royale (released on: December 21st, 2022)
There is an immersive experience waiting for you when you play Mermaid Royale. While this is a 25-payline, 5-reel slot, it does bring something new to the table in the form of a Bonus Row. There are 3 extra symbols on top of the 5x3 grid. As you spin the reels, the bonus row will spin and can reveal wilds and extra scatters that can trigger fun bonus features!

Editor's Tip: Try to land 3 Treasure Chest Scatters on the bonus row to trigger an oversized 3x3 symbol locked in the reels for 3 Bonus Re-Spins!
Goblins: Gluttony of Gems (released on: December 7th, 2022)
Step into an underworld realm of riches. Goblins: Gluttony of Gems is an astounding 50-payline, 5-reel slot, with enchanting music and graphics. Two goblins will become your allies as they regularly appear on the reels to conquer reels 2 and 4 as expending wild symbols. Mega winnings are possible when you trigger the Free Games Feature.

Editor's Tip: Don't leave the game until you've managed to trigger the Free Games. Here you have the possibility to choose between two modes of Free Games:

Version 1: Play 6 Free Games with held expanded wilds on reels 2 and 4.

Version 2: Play 6 Free Games with Golden Coins held on reel 5. This enables you to easily trigger the Golden Coins Feature!

Merlin's Riches (released on: November 9th, 2022)
Enter this world of fantasy as you revisit the legend of King Arthur and Merlin the wise sorcerer. Merlin's Riches is a 25-payline, 5-reel video slot with several new features that add to the excitement of playing online slots. When you trigger the Free Games feature by landing 3 dragon scatters in a spin, you are offered a gamble: 50/50 coin toss to double your Free Games if you win, or half them if you lose. During the Free Games, between 1 and 3 expanded wilds will appear in each Free Game!
Editor's Tip: Merlin's Riches also gives you an option to buy the Free Games feature at any time. You'll have to pay 35x the trigger bet and you'll be able to play (at least) 10 Free Games. My suggestion is that you do not play the coin-toss gamble. Since you are paying for the Free Games already, make sure you get to play them in full, rather than risking playing only half of what you paid for.

Promotions details:
All offers require a $25+ deposit and they hold 25x rollover on spins winnings ONLY! Redeem each offer daily until end of the month. * Earn double comp points on Mermaid Royale throughout the spring season.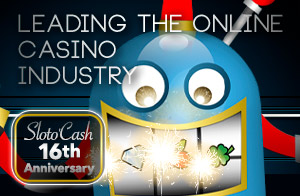 A short history of St. Patrick's day (As featured on www.slotomagazine.com)
Today millions around the world celebrate St. Patrick's day but few know the origins of such a celebrated tradition. On March 17th the streets in many cosmopolitan cities such as New York and Chicago will harbor hundreds of thousand participants, as they march through a city painted green.

But how did it all begin?
It has to begin with the man himself, St. Patrick who, contrary to commonsense, was not born in Ireland but in Britain that was under control by the Roman Empire. He was kidnapped by Irish raiders and taken to Ireland where he converted to Christianity and spent much of his life there as a missionary.
Did you know that St. Patrick was not born in Ireland? 
He died on March 17th, 461 AD to be forgotten for centuries, until legend and myth grew around his name and Ireland adopted him as its patron saint.  A common legend tells of St. Patrick's great influence in Ireland by driving away all snakes from the island.
St. Patrick is reputed to have taught about the Holy Trinity with the three leaves of a shamrock (or three-leafed clover). In the 18th century Irish folk starting wearing shamrocks on their coats, to honor their Irish and Christian origins. Soon after, the Irish starting wearing entire suits in green.
In the 1840's there was a dreadful famine in Ireland, forcing many to migrate to the United States of America. Over half a million Irish reached New York harbors in this period known as the Potato Famine.
With a strong Irish community in New York, the first St. Patrick's parade was celebrated there in 1762. Today it is the Big Apple's largest parade with over 200,000 people participating in the parade while enjoyed by close to 3 million spectators!

As many as 90% of Americans celebrate this date every year!
Join us to celebrate this fun tradition with our St. Patrick's Day promo pack!
St. Patrick's Day Bonuses
300% Match Bonus + $30 Free!
Coupon Codes: PADDY2023 – FREE2023PADDY

Promos must be redeemed in order!
Deposit bonus requires a $40+ deposit and it holds 40x slots rollover. Win up to $500 EXTRA with your St. Patrick's loyalty token.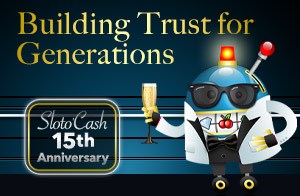 If you can't keep your hands off a slot machine, you need to learn how to treat it with respect. A slot machine is a whimsical lover; it can take you to the heights of ecstasy as quickly as to the pits of frustration.
Every slot player must learn basic rules and tips to make the most of every minute spent in the company of slot machines. Here are our suggestions for you when playing slot machines at Sloto'Cash or any other casino.
Max Bet Rule
It has been going as a rule of thumb that you must always play slots in Max Bet to get the best pay-back rates. This may be true in some land-based casinos, but Uptown Aces does not set independent pay-out rates per denomination. If a slot machine is set to pay at 95%, it will do so in every denomination allowed.
However, do note that some slots, especially 3-reel slots, have higher pay-table prizes when you play Max Bet. In this scenario, playing Max Bet is essential to get the best returns.
Play all Pay-lines
Slots allow you to select how many pay-lines you want to bet on. We recommend that you always play all paylines on any slot that has more than 3-paylines. This makes it easier to land winning combinations, especially in aligning special icons that will trigger the bonus features.
Pick your pay-out style
Are you someone that enjoys getting frequent wins or are you hunting for large prizes after long strenuous sessions? Identify what type of player you are and locate the slots that are ideal for you. Our games preview allows you to read whether the game has low, medium or high volatility. The lower volatility means that the game prefers to give small to medium prizes frequently. High volatility means the game will often go through dry patches only then to release higher jackpots.
When to stop playing
It is important to set a budget for every visit to the casino. Having a fixed amount to play with makes it easier for you to manage your money. If you want to play one evening with $30, you can set certain rules to your play. For example, to switch machines if you lose $10 of your original balance. This way you get to explore more games than if you keep playing carelessly without paying attention to you balance.
Every spin independent
Forget everything you have ever heard about how or when a slot machine will pay. Every spin is random and independent from the last. If a slot is tight after a few hundred spins, it doesn't mean it will loosen up. There is not a bullet-proof strategy that can help you beat a slot machine; you simply need pure luck: playing the right machine at the right time.
Exploit your comps
Be sure to be part of the Loyalty Program @ Sloto'Cash and play the slots with the highest comp point compensation. Ask the casino host for tips on which bonuses or slots have the highest comp rewarding scheme.
Entertainment value
Let's not forget that playing slots is all about entertainment. Modern slots have innovative bonus features that create suspense as you wait for the coming payout. Identify which bonus features you enjoy most in a slot machine. Is it Free Spins, Interactive Bonus Rounds, Expanding Wilds, Scatter Icons, Multipliers, or Collapsible Wilds? Once you have your list, go and find the slot games that offer those precise features and enjoy every minute.
Play with a 
400% Match Bonus + 40 Spins on Top!
Redeem Code: 400SLOTSTIPS
Offer requires a $50+ deposit and it holds 40x rollover + 10x on spins winnings. Valid for a limited time. Please check your inbox for details. Spins game: 777