Sloto Magazine Blog
Details

Category: Sloto Magazine
As featured on Sloto Magazine
Most of us have heard about ingenious scammers that have tried to swindle casinos for millions. It makes a great theme for movies ranging from Rain Man to Ocean's Eleven. We don't have to go to fiction to uncover some extraordinary scams in the history of casinos. In fact, some of them are so unbelievable; you'd probably want to bet it is all made-up. We've gather a couple of the most mind-blowing casino scans in history.

THE ROSELLI BROTHERS
The mysterious Roselli Brothers are the most famous casino scammers in recent memory. They were able to run away with close to $40 million, without losing a cent of their own money!
The scam was ingenious. They hired a computer hacker in 1995, at a time cyber-crime was still young and victims unsuspecting. They were able to steal the identity and information of various affluent individuals with perfect credit scores. Once they had taken on these identities, they visited various casinos and open credit lines by depositing $50,000 in each casino. For 5 years they played like high-rollers, losing at times, winning at times. The casinos fully trusted them, constantly increasing their credit lines.
By 2000, the Roselli Brothers had credit lines worth over $1 million. This was the year they went to Las Vegas to cash out all their credit. They even made a fortune by winning on a single $100,000 bet.
The Roselli Brothers disappeared after that. The FBI has been unable to find them and there are rumors that they passed away.  Their identity has never been confirmed; some believe it was a clan of gangsters from New Jersey, with more than 2 members involved.
CANNES CONTACT LENSES
This scam was brilliantly conceived but executed badly.  A group of three Italians and one dealer of the Cannes 'Les Prince' casino in 2011 came up with a stupendous plan. The dealer was to hand a few casino deck cards to the Italians, which would mark them with an invisible marker, drawing symbols on the cards corresponding to their value.  The cards were return to the dealer that would reintroduce them to the casino on his following shift. One of the Italians – code name Parmesan - returned the next day to the same casino wearing special contact lenses that made the ink visible to him only.
That first day, they were able to accrue thousands of Euros without raising any suspicion. But greed got the better of them. On a return trip to the same casino, the security team identified suspicious behavior. The Italian would fold hands that were strong, suggesting he knew the dealer had a better hand.
They called the local police and were able to discover that the cards had been marked. All three Italians got severe fines and lengthy prison sentences. It was the first time this kind of technology was used in a European casino, confirmed a casino representative.
Want to join a band of robbers as they try to swindle for millions? What better game than play our very own: CASH BANDITS
Enter Mr. Sloto's Vauld playing with a:
300% Match + 30 Free Spins on Cash Bandits 2 Free Spins on top with your deposit of $40 or more!

Coupon Code: FAMOUS300

Offer requires a $40 min. deposit and it holds 40x roll over+ 10x on spins winnings. Offer valid for limited time.
Details

Category: Sloto Magazine
The Holidays are near!
And this means our Winter Sloto Magazine is about to ship out to thousands of lucky subscribers! This is your chance to get your own in the mail and discover dozens of exclusive coupons!
Winter 2019 Magazine Features:
Our world famous Promotions Calendar
In every Sloto Magazine edition you will find exclusive coupons that grant Free Spins, Courtesy Tokens and Huge Reloads. Go to the middle section of the magazine to find a 3-month calendar that will certainly bolster your luck!
Crossword Puzzle, Trivia and Screen Shot Contest
Test your wits to reveal Free Spins and Free Cash tokens. Throughout the magazine you will find puzzles, trivia and contests!
Read our tips on how to optimize your planning for 2020. You will also find an inspiring horoscope that will guide your luck to new horizons.
Read articles about Santa Claus and the origin of his reindeer!
'Tis the time to be lucky!
Read our Press Release
Details

Category: Sloto Magazine
As featured on Sloto Magazine
Halloween is approaching and you might be running late to find the perfect costume this year. Luckily Sloto Magazine is here to help you find creative and easy DIY (do-it-yourself) Halloween costumes.
Giant baby face
Difficulty level: low
Time requirement: 10 minutes
Yep, it can't get any creepier than this. Find an old doll and tape its arms and legs to your face. Take it to the next level and find a pacifier to carry in your mouth. Guests will love (and simultaneously dislike) looking at you!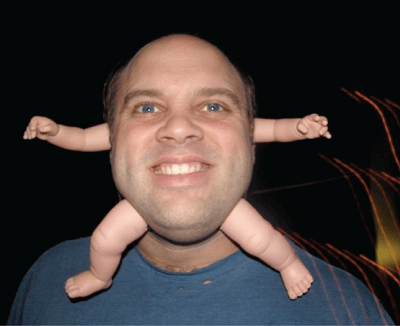 A living famous painting
Difficulty level: medium
Time requirement: 1-2 hours
This one is relatively easy. Find an old (light) wooden frame and dress up as you favorite portrait. We recommend the famous American Gothic painting by Grant Wood. This is ideal for couples and all you need for the man is denim overalls, a black blazer and a pitchfork; for the woman an old-fashioned dress and the hair pulled tightly back. Be creative, you could also do a famous Van Gogh, a Picasso or a fully abstract painting!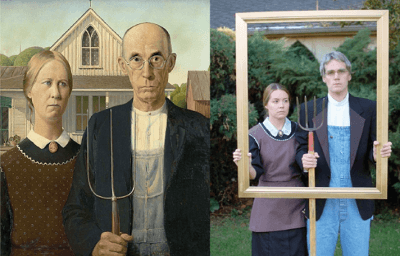 A cluster of grapes
Difficulty level: low
Time requirement: 1 hour
This is easy and fun. Blow up a couple dozen purple balloons and tied them around your purple outfit. A green hat or bonnet finishes the costume. Find a real cluster of grapes to carry around and offer to children!