Latest Online Casino News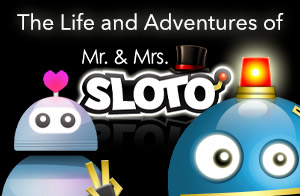 An explosive entry
"The time has come!" shrieked Mr. Sloto as he ran through the campus of Caltech. "I'm going to be a father!".

He sprinted as fast as he could to the new Robotics Department at the prestigious university. There, a group of leading scientists with the help of Victor Fluke, would deliver the first "robobaby", as they were calling it. Mrs. Sloto had entered the final stages of her robo-pregnancy and it was only a matter of time before they could see their newborn baby.
Mr. Sloto ran into Victor Fluke in the hall leading up to the delivery room. "How's it going?" asked Mr. Sloto. Victor looked a bit agitated and worried. Mr. Sloto immediately got concerned and stated vehemently: "What's happening!?"
Victor looked at his watch and then up to Mr. Sloto's eyes. "I don't have a lot of time. We encountered something strange in our data readings. It appears like…" Victor could not speak and ran down the hall.

Mr. Sloto entered the delivery room where specialists were all crowded around Mrs. Sloto. He overheard them say:
"The last solar flare might have changed the robo-genes of the baby. It has mutated in the robotic womb. If these readings are correct, this robot baby may turn radioactive the moment it comes in contact with oxygen, potentially killing everything within a 5-mile radius."
Mr. Sloto could not believe his ears. Was he going to have an atomic bomb as a baby?!
This is an interactive series. Players get to vote on that next chapter of the story!
HELP US WRITE CHAPTER 25th IN THE LIFE AND ADVENTURES OF Mr. and Mrs. Sloto!
1st option) Mr. and Mrs. Sloto's robobaby is born just as Victor Fluke enters the delivery room with a solution to defuse the radioactivity.
2nd option) Caltech scientists decide they must place Mrs. Sloto and the robobaby in an anti-radioactive chamber, where they will both be melted down. 
3rd option) Mr. Sloto is connected to a quantum computer to run his random number generator and determine the probabilities that the robobaby will become radioactive.
Send your vote to This email address is being protected from spambots. You need JavaScript enabled to view it. and be part of the evolution of this story!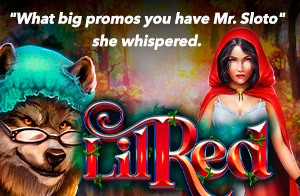 Mr. Sloto, Mr. Sloto, you have great, big eyes! You have great, big ears! You have great, big promos!
Yes, yes, yes, my dear. I can see you well! I can hear you well! I can give you large wins with a 77% Match + 77 Free Spins!
Lil Red's best features:
Wild Symbol: The evil wolf is not so bad after all and will substitute for all symbols except scatters.                         
Bursting Wilds: The wild wolf may appear dressed up as grandma at the conclusion of any normal spin, to replace a normal symbol with a wild symbol. 
Free Games with Cascading Multiplying Wins: Getting 3, 4, 5, scatters gives 15, 30 or 60 free games respectively.  During the free games, any winning symbol will disappear after wins are awarded, to make room for a new symbol to cascade down to its position. As new winnings emerge, a multiplier will increase from 2x up to 5x in each subsequent cascading round!
Little Red Riding Hood can easily become a modern-day classic again thanks to our spectacular AWP slot Lil Red!
Play with a 77% Match + 77 Free Spins!
Redeem Code: SLOTO77WEEKEND
Spins Game: Lil Red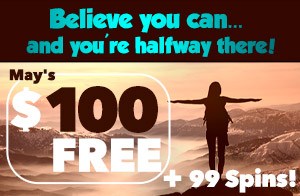 Need a boost to get you through the second half of 2022? Just like Teddy Roosevelt once said, the first thing you need to do is believe you can get there and the rest you leave it up to Mr. Sloto!
Boost your magical winning chances and keep on grinding with May's 150% 1st Bonus + 33 Spins, 200% 2nd Match Bonus + 33 Spins plus a $100 Gift + 33 Spins on top!
150% 1st Bonus + 33 Spins
Redeem Code: MAYBELIEVE-1
200% 2nd Match Bonus + 33 Spins
Redeem Code:  MAYBELIEVE-2
Receive after
$100 Free + 33 Spins!
Redeem Code: MAYBELIEVE-3

Promo codes must be redeemed in order!
Get started with your $25+ deposit. All promos hold 30x roll over. All deposit bonuses hold no max cashout. Win up to $500 EXTRA with your freebie coupon. Spins game: 5 Wishes. Offers expire on May 31st 
Subcategories