Latest Online Casino News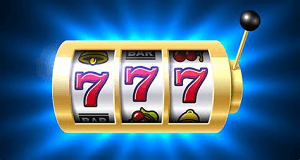 The Evolution of Traditional Slots
As featured on Sloto Magazine Fall 2021
When you think of a 3-reel slot, you'll probably think of a simple machine with one to five pay-lines; with Bars, 7's and Cherries symbols and the triple 7's at the top of the pay chart. While this was always the case some years ago, now 3-reel slot machines have evolved to include many advanced features that will keep you at the edge of your seat!
Three of our most recent slot machine releases are 3-reel slots with revolutionary features. 

777
This 3-reel slot has a single pay-line crossing the 3 reels, so following winning combinations are as easy as it gets. Below the reels you find a new feature which is the 'Hold' option for each reel. If a symbol falls on the pay-line during a spin, once the spin is completed, you are able to hold that symbol on the pay-line for subsequent spins. You will receive a new value for your bet and if agreed upon, you can spin with one or two held reels until you achieve your desired winning combination. An additional feature is the progressive jackpot that can be activated when you play in the highest denomination of the slot. Add to all this Wild symbols and you have a completely engaging 3-reel slot that transcends the traditional way of playing these machines. 
Wild Fire 7's
This 3-reel slot has 5 pay-lines across the 3 reels, allowing more winning combinations to occur. The novel features here are the mini-fourth reel on the side of the slot that has a triple function: it may award a random multiplier to a win on the main reels, grant 7 free games with a fixed 5x multiplier or trigger the progressive jackpot. Another example of how 3-reel slots have progressed over the last few years, to include many innovative features!
Sparky 7's

Our latest release is a traditional 3-reel slot with 5 pay-lines on the reels with a lot of interesting twists. Its design is spectacular, with beautiful visuals of the inner machinery of a magical slot machine.
Earn double comp points on these games until November and enjoy some exclusive offers throughout the month. All infos are available here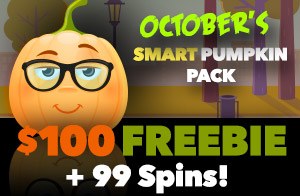 October and Halloween mark the unofficial start of the holiday season, doesn't it? Along the way, you'll stumble into Mr. Sloto's Smart Pumpkin Pack plus a $100 Freebie and 99 Spins!
First, you want to make your house feel festive with tons of decorations and cook festive food with a 150% 1st Bonus + 33 Spins on top! Then, you want to play your favorite Halloween-themed movies all through the month and add a 200% 2nd Match Bonus + 33 Spins to the mix! And it simply wouldn't be a real Halloween without getting creative with crafts and a $100 Free Chip + 33 Spins!
Get ready for all the Halloween holiday feels all through the month of October with the smartest pumpkin pack at Sloto'Cash!
150% 1st Bonus + 33 Spins
Redeem Code: SMARTPUMPKIN-1
200% 2nd Match Bonus + 33 Spins
Redeem Code: SMARTPUMPKIN-1
$100 Free Chip + 33 Spins
Redeem Code: SMART100PUMPKIN

Promotions must be redeemed in order!
All offers hold 30x roll over + 5x on spins winnings. Deposit coupons require a $25+ deposit. Free spins game: Witchy Wins. Valid until October 31st.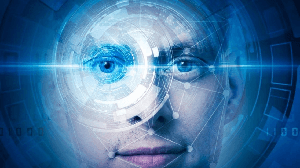 Have you ever wished you could send that text or change the song you're listening to while doing the dishes or while cooking without touching your smartphone's screen so you don't get it wet or dirty? Well, Google is currently working on a technology that will allow you to control it with just your face!
It has been reported that the US tech giant is working on a new accessibility feature that lets users manage their gadgets using nothing but their facial expressions, something that will also bring many advantages to people with disabilities. While earlier versions of Google's Android software had already implemented voice access, they want to take it to the next level by setting facial gestures to specific controls in your phone.
Some of the possible gestures that the setting will include are smiling, looking right, left, up or down and opening your mouth, which will be captured by the smartphone's front camera to be used as commands to go to the homepage, scroll backwards and forward, skip the song you're listening to on Spotify or to select a specific button.
Nonetheless, this feature will reportedly need the device's camera to be switched on while it's activated, which means it will take its toll on the phone's battery if you use it for prolonged periods of time. We will have to wait and see what Google has planned for this issue in the coming months while it's in beta mode.
Ready to Play?
Collect our Monthly Blog Bonus Worth a:
200% Match + 77 Spins on top!
Redeem Monthly Code: 200SLOTOLIFE
$40 min. deposit and 30x roll over + 10x on spins winnings. Game: 777
Subcategories