Latest Online Casino News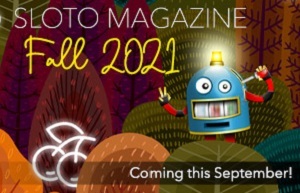 Fast-paced slot releases this year
As featured on Sloto Magazine
Sloto'Cash is known for providing a highly-rated collection of slot and casino games, but their ambition to have the best game repertoire has not shrunk one bit. In fact, 2021 has been one the years with highest game releases in a calendar year. The production marathon began in February with the release of Paddy's Lucky Forest, an impressive 720 AWP (all-ways-pay) slot that arrived just in time to celebrate this year's St. Patrick's Day!

Then came three new releases within 2 months, which started with Spring Wilds, a 5-reel machine with adorable Easter-inspired graphics. Sloto'Cash then added two quality games with the network-progressive version of Jackpot Piñatas Deluxe and the innovative 3-reel game, Wild Fire 7's, which features a mini fourth reel with added prizes and multipliers.
The new game onrush has not slowed down in the summer after the release of Shopping Spree II, a progressive sequel to the enormously popular original. And as you will see in the coming pages, two irresistible slots followed with the titles of Lucky Catch and Sparky 7.
Your gaming experience has already been enriched thanks to the just rleleased trilogy slot Bubble Bubble III.

Stay tuned at Sloto'Cash for news of the latest state-of-the-art online casino games to be added in the coming months – your gaming possibilities will be dramatically multiplied by the end of 2021!
Enjoy a 100% Match Bonus + 100 Free Spins on top!
Redeem Code: EASYIRISH
Promo info:

Offer holds 25x roll over + 5x roll over on spins winnings. Spins game: Paddy's Lucky Forest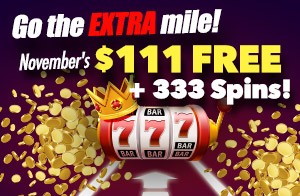 November 1 is Extra Mile Day, a moment when everyone aims to help others and also gets motivated to accomplish their own goals. This day reminds us to stay focused and kind during the last push before the end of the year, so this month Mr. Sloto wants you to make the most out of life!
Going the extra mile is something we can all fit into our daily routine, and November is perfect to take the first step by redeeming three exclusive promotions with mouth-watering rewards of a $111 freebie with 333 free spins on top!
Start with a 111% 1st Match Bonus + 111 Spins!
Redeem Code: EXTRAMILE-1
Continue with a 211% 2nd Match Bonus + 111 Spins
Redeem Code: EXTRAMILE-2
Redeem after a $111 Free Gift + 111 Spins!
Redeem Code: EXTRAMILE-3
Coupons must be redeemed in order.
All promos hold 30x roll over + 5x on spins winnings. Free chip holds $500 max cashout. Get started with your $25+ deposit. Spins game: Pulsar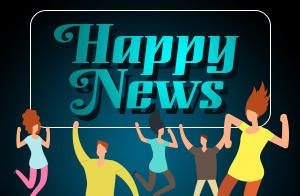 Let's build a happier world by focusing on the good things that happen around us. Mr. Sloto scans the world news to bring hope and positive vibes to our day!

Breakthrough drug to fight cancer.

Combinations of two drugs that are considered gentler than the standard chemotherapy for cancer have shown the ability to completely eradicate head and neck cancer. This form of immunotherapy has achieved the longest survival for neck and head cancer patients in phase III. Researchers in the Institute of Cancer Research in London are excited about the results and hope further trials will bring more benefits to cancer patients. 
Free trip to Italy!
A cured meat brand, Galileo, is giving away a trip to Italy for two as part of their 75th anniversary celebration. All you have to do is share a post on Instagram with hashtags #GalileoFamily and #Sweepstakes and tag @GalileoSalame. The trip will last 7 days and is valued at $7,500!
Impressive night show.
The northern hemisphere's sky is going to serve as the stage for one of the most renowned meteor showers of the year, known as the Orionids. Between October 16th and October 24th you should look up at the sky to see anywhere between 10 and 30 meteors each hour. Early birds will get the best of the show as this event is best seen between 4:00am and 5:00am in the morning (Daylight Savings Time).  


Enjoy 500 Good News FREE Spins
On Top of Your $25+ deposit!
Redeem Code: 500GOODNEWS
Promo info:

Offer holds 25x roll over. Redeem 1x weekly until end of the month. Game: Wild Hog Luau
Subcategories