Sloto Magazine Blog
Details

Category: Sloto Magazine
As featured on Sloto Magazine Fall 2019 Edition
This is a 25-line video slot inspired by the immortal story of Count Dracula. Our records show this is one of our most popular slots!
That is easily explained by Count Spectacular's extensive bonus features. Also, this is a High-Variance game, so massive jackpots will be issued when the game is eager to pay!
Discover this timeless slot and its incredible bonus features:
TOP PRIZE: 10,000 coin prize awarded when Mr. Count Spectacular appears in all 5 reels.
SCATTER: The Castle symbol pays up to 200 coin prize per trigger bet!
WILD SYMBOL: Count Spectacular is a wild substitute for all other symbols including scatters. It EXPANDS to cover the entire reel prior to any payouts. If Count Spectacular appears on Reels 1 and 5, then you will get an option to choose from one of the following two bonus features:
12 FREE GAMES: The Free Games are played with Tripled Prizes.
or
RE-SPINS: Get 4 spins with an expanded wild Count Spectacular on Reels 1 and 5, which highly increases the probability of winning high payouts!
PROGRESSIVE JACKPOTS: The game features two local progressive jackpots that can be won at the end of any spin!
| | |
| --- | --- |
| DRACULA BONUSES | COUPON CODE |
| 100 Loyalty Spins for October Depositors! | LOYALBLOOD |
| 240% Dracula Match + 40 Free Spins! | 240DRACULA |
Promos information
In order to redeem LOYALBLOOD you are required to have completed a deposit of $20 or more this month of October. 240DRACULA requires a $30 min. deposit and it holds 30x roll over + 10x on spins winnings.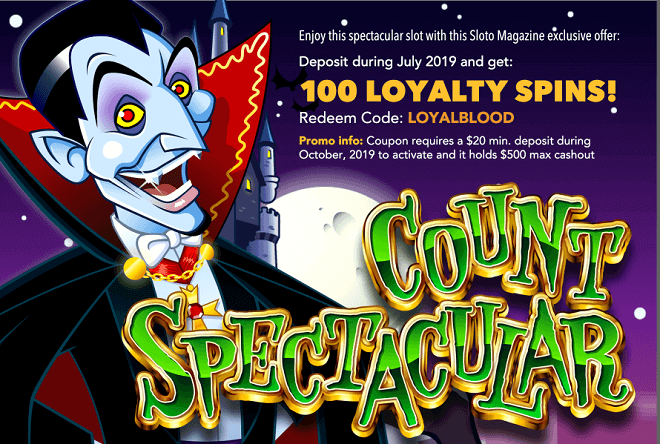 Details

Category: Sloto Magazine
A quick look at the technology behind Bitcoin
It has taken a few years for the majority of us to understand how Bitcoin works. Many people are now fluent in the world of cryptocurrency, but there is still a related topic few people understand, the very technology that fuels Bitcoin: Blockchain.
Blockchain will become relevant in our modern world, as it is a very effective technology against corruption and fraud, and many industries have begun to implement Blockchain technology. Did you know the U.N. has been using Blockchain for their World Food Programme?
Blockchain, as its name implies, is a chain of blocks, and each block has information inside that connects to other blocks within the same network. It has the great advantage that it is very difficult to tamper with the chain of blocks: if you artificially modify any block (that could represent an amount of money sent from user A to user B), the entire network would be affected and the "guilty" block would easily be discovered. Imagine you are building a wall made out of Legos, and suddenly someone wants to change the shape and size (information) of a piece of Lego in the middle section of the wall. In order to do this, they would have to modify all the Lego blocks surrounding the modified piece, a task almost impossible to do.
Another advantage is that the chain of blocks is not stored in a single computer or mainframe. Rather, it uses a P2P (peer-to-peer) system. This means every user of a blockchain has a copy of the entire chain of blocks, making sure that the network is intact and in order, which makes Blockchain a very reliable bookkeeping method.
Thanks to its reliability, Blockchain technology is soon to be implemented in banking, for keeping medical records, collecting taxes, and even for voting in the elections!
WHAT IS BLOCKCHAIN TUTORIAL
HOW TO DEPOSIT WITH BITCOIN TUTORIAL
HOW TO DEPOSIT WITH BITCOIN TUTORIAL
HOW TO DEPOSIT WITH LITECOIN TUTORIAL
And as soon as you've made your deposit using your Bitcoin or Litecoin - or any other deposit method you'd like to choose....head on over to the Sloto Cash casino lobby and get playing!  You'll find the BEST games (bonus slots, poker, blackjack and more), BEST promotions (free spins, free chips and matching bonuses), and BEST online casino real money fun at....SLOTOCASH ONLINE CASINO!!!
Details

Category: Sloto Magazine
The future of Digital Payment solutions>
Some financial experts have made the forecast that in ten years' time many societies around the world will be operating without cash. Say goodbye to banknotes and coins, soon enough stores will display signs indicating that they will only accept contactless cards or mobile payment methods.

This has worried some but the trend is quite indisputable: a report from 2018 shows the projected decrease of cash payments over the next 4 years.
Chart by MerchantSavvy.co.uk | Data Source: Worldpay's 2018 Global Payment Report
What is interesting to note is that while cash payments are in a steady decline, there is an equally abrupt upward change with Mobile Payments. This is due to the rapid expansion of the Internet to all sectors of public and private life. In addition, new payment solutions are developed every year which compete with both cash and bank cards.
[DID YOU KNOW? In China, 525.1 million people now use mobile payments rather than cash!]
Countries like China are seeing a boom in Mobile Payments. Phone applications such as WeChat or Alipay allow the Chinese to pay with their phones in almost all shops and stores in their country.
In Denmark, a growing number of stores and restaurants allow you to pay by scanning a QR code with an app in your phone, allowing them to instantly deduct the funds from their bank account. Naturally, this is a concern for many: while cash also has its risks, contactless cards and mobile applications can easily be abused by thieves and fraudsters.
If the trend continues, governments may decide to stop printing and coining money in the near future. Many experts have voiced concerns against such a move, and financial experts usually address two sensitive topics if we choose to move to a cashless society.
First, the security of digital payment solutions is not as rigid as one would like it to be; a hacker can potentially drain the bank accounts of tens of thousands of users. The second point often addressed is that rural areas and economically poor regions will face an unfair disadvantage, as they don't necessarily have the means to own mobile phones or even open bank accounts.
The world is currently geared for rapid change and we have to be ready to adapt quickly to the new trends. Will a cashless society be the next step in the evolution of human civilization?
Play with a 125% Match + 25 Cash Bandits Free Spins on top!
Redeem Code: CASHLESS125
Terms:
Offer requires a $25 Min. Deposit and it holds 25x roll over ONLY!