Sloto Cash Blog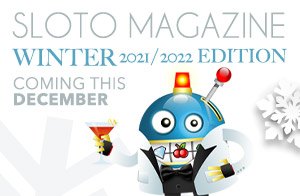 Extraordinary holidays!
Did you know you are helping write an important chapter in the history of the online gaming industry? Sloto'Cash is celebrating its 15th anniversary and the new edition of Sloto Magazine will commemorate such a historic occasion. Your loyalty has kept us here as a leader gaming site and we plan to reward you generously in our lattest issue!
Winter 2021/22 Magazine Features:
Long-term vision
Sloto'Cash was built on principles that will keep it thriving for many generations. Our new magazine shares the company's unique attitude to build long-lasting relationship with its players.
Trivia and Tournament
Can you answer our Holiday Slot Trivia and will you complete for free cash prizes with our exclusive Holiday Tournament?
2022 Luck Horoscope
What is in store for you next year? Alisson Star, our gaming astrologer, makes her luck forecast for next year.
The Mighty Bonus Calendar
In the middle section of our magazine you'll find a 3-month calendar with exclusive coupons for December, January and February!
Light up your holiday mood!
Our new Sloto Magazine will bring many moments of joy this season. Be sure to subscribe to the latest edition by redeeming the following promo pack:
| Deposit | Get | Coupon |
| --- | --- | --- |
| $40+ | 100% Easy-Win Match Bonus |   WINTER2021MAG   |
| - | $100 Subscriber Ticket After!  |   FREE2021WINTER   |

Coupons must be redeemed in order!
Subscribe to Sloto Magazine with your $40+ deposit. Offers hold 25x roll over only. Free chip holds $500 max cashout.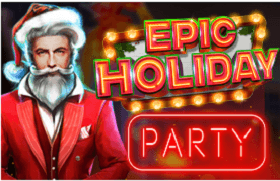 Some of our games require that you learn some basic rules to customize the game. This is the case with our selected holiday season warm up slot: Epic Holiday Party.

This is an All-Ways-Pays slot that pays when you get identical symbols from leftmost to right, regardless of where symbols land on the reels. With no pay-lines, you get an astounding 243 different ways of getting a winning combination!
Epic Holiday Party also provides players the ability to play the game at four different levels On the left side of the reels, there are four icons. Click on the level you want to play. The higher level you play the more progressive jackpots are activated, but also note that your bet increases as you increase level. There are 4 progressive jackpots in this slot and you must play at level 4 to activate all of the 4 jackpots. A higher level also entails that the multiplier wild will have a higher value. At the highest level the multiplier wild will multiply wins by x5!
We hope you find the perfect balance between risk taking and potential payoffs while playing Epic Holiday Party. Good luck!
Grab twice per day from Friday through Sunday a
77% Match Bonus + 77 Free Spins on top!
Redeem Code: SLOTO77WEEKEND
Offer requires a $35+ deposit and it holds 30x roll over.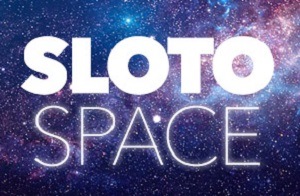 A space crew of six astronauts from all over the world live and work at the International Space Station (ISS) while traveling at a speed of five miles per second. The Station is larger than a six-bedroom house, and has six separate sleeping quarters, two bathrooms, a gym and a 360-degree view bay window. Let's take a look at some of the most interesting facts about the ISS:
-    The ISS has been continuously occupied since November 2000, and the longest time someone has lived in it was Peggy Whitson with 665 days.
-    In order to mitigate the loss of muscle and bone mass in the body due to long exposure to microgravity, all astronauts aboard the ISS must work out at least two hours a day.
-    The Station is 356 feet (109 meters) end-to-end, which is just one yard shy of a full length American football field including the end zone, and eight spaceships can be connected to the ISS at once.
-    A spacecraft can arrive at the Space Station as soon as four hours after launching from Earth.
-    The ISS has two water recovery systems that process vapor from the atmosphere that could be used for drinking in an emergency but is normally fed to a different system to produce oxygen. Moreover, the other one processes water vapor collected from the atmosphere and urine into drinking water.
-    There are more than 50 computers inside the ISS that control the systems on the Station, and more than 3 million lines of software code on the ground support more than 1.5 million lines of flight software code.
Wouldn't it be awesome to experience living in space if only for a week? 
Deposit $25 Get 200 PULSAR Spins on top!
Redeem Coupon EASYWINSPACE

Deposit $30 Get 150% Match Plus 50 Nova 7s Spins
Redeem Coupon 150NOVA50

EASYWINSPACE promo holds 27x roll over on spins winnings. 150NOVA50 requires a $30+ deposit and it holds 30x roll over + 5x on spins winnings. All deposit bonuses hold NO MAX CASHOUT.
Subcategories