Sloto Cash Blog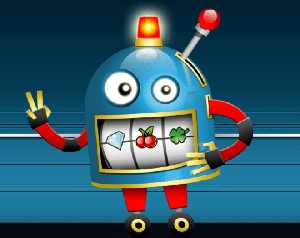 Mr. Sloto carries entertainment in his DNA. If it is not abundant jackpots, then it is hilarious jokes he shares with the Sloto'Cash community.
Here's another round of Mr. Sloto's showtime jokes:
"What did the Buddhist say to the hot dog vendor?
Make me one with everything."
Wow, that's deep Mr. Sloto; what else do you have for us today?
"What did the 0 say to the 8?
Nice belt!"
Haha, that's a silly one. Do we have time for one more?

"What is the astronaut's favorite part on a computer?
The space bar."

Mr. Sloto is best at guiding players to their next win. Make sure you claim our coupon below to seize your luck and make it a jackpot day!
Deposit $25+ and get a
125% Easy-Win Match Bonus + 125 Spins on Top!
Redeem Code: MRSLOTO125
Offer holds 25x roll over + 5x on spins winnings. All deposit bonuses hold no max cashout.
You might remember video game giants like Nintendo and Sony investing in handheld gadgets like the Nintendo 3DS and the PS Vita, where players could take their favorite games with them wherever they went. Unfortunately, both models have been discontinued thanks in part to the rise of smartphones and their ability to run video games without having to buy an additional gadget. Nonetheless, not all smartphones are good for games as cooling systems, high refresh rates and a decent battery are necessary for running them smoothly. The following are some of the best and latest smartphones for gaming:
Asus ROG Phone 5: Released in April 2021, this state-of-the-art model features a Snapdragon 888 chipset and has up to 16GB of RAM with a decent 6.78-inch HD screen that allows high-performance titles to be run. Additionally, it also has a huge 6,000mAh battery so users can play for longer.


Lenovo Legion Phone Duel: The first gaming phone from Lenovo has a powerful processor and a storage capacity of up to 512GB. In terms of screen size, it is similar to other gaming smartphones with a 6.65 inch size as well as a 1080 x 2340 resolution. The phone also supports 90W fast charging.


Nubia Red Magic 5G: Its revolutionary 144Hz display is ideal for gaming and provides a smooth refresh rate for gaming enthusiasts, although its 4,500mAh battery is less efficient than the ones provided in other models. Still, its fan and a liquid cooling system effectively keep the handset cool under pressure.


Black Shark 3: Even though this model was released over a year ago, it is still a decent gaming smartphone model in 2021 thanks to its large 6.67-inch screen with LED lights and 90Hz refresh rate. Another sweet feature is its powerful 64MP + 13MP +5MP rear camera.
Now, the only question that remains is , are you ready to play your favorite games from your phone?
Ready to Play?
Collect our Monthly Blog Bonus Worth a:
200% Match + 77 Spins on top!
Redeem Monthly Code: 200SLOTOLIFE
$40 min. deposit and 30x roll over + 10x on spins winnings. Game: 777

There is no better way to jump into summertime than by receiving our special Sloto Magazine! Our summer edition comes with tons of free spins, bonuses, contests, puzzles and extra surprises! Get your summer rolling with our latest issue! Read previous issue here.
Summer 2021 Magazine Features:
Deluxe Mobile Features
Big names from our slot collection are coming to mobile devices. Discover all the new features now supported in our mobile lobby!
Lucky 7
Learn about the inherent luck of the number 7 and connect it with one of our special games that is sure to pay out big this summer!
The Final Frontier
Read our informative articles about current events in space exploration and the colonization of our solar system.
Bonuses, coupons & tokens
In the middle section of the magazine there is a 3-month calendar filled with exclusive coupons that will keep you busy spinning our reels all summer long!
Bright outlook for lucky winners!
Players that get our Sloto Magazine cash out more thanks to all the exclusive coupons found therein. Be one of the winners this season - good luck!
| Deposit | Get | Coupon |
| --- | --- | --- |
| $40+ | 100% Match | SUMMER2021MAG |
| - | $100 Free After! | FREE2021MAG |
Subscribe to Sloto Magazine with your $40+ deposit. Offer holds 25x roll over only. Free chip holds $500 max cashout. Coupons must be redeemed in order!
Subcategories