Sloto Cash Blog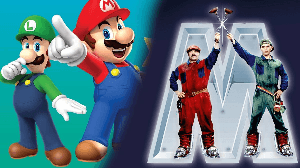 One of the biggest announcements for the video game community this year has been the new Mario movie, coming to the big screen in 2022. Illumination studios, the creators of 'Despicable Me' and 'Minions', are joining Nintendo in this venture to give new life to Mario, Luigi, Bowser and Peach in 'Super Mario Bros.' It's been a while since the popular duo appeared in a movie in 1993, which was welcome with lots of negative reviews.
This time, however, Nintendo is ready to make this production a success by lining up a cast of stars to provide their voices for the characters. The film will feature Chris Pratt as Mario, Jack Black as Bowser, Seth Rogen as Donkey Kong and Anya Taylor-Joy as Peach - who is regarded as one of Hollywood's most promising actresses. Charles Martinet, the video game voice of Mario, will also have an unspecified cameo role.
Along with the announcement of the film, there was an explosion of positive social media reactions - mostly due to Pratt's casting as the movie's main character. 'Super Mario Bros.' will be directed by the 'Teen Titans Go! To the Movies' team of Aaron Horvath and Michael Jelenic with a screenplay by Matthew Fogel.
Time will only tell if the movie will follow the same unsuccessful fate of many other video game-themed movies or if it will be the exception to the rule with a high quality plot and iconic voice acting performances.
READY TO PLAY?

Deposit $25+
Get 111 Coyote Cash Spins on top!
Redeem Coupon: 111TRUEJACKPOT
Deposit $100+
Get 300% High Roller Bonus!
Redeem Coupon : 300HIGHROLLER

Coupons info:
111TRUEJACKPOT coupon holds 20x roll over, Redeemable 1x weekly this month. 300HIGHROLLER bonus holds 40x roll over and it is redeemable once this month.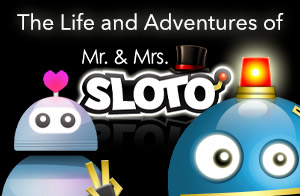 The Heights of a New Dawn 
The evening came with majestic colors, everyone in awe looking up at the imposing peak of Everest. One representative of each group spoke about how they foresee the future of humanity. It was soon Mr. Sloto's turn to speak to the survivors of the cataclysm, when suddenly, in the distance, several red and orange lights were seen. Everyone fell silent. The lights made random and quick patterns in the sky.

"What are they?!" – spoke a leader from South America.
"Is that…." – voiced a leader from Siberia.

The lights got closer and closer. Mr. Sloto stared amazed at the patterns they made. Soon enough, they were so near you could see a kind of translucent metal that gave out all kinds of light.

"Stop Mr. Sloto" – yelled Mrs. Sloto as Mr. Sloto hypnotically started to walk to the nearest peak.

Mr. Sloto continued his way and the flying objects got closer to him. Suddenly, they were only a few dozen feet from his head. Mr. Sloto raised his arms and, in that instant, a bright white light was shot out of the bottom of the flying object. The entire Himalayan Island was engulfed in white light.

Moments later Mr. Sloto woke up on a bed, hearing beeping sounds around him. The light was very strong and there were beings moving around him. He then began to hear voices: "He will survive, it's was just a blown circuit near his main frame."
Mr. Sloto was able to focus his eyes better after they became accustomed to the light. What he saw shocked him to the core of his reels.
He was in a hospital bed, surrounded by doctors and scientists. Mrs. Sloto was right beside him.

"Where am I?" – asked Mr. Sloto.

The main doctor came next to him and spoke: "We are glad to see you recover consciousness. Since your house burnt down after Christmas, your system went into complete shock. We had to hospitalize you for several weeks now. You could only mumble words here and there, but it seems you were running various simulations in your head, possible scenarios of doom: flooding, volcano gods, invasion of the Earth by extraterrestrials."
Mr. Sloto could not believe his ears. He had been dreaming all those crazy scenes.

"You need to remain at rest, until we are sure your system is back to normal" – said the doctor. "When you get out, you will need to stay isolated as much as possible, because of the virus…"

Mr. Sloto, perplexed, said out loud: "VIRUS?!"
This is an interactive series. Players get to vote on that next chapter of the story!
HELP US WRITE CHAPTER 19th IN THE LIFE AND ADVENTURES OF Mr. and Mrs. Sloto!
1st option) Mr. Sloto gets better and moves into this new home with Mrs. Sloto. The world has radically changed after a worldwide virus pandemic.
2nd option) Mr. Sloto gets better and moves into this new home with Mrs. Sloto. The world has radically changed after a computer MegaVirus is collapsing the infrastructure of the Internet.
3rd option) Mr. Sloto gets better and moves into this new home with Mrs. Sloto. The world has radically changed after a strange virus is killing all the animals on the Earth.
Send your vote to This email address is being protected from spambots. You need JavaScript enabled to view it. and be part of the evolution of this story!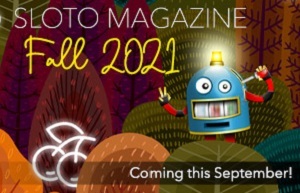 Fast-paced slot releases this year
As featured on Sloto Magazine
Sloto'Cash is known for providing a highly-rated collection of slot and casino games, but their ambition to have the best game repertoire has not shrunk one bit. In fact, 2021 has been one the years with highest game releases in a calendar year. The production marathon began in February with the release of Paddy's Lucky Forest, an impressive 720 AWP (all-ways-pay) slot that arrived just in time to celebrate this year's St. Patrick's Day!

Then came three new releases within 2 months, which started with Spring Wilds, a 5-reel machine with adorable Easter-inspired graphics. Sloto'Cash then added two quality games with the network-progressive version of Jackpot Piñatas Deluxe and the innovative 3-reel game, Wild Fire 7's, which features a mini fourth reel with added prizes and multipliers.
The new game onrush has not slowed down in the summer after the release of Shopping Spree II, a progressive sequel to the enormously popular original. And as you will see in the coming pages, two irresistible slots followed with the titles of Lucky Catch and Sparky 7.
Your gaming experience has already been enriched thanks to the just rleleased trilogy slot Bubble Bubble III.

Stay tuned at Sloto'Cash for news of the latest state-of-the-art online casino games to be added in the coming months – your gaming possibilities will be dramatically multiplied by the end of 2021!
Enjoy a 100% Match Bonus + 100 Free Spins on top!
Redeem Code: EASYIRISH
Promo info:

Offer holds 25x roll over + 5x roll over on spins winnings. Spins game: Paddy's Lucky Forest
Subcategories