Sloto Cash Blog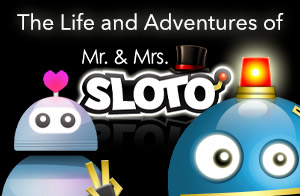 A fight with MegaVirus
It had all been a very long, surreal nightmare. Mr. Sloto arrived at his home with Mrs. Sloto, feeling fresh after a deep maintenance on his hardware and software. He headed toward his workstation, "I'm going to check my emails, probably have hundreds of fan mail since my hospitalization."

"Oh – but remember the virus!" – retorted Mrs. Sloto. Mr. Sloto had forgotten what he heard in the hospital. Over the last few weeks a powerful MegaVirus was making the Internet collapse by infecting servers throughout the globe. "We lost access to internet connection two days ago here in this region." explained Mrs. Sloto.
The world was in chaos; with no Internet, markets had begun to collapse, supermarkets were running dry and people began to feel an emotion they had avoided for years: boredom.
"I can't let this happen!" shrieked Mr. Sloto, "People are going to go insane without a healthy dose of entertainment."
Mr. Sloto had an idea. He had an outlet in his frame to connect to the internet and thought about getting online to infect his system with the MegaVirus. He would then try to analyze the MegaVirus and discover its weaknesses. If he would become overpowered, Mrs. Sloto would do a hard shutdown of his system and restore him to a previous configuration.
"Ok, let's do this," replied Mrs. Sloto when she heard the plan. They immediately drove to a region where Internet access was still available.

Mr. Sloto remained utterly still as Mrs. Sloto brought the LAN cable to his network outlet. "At the count of three I'll plug it in. "One… two… three!"

Mr. Sloto's eyes turned fiery red, smoke emerged from all his sockets and he heated up like a rocket reentering the Earth. "Give me a sign my Love" exclaimed Mrs. Sloto, unsure if she should shut him down or give him time to wrestle with the MegaVirus.
This is an interactive series. Players get to vote on that next chapter of the story!
HELP US WRITE CHAPTER 20th IN THE LIFE AND ADVENTURES OF Mr. and Mrs. Sloto!
1st option) Mr. Sloto circuits get fried and he is deemed irreparable. He is thrown in a junkyard, only later to be reassembled by a homeless genius inventor.
2nd option) Mr. Sloto entered a deep realm of hyper-reality, where he fought with the avatar of the MegaVirus. After nearly succumbing, he defeats the virus and finds a way to restore the internet.
3rd option) Mr. Sloto discovers it was not a MegaVirus but a flaw in the infrastructure of the internet. Upon returning to his senses, he realized he has a vision for Internet 2.0.
Send your vote to This email address is being protected from spambots. You need JavaScript enabled to view it. and be part of the evolution of this story!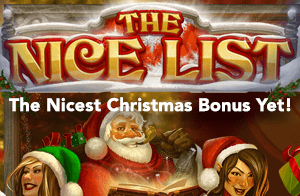 Christmas is finally here and at Sloto'Cash, you will be able to give yourself the best gift of all with a seasonal prize that awards joy, cash, bonuses and extra spins on 'The Nice List'!
This slot brings the spirit of Christmas to life in its 5x4 grid with 50 active paylines where matching symbols can translate into real cash.
Claim up to 225% match bonus and get dozens of free spins and get ready to enjoy a Merry Christmas all month long!
| Deposit | Get | Extra Info |
| --- | --- | --- |
| $25-$49 | 75% Match | +15 Spins |
| $50-$99 | 100% Match | +20 Spins |
| $100-$149 | 125% Match | +25 Spins |
| $150-$199 | 150% Match | +30 Spins |
| $200-$249 | 175% Match | +35 Spins |
| $300+ | 225% Match | +50 Spins |
Redeem Code: SLOTOSANTA
Spins Game: The Nice List
Promo holds 30x roll over. Redeem TWICE per day throughout December!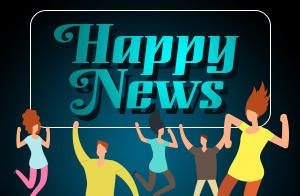 Say good morning to a bright beautiful world. Mr. Sloto brings you news of hope and positivity to light up your day!
Old Lotto Ticket wins $20 Million!

A man from Manitoba, Canada had bought a Lotto ticket and stuffed it in the back of his wallet, soon to forget about it. Over a month later, while visiting a gas station, he noticed the ticket and asked the salesperson to scan it. To his surprise, the salesperson told him this was the missing ticket. 
"I saw two and a bunch of zeros and thought, 'Cool! I won $20,000!'' he said. The salesperson scanned it again to confirm the prize and it with more zeros than he initially saw, "That's 20 and six zeroes—$20 million!" 
The winner wants to spend part of his newfound fortune for his dream project on Big Stone Lake in northern Manitoba, where he would like to build cottages that will serve as a treatment center or a wilderness experience for guests. 
Actor raises $1.5 billion to find cure!
Michael J. Fox, known for his roles in the Back to the Future films, was diagnosed with Parkinson's disease at the age of 29. He has createdThe Michael J. Fox Foundation which has raised over $1.5 billion in search for better treatment and ultimately a cure for Parkinson's disease. One thing Fox is sure of: He says he won't stop fighting until there's a cure.
Mushrooms that heal. 
Johns Hopkins hospital is at the forefront in studying the potential psychedelic mushrooms have in healing people and fighting addiction. They have just received a federal grant to explore the benefits of psilocybin (the active component in psychedelic mushrooms) against tobacco addiction. This is the first time in 50 years a federal grant has been given for the study of therapeutic effects of psychedelics!
Enjoy 500 Good News FREE Spins
On Top of Your $25+ deposit!
Redeem Code: 500GOODNEWS
Promo info:

Offer holds 25x roll over. Redeem 1x weekly until end of the month. Game: Wild Hog Luau
Subcategories