Sloto School
Details

Category: Sloto School

As featured on Sloto Magazine
They say that gambling is as old as civilization itself. In its long history players and casino runners have come up with a lot of expressions regarding games or actions that are not common currency in our everyday language.

In this article you'll learn some of the most popular casino slang so you are ready next time you talk or chat with a gambling fanatic.
Action: The amount of money wagered (put into action) by a player during an entire playing session.  Example: How much action did you put into that slot machine today?
Bankroll: The total money a player has available for gambling. Example: After winning that jackpot, I doubled my bankroll.
Casino advantage (also House Edge): The advantage (often represented by a percentage) that the casino has over a player. Example: Blackjack has a casino advantage of 0.05%.
Deuce: The number two in dice or cards. Example: Deuces are wild in this video poker machine.
Expected Win Rate (also Return to player, Pay-back or Pay-out percentage): The total amount (often a percentage) that you are expected to win back in the long run. Example: This slot has 99% Win Rate, so you're likely to win $99 back of every $100 you wager this year.
Holding Your Own: Neither winning nor losing, breaking even. Example: I was able to hold my own after a week in Las Vegas.
Martingale: Betting system based on doubling-up after each loss. Example: I always use the Martingale when playing Roulette.
Paint card (also Face card): In poker or card games, Jack, Queen, and King cards. Example: I need a paint card to complete my Blackjack hand!
Snake Eyes: In Craps, when you roll a two, because the two dice look like eyes and they are bad news for the shooter. Example: I shot 3 Snake Eyes in a row, I need a break!

Whale: A high-roller player that makes very large bets. Example: This table is for whales only, minimum bet $100
Details

Category: Sloto School

As featured on Sloto Magazine

Complimentary (comp) points are a traditional way for casinos to reward their players. You get comp points for your wagers on casino games. Those points can later be converted into cash or used to redeem prizes and gifts.

At Sloto'Cash you begin earning comp points automatically. It couldn't be simpler. You don't have to sign up to a special loyalty program as land-based casinos require you to do; only then to receive a reward card that you must present at every table  or slot you visit. At Sloto'Cash the comps are generated as you play from day one.
Comp points are essential for you to get more play-time and bigger chances of winning at casino games.
How to use your comps?

Visit the Sloto'Cash cashier and open the "My account" tab. Click on "Comp Points" to see how many comps you have. For every 100 comps you can get $1. You are welcome to redeem as many points as you'd like every time.
How to get more comps?

If you want to generate comps at a higher rate, then you can apply to our VIP Program. VIPs get comps at a higher rate on most Sloto'Cash games.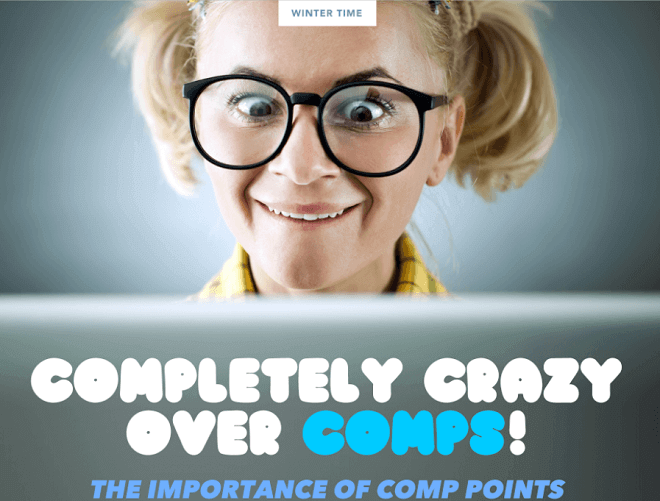 Details

Category: Sloto School

A closer look at progressives (As featured on www.slotomagazine.com)
Most players dream about hitting a large progressive jackpot in their lives. The very idea of winning millions of dollars after a single spin is what brings thousands of visitors worldwide to land-based and online casinos.  Progressive games have a jackpot meter that increases after coins are played on the game. A small percentage of every bet goes to the jackpot, allowing it to grow bigger every day!
But how realistic is it to hit a progressive jackpot?
The odds vary considerably for each progressive game. The odds of winning a million-dollar progressive range from 1 in 50 thousand to 1 in 50 million!  Nonetheless, it is not impossible to win these or lesser progressive jackpots; in fact, there are several winners each year within Sloto'Cash's (RTG) progressive network.
Let's have a look at the different types of progressive jackpots games currently available in online and land-based casinos.
Standalone Progressives
This is certainly the oldest form of a progressive jackpot and can be found in small brick-and-mortar casinos. Besides having its fixed pay table jackpots, the slot machine also has a progressive jackpot that increases based solely on the coins put in that machine. The progressive jackpots on these machines rarely go above a few thousand dollars.
Local Progressives
The next type of progressives is easily found in most casinos. At Sloto'Cash casino they are called Real-Series slots. These games are linked within the casino and the jackpots are feed by the bets placed on these games by players within the same casino. Some local progressive jackpots are random: they do not require that you hit any special symbols and may be won at the end of any spin of any bet size!
Wide Area Network Progressives
These are the largest jackpots since they are feed by the bets placed on the machines throughout a network of multiple casinos or states. Sloto'Cash, which is powered by Real Time Gaming (RTG), has several multi-million dollar progressives that have been growing thanks to bets placed by thousands of players in RTG casinos. The great thing is that you can win the entire Wide-Area Network jackpot by playing these games at Sloto'Cash!
In the opposite section we will review the most popular progressive games that you can play today Sloto'Cash. These games have over $5,000,000 in progressive jackpots and are constantly growing. Could this be your luckiest day yet?!
Play with a 150% True Jackpot Bonus up to $1,250!
Redeem Code: TRUEJACKPOT *

Complete the offer above and win or lose
Get 150 Loyalty Spins to win up to $500 EXTRA!
Game: Cleopatras Gold
Loyalty Code: TRUEJACKPOT-150
* Promo requires a $30 min. deposit. It holds 30x slots or keno playthrough or 60x on other games. Offers expire at the end of the month.