Sloto Cash Blog

Did you know there are many hidden treasures out there that remain uncovered? Time for you to step in and dig your way towards a 350 Free Spins Sloto treasure! Deposit as little as $25 and you'll be getting more than your hands full with winnings.
From now and until December 15th, you're invited to join a treasure hunt where you'll find a 100% 1st Bonus + 50 Spins, only to continue digging for more in the shape of a 150% 2nd Bonus + 100 Spins and finally collect a 200 Free Spins Reward!
Finding treasures is not a regular occurrence in life – that is until you make your way to the Sloto reels where mad bonuses and Free Spins await!
100% 1st Bonus + 50 Spins
Redeem Code: PLENTIFULSPINS1
Free Spins Game: Plentiful Treasures
150% 2nd Bonus + 100 Spins
Redeem Code: PLENTIFULSPINS2
Free Spins Game: God of Wealth
200 Free Spins Reward!
Redeem Code: PLENTY200SPINS
Free Spins Game: Small Fortune
Terms:
Deposit bonuses require a $25 minimum deposit and they hold 30x slots or keno playthrough and no max cashout. PLENTY200SPINS coupon winnings hold $500 max cashout. Promo codes must be redeemed in order. Offers expire on December 15th.
We've all thought about it – what if I ever found a buried treasure and it held my retirement money? Well, maybe not hard cold cash, but valuables like jewels, coins, crowns and so on! Yeah, it doesn't usually happen to the average Joe and Jane, but some lucky folks have found seriously coveted troves throughout history.
Here are 3 of the most prized treasure troves ever to have surfaced:
The Cuerdale Hoard
With a value of close to $3.2 million, the Cuerdale Hoard was dug up by a group of workmen back in 1840. The lead box contained one of the biggest collections of Viking treasures ever found with good like silver coins, jewelry and even silver ingots.
The Hoxne Hoard
In 1992, a guy looking for his lost hammer accidentally bumped into the Hoxne Hoard. Valued in close to $3.8 million, this oak chest treasure held silver spoons, gold jewelry and coins that dated back to the 4th or 5th century CE.
The Staffordshire Hoard
Fairly recently, in 2009, a guy with a metal detector struck it lucky when he found the $4.1 million Staffordshire Hoard. A pretty stunning treasure to stumble upon: a hoard guarding over 3500 items, including military objects, religious pieces and decorative objects.
Find the golden coins you've been looking for when spinning the reels of the new Jackpot-Filled Slot: Plentiful Treasures!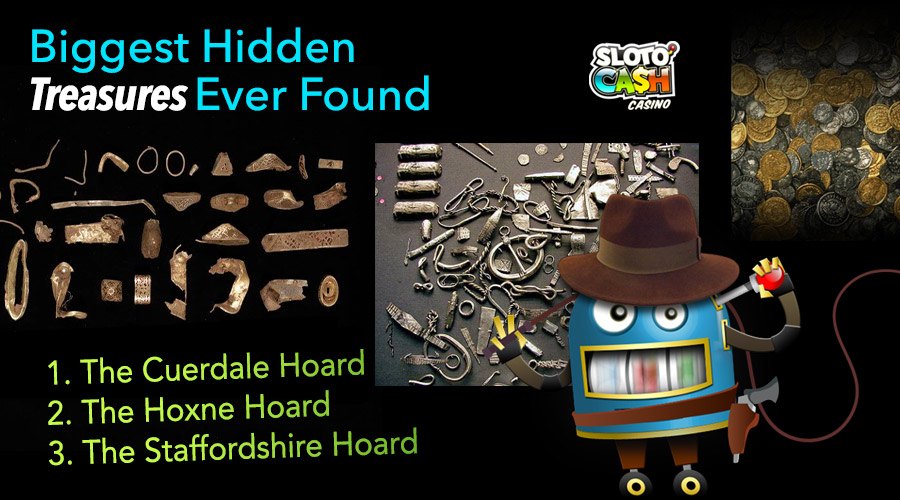 As featured on Sloto Magazine
Summer is here for us to soak up the sun and mingle with friends outdoors. We collected some original drink recipes (alcoholic and non-alcoholic) for you to dazzle your friends with unique new flavors!
Watermelon Bellini
Ingredients
1 cup watermelon, cubed
Champagne or sparkling cider (with or alcohol-free)
Instructions
1.Puree the watermelon in a blender.
2.Evenly divide the puree between 4 champagne glasses. Fill the glasses with champagne or sparkling cider. Garnish with a piece of watermelon if desired.
Mango-Peach Fizz
INGREDIENTS
1 ripe mango
1 large ripe peach
½ cup unsweetened mango, peach, or orange juice
1 tbsp. sugar
Peach schnapps or peach-flavored seltzer
Cold club soda, seltzer, or champagne
INSTRUCTIONS
1.In a blender, puree mango, peach, fruit juice (mango peach or orange), and sugar (adding more sugar if puree is too tart). Puree can be made up to 1 day ahead and refrigerated.
2.For each fizz, fill tall glasses with ice cubes. Pour 2 tbsp each puree and peach schnapps or peach-flavored seltzer into each glass and top with cold club soda, seltzer, or champagne.
Strawberry-Lemon Punch
INGREDIENTS
1 can frozen pink lemonade concentrate
1 pt. ripe strawberries
6¼ c. cold water
1 qt. ginger ale
whole strawberries
DIRECTIONS
1) Process lemonade concentrate, hulled strawberries and 1 cup of the water in blender or food processor until berries are liquefied.
2) Pour lemonade mixture into punch bowl. Stir in remaining 5 1/4 cups cold water. Gradually stir in ginger ale. Serve over ice. Garnish with berries. Add vodka or white wine to spike it up!
MONTHLY COCKTAIL TOKENS
Make yourself a cocktail and play on the house with $15 Free!
Complete a deposit in June and redeem code WATERMELON15 to receive your free chip!
Complete a deposit in July and redeem code MANGO15 to receive your free chip!
Complete a deposit in August and redeem code STRAWBERRY15 to receive your free chip!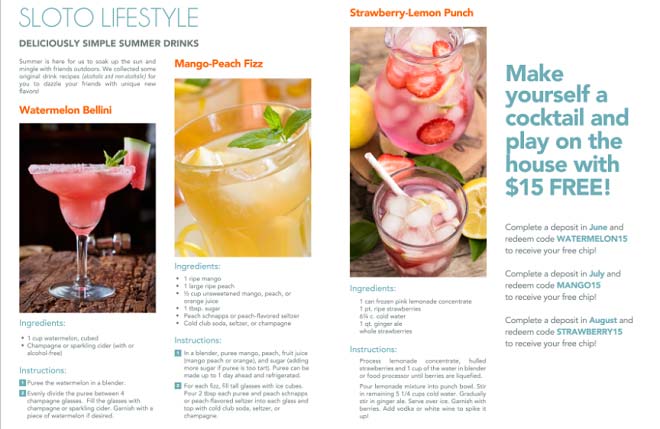 Subcategories