Sloto Cash Blog
We present with enormous pleasure our latest one-of-a-kind betting game: Cubee
This is a slot machine unlike any other. It is breaking with all tradition by creating a sharp and modern-looking game with NO REELS that will greatly appeal to the newer generations.
What's the big deal with Cubee? Its creators literally think outside the box (or should we say, cube!)
The main character of the game is a fuzzy looking creature called Cubee. The goal of the game is to defeat enemies while traveling through 3 different epochs: The Stone Age, The Era of Piracy, The Viking Age and finally culminating in CubeeLand – where Free Games with multipliers are played!
Cubee has no reels. The symbols are floating enemies appearing in a time travel portal. The defeated enemies will grant payouts based on the pay-table. To defeat an enemy Cubee must match their strength.
Cubee is heaps of fun once you get the hang of it. It doesn't take look before you understand the dynamics of this ground-breaking game!
Cubee features:

Energy Ball: When appearing in a game round, each Energy Ball will increase Cubee's strength, allowing him to defeat more powerful enemies and accrue higher payouts.
Rocco:  This is the name of Cubee's arch-enemy. He stands opposite Cubee in each epoch. When a weapon appears in a game round, it will strike Rocco to lower his stamina. Once defeated, Cubee travels to the next epoch.  
Era of Piracy:  Every time a cannon appears in a game round, the Free Games tally number will go up by a point.   
The Viking Age:  Every time a bow appears in a game round, the multiplier number will go up by a point.   
Cubeeland: One you reach Cubeeland, you play your accumulated Free Games with the earned multiplier!

Cubee is rewriting the history books on online slots. Imaginative, dynamic and great design makes this a great addition to Sloto'Cash game collection!
Play it with a 111% Match + 33 Free Spins!
Redeem Code 111CUBEE33
Terms:
Offer requires a $25 min. deposit and it holds 30x slots or keno roll over and no max cashout. Redeem 2x monthly until end of Abril!

What's your lucky animal symbol? Time to find out with our special mid-February Spins Package!
This has been an exciting month after the release of Pig Winner, our new slot machine released in commemoration of the Chinese New Year. This year we are in the Year of the Pig, according to the Chinese Zodiac. A lot of lucky winners will be oinking with delight as they hit big jackpots in our new game.
Set time aside to play for several intense hours thanks to our mid-February special. Each coupon below will grant free spins on a slot with a lucky animal theme. Find your lucky animal by redeeming these exclusive codes this month!
Meet first our Super Pig Winner
Collect a 100% Bonus + 50 Spins
Redeem Code: LUCKYANIMALS-1
Game: Pig Winner
Continue after to Penguin Power
Play with a 150% Bonus + 100 Spins
Redeem Code: LUCKYANIMALS-2
Game: Penguin Power
Redeem both promos above and get
200 Coyote Cash Free Spins!
Redeem Code: LUCKY200ANIMALS
Game: Coyote Cash
Terms:
Deposit bonuses require a $25 minimum deposit and they hold 30x slots or keno roll over and no max cashout. FREE200FARM coupon winnings hold $500 max cashout. Promo codes must be redeemed in order. Offers expire on March 15th.

Spring into luck!
This season leap into highest luck with our 2019 Spring edition of Sloto Magazine. This unrivaled quarterly magazine has dozens of free coupons and spins promotions to keep your bankroll blooming this season! Join over 20,000 subscribers worldwide and read players' favorite gaming magazine!
Spring 2019 Magazine Features:
The Booming Promotions Calendar
You want beat the house? Optimize your style of play thanks to our 3-month promotion calendar in our magazine. Get codes for 100% EXCLUSIVE BIG bonuses, courtesy chips and free spins no other player gets. These coupons are exclusive and you can't find them anywhere else online!
Ancient Civilizations Trivia and Tournaments
Answer the special trivia and we'll activate a Free Token coupon in the magazine so you can play on the house! Plus find the password for the exclusive tournaments worth thousands in prizes!
Ultimate inspiration = Sloto Lifestyle
Find the ultimate tips to improve overall well-being. Our lifestyle articles are here to inspire you to become the best version of yourself!
Signature Slots
Learn about our signature trademark games and find exclusive coupons to play literally hundred of spins!
Subscriber Bonuses:

Get a 200% Match Bonus
Coupon Code: 200-SPRINGMAG
Redeem after:
$25 Subscriber Ticket
Coupon Code: 25-SPRINGMAG
Terms
Deposit coupon requires a $30 min. deposit and it holds 30x slots or keno playthrough and no max cashout. $25 free ticket holds $500 max cashout. Coupons must be redeemed in order and they are valid until February 24th!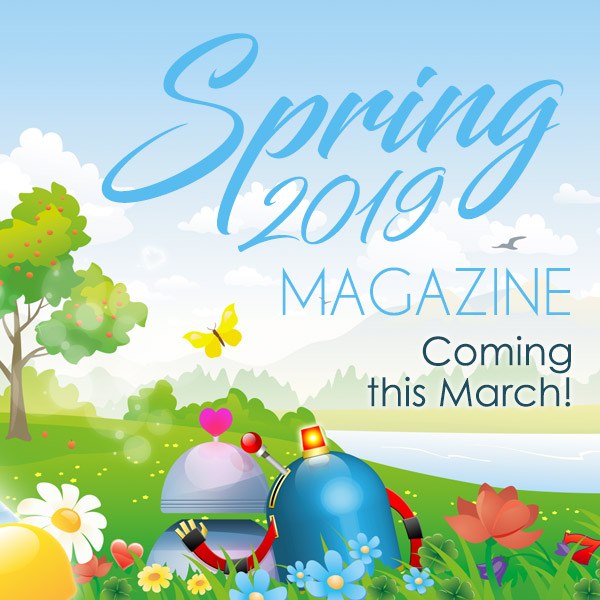 Subcategories