Latest Online Casino News
Have you ever wondered what happens with all the debris from space missions and old satellites that no longer work? Well, they stay in orbit in the form of a cloud of more than 9,000 tons of space junk that poses serious risks to the International Space Station and our modern way of life. For example, weather forecasting, GPS and telecommunications could be affected if these debris hit the structures that sustain these services down on Earth.
With more and more man-made objects being launched each year, especially now with SpaceX's Starlink satellites, a company called Astroscale is working on getting a solution to clean up space debris. By launching a small spacecraft with a satellite attached, the space junk will be snatched and brought down to Earth's atmosphere where it will burn up. Moreover, Astroscale is hoping that new satellites will incorporate a docking plate that will make them easier to remove from orbit at the end of their life span.
By cleaning up unnecessary junk from orbit, experts hope they can avoid catastrophic collisions and protect the space ecosystem for generations to come. There are at least 26,000 pieces of space junk orbiting Earth that are of the size of a baseball or larger that could destroy everything on its path - just watch the movie Gravity to see how this could end up.
Luckily, with the help of these initiatives we can hope for a decrease in these smaller rubbishes.
Are you ready for the future?
Deposit $25 Get 200 PULSAR Spins on top!
Redeem Coupon EASYWINSPACE
Deposit $30 Get 150% Match Plus 50 Nova 7s Spins
Redeem Coupon 150NOVA50
EASYWINSPACE promo holds 27x roll over on spins winnings. 150NOVA50 requires a $30+ deposit and it holds 30x roll over + 5x on spins winnings. All deposit bonuses hold NO MAX CASHOUT.

It is now well over a year since the corona virus reached Europe and the United States. Scientists and researchers are constantly devising studies to determine the best way to reduce the risk of infection and effective methods to bolster patient's immune system once they contract the virus. Many studies are still quite at early stages and further research is still needed to reach conclusive results. However, early results suggest there are a handful of supplements that can help reduce risk of severe symptoms. Here are the main two.
Vitamin C
This is a common antioxidant that can boost your immune system. Early research shows that sufficient vitamin C levels in the body can help reduce inflammatory reactions from severe Covid-19 cases.
Dosage: Recommended Dietary Allowance (RDA) is 75 to 90 milligrams per day. Always check with your health physician before taking any supplements.
Vitamin D

This is another vitamin that can help the immune cells in the body. This vitamin is produced naturally as your skin reacts to sunlight, so it might be important to take a vitamin D supplement in higher latitudes during winter months. Around 40% of U.S. adults are deficient in this vitamin.
Studies in Europe are showing that as high as 80% of hospitalizations were patients with vitamin D deficiency.

Dosage: Recommended Dietary Allowance (RDA) for adults is 600 IU (international units) daily. Check with your health physician before starting a daily supplement.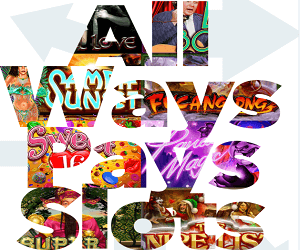 The perfect compromise between simplicity and excitement!
As featured on Sloto Magazine
Every player has a favorite kind of slot. Some like to play 3-reel slots only, while others enjoy more advanced games with abundant bonus rounds and interactive skill-based features. Those that like slots with fewer reels are attracted to the simplicity and ease with which you can follow the payouts, while missing on a lot of bonus features that could boost their luck. Those that prefer more advanced games, often times feel lost when interpreting a win due to complicated pay lines.
Luckily, there is middle ground with a new variation of games call AWP (All-Ways-Pays) slots. These games have changed the way slots are played in a very fundamental way. Most slot games have pay lines (or win lines), where you have to align identical symbols to create a winning combination. With AWP slots, there are no pay lines – in fact, all you have to do is get identical symbols on consecutive reels from left to right (and some cases from right to left too)!
AWP slots make it easy for players to keep track of special symbols as they align and produce wins on the reels, but that is not the only advantage. With traditional slots, you must pay a coin bet for each pay line on the reels. For example, a slot with 50 pay lines played at $0.01 denomination will equal to a $0.50 bet per spin. Increasing the denomination to $0.05, will already increase the total bet to $2.50. That's no longer the case with AWP slots, where you play at fixed bets for a much higher number of winning possibilities. Every AWP slot will state how many winning combinations are possible (the equivalent of pay lines) and often start at 243 ways to win, but can go up to 4,096 different ways to win!
AWP slots combine all the best features of a slot experience, which include:
• Easy track of winning symbols
• Fixed bets for more ways to win than pay line slots
• Bonus features, including Free Games, Wild Symbols, Bonus Features
• Progressive Jackpots
• High Quality Graphics and Design

Sloto'Cash now has several All Ways Pays slots at your disposal, including:

We invite you to watch our video article!
Subcategories