Latest Online Casino News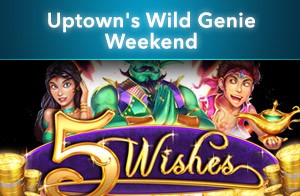 There's a rumour going around that a genie will be roaming the Sloto reels every weekend in July! Find out for yourself just how many wishes this genie is grating those players looking for some extra wins from Friday through Sunday!
Our new slot is also a locally progressive game, with two progressive jackpots that increase on a daily basis. Here are the features you want to hit while playing 5 Wishes:
Wild Genie: This wild symbol substitutes for all other icons excepts scatters. It appears on reel #1. Participating wins are doubled when a Genie is involved.

Genie Wilds Feature: When a Genie appears, he may transform Aladdin, the girl or the monkey symbols to new Genie Wilds on the other reels. See explosive payouts occur!

Scatter: The Magic Lamp is a scatter and landing three in any spin will trigger the Free Games feature below.

Free Games Feature: Get 10, 20 or 100 Free Games when you get 3, 4 or 5 scatters in a spin respectively. The Genie Wilds Feature is active during the Free Games.

Progressive Jackpots: These jackpots can be won randomly at the conclusion of any spin – no special symbols required!
Play the fabulous 5 Wishes slot this and every weekend of the month and make your winning wishes come true in just a few, easy spins!
Play from Friday through Sunday with a
77% Match + 77 Free Spins!
Redeem Code: SLOTO77WEEKEND
Spins game: 5 Wishes
Offer requires a $30+ deposit and it holds 30x roll over. Redeem TWICE per day from Friday through Sunday.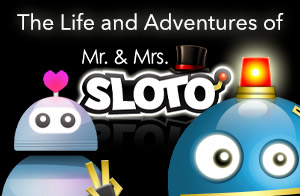 The prophesied god
"And we're off", said Mr. Sloto, as they left Cherrytown. The town had been restored to order and Mr. and Mrs. Sloto had received a medal from the city's mayor for their heroic efforts.

"First stop, islands in the Indian ocean!" continued Mr. Sloto as he was configuring his navigation path in the sailboat's computer frame.

For the next two weeks Mr. and Mrs. Sloto spent quality time together playing card games, looking out to the endless horizon and the impressive night sky before going to bed.

Early one morning, Mr. Sloto says: "We are about to land in a little known island called North Sentinel Island. I have read online that there are natives here that are hostile to visitors, so we have to be very careful not to frighten them."
Mr. Sloto set anchor near the coast and both of them got off to explore the island. Suddenly a whooshing sound was heard. "What was that?" asked Mr. Sloto. He looked up and saw something approaching. "Oh no!" screamed Mr. Slot, "We're under attack… let's run!"

Hundreds of arrows were approaching Mr. and Mrs. Sloto. They whizzed as fast as possible through the sands, but their wheels were beginning to fail under the humid conditions.  An arrow struck Mr. Sloto in his back and knocked him down. Mrs. Sloto was paralyzed with fear.

A gang of 20 islanders approached the visitors. What seemed like the leader held an amulet in his hand. It shone bright in the sun. He began speaking, as if preaching to the clouds. Strangely, the sky began to turn overcast and a few drops of rain began to fall. Mr. Slot mumbled: "We come in peace… please don't hurt us!"
The leader came to examine Mr. Sloto up close. He pulled Mr. Sloto's slot lever and the reels began to turn. Three diamonds appear on the reels and Mr. Sloto spat out dozens of gold coins. The islanders were in awe. They took the two visitors into the island. Mr. Sloto was placed inside a native temple made of intertwined palm tree leaves. Inside there were images that eerily resembled Mr. Sloto.

The islanders all sat around Mr. Sloto and began to worship him. Mr. Sloto looked at Mrs. Sloto that was next to the temple. "They think I'm a sort of prophesied god" he said with a smirk on his face. "I think we are safe for now."
This is an interactive series. Players get to vote on that next chapter of the story!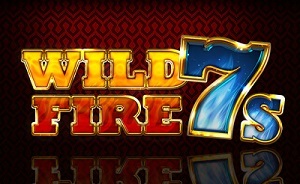 The number 7 is the world's most popular number. Surveys have shown that this number is chosen as a favorite above all other numbers. As many as 1 in 10 people consider the number 7 to be their lucky number.
So, what's so lucky about the number 7?

To begin with, there are a lot of areas you will find this number. There are 7 days to the week, 7 colors in the rainbow, 7 continents, 7 wonders in the ancient world and the list goes on and on.
Even within religious literature, the number 7 keeps a prominent rule. In the book of Genesis, God is said to have created the world in 7 days. In Judaism, there are 7 heavens. Muslims that make their pilgrimage to Mecca, walk around the Kaaba 7 times.

The number 7 is also unique from a mathematical point of view. It is the largest prime number between the numbers 1 and 10. (A prime number is a number that is divisible only by itself and 1.)

Popular culture has also played a role in boosting the popularity of the number 7. It is famously the code number for James Bond and Walt Disney chose to have 7 dwarfs for Snow White.

Many ancient societies have worshipped the number 7, so perhaps there is something magical about this number. It is therefore a great boon that our latest game is all about the number 7!
Subcategories