Latest Online Casino News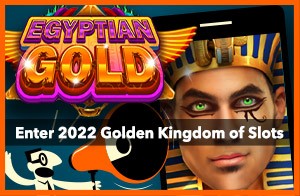 We are back with a new impressive online slot that is here to literally transform the way you play online slots!
Get your hands on Egyptian Gold, our new 243 All-Ways-Pays slot that can expand to a 576 All-Ways-Pays game! The magic of our new game is this ability to mutate its reels so you get more ways of achieving a winning combination.
Our new slot has an original design that gives the impression that you are at the base of an ancient Egyptian monument and has been designed with superb animations that will keep you engaged as you seek fortunes of gold.
Here is what to look for in Egyptian Gold:
Wild Symbol: When Wild pyramid appears on Reel 3, it will expand Reels 2, 3 & 4 to make them 4 rows high, turning the game into 576 Ways slot and making the entire 3rd reel Wild!
Scarab Random Feature: At the conclusion of any spin a Scarab might fly across the reels and award one of five special bonus features, including:
Switch to 324 AWP slot with added wild symbols!
Random Wilds fall into the reels for extraordinary wins!
Magical Re-Spin for guaranteed big win!
Free Games Pick: You can get this feature from the Scarab Random Feature or by getting 3 scatters in a spin. Choose from three exciting options:
Option 1: Guaranteed Super Expanding Wild, where you get 5 Free Games with Super Expanding Wild Symbol guaranteed on reel 3.
Option 2: Wild Reel on every spin, where the player is awarded 8 Free Games. On every spin, one of the reels 2, 3 or 4 becomes wild and 4 rows high (324 AWP).
Option 3: Super Expanding Wild paying Double (2x), where the player is awarded 10 Free Games. Super Expanding Wild feature occurs with a higher frequency and Super Expanding Wild doubles payout of winning combinations.
Jackpot Pick Bonus: At the conclusion of any normal spin, a Scarab might come and trigger this feature, where 12 symbols will appear on the reels and you get to reveal symbols underneath. If you get 3 identical jackpot symbols, you are awarded the matching progressive jackpot (Mini, Minor, Major, or Maxi)!
Egyptian Gold is here for the online slot aficionado that has high expectations when it comes to quality slot games. Your fortune could be made overnight as Egyptian Gold is a very high variance game that will pay extraordinarily high when the time is propitious!
77% Match Bonus + 77 Spins on top!
Redeem Code: SLOTO77WEEKEND
Redeem with your $30+ deposit from Friday through Sunday. Promo holds 30x roll over.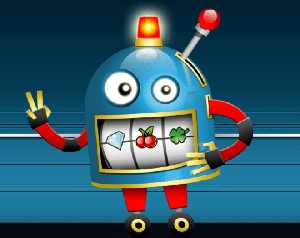 Mr. Sloto is our mascot with a thousand faces. He'll dress as Jason Voorhees for Halloween, as Santa for Xmas and today he's up on stage as a stand-up comic!
Here's the latest round of Mr. Sloto's funny one-liner jokes:  
"How do you make a tissue dance?
Just put a little boogie in it!"
Yucky but funny. What else do you have for us?
"What did the shark say when he ate the clownfish?
This tastes a little funny!"
Poor little clownfish, hope it wasn't Nemo's father! And a last joke: 

"What do you call a magic dog?
A labracadabrador!"

Entertainment is pure gold at Sloto'Cash every day, join us today for more smiles at our games!
Deposit $25+ and get a
125% Easy-Win Match Bonus + 125 Spins on Top!
Redeem Code: MRSLOTO125
Offer holds 25x roll over + 5x on spins winnings. All deposit bonuses hold no max cashout. Game: Gemtopia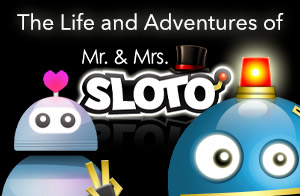 The Great Illusion
The homeless inventor now had two suitcases full of gold pennies, nickels, dimes and quarters. Every coin he would get while begging on the streets would be introduced in Mr. Sloto's coin slot and it would come out as a golden coin.
Mr. Sloto kept trying to think how to escape but the inventor had him on a chain leash. One day, while Mr. Sloto kept pushing out golden coins, he noticed something was not feeling right inside.

"I'm not feeling very well, it's like there is some chemical reaction happening in my insides."
The inventor's eyes opened wide and said: "It's working; soon everything you touch will turn into pure gold!"
Mr. Sloto could not believe what he was hearing, but strangely enough, a few days later, he touched a table and it turned gilded. Then a chair, later a doorknob. Soon, everything around them was turning into gold.
"Hahaha I'm going to become the richest person in the world!" – shouted the inventor.
Mr. Sloto could not avoid touching more things and soon enough large parts of the CherryTown were turning gold. But something was not right, the news spoke of acts of unprecedented vandalism; they claimed someone had been spray painting the city with golden paint. "What is really happening?!" thought Mr. Sloto.
He studied the first thing that had turned into gold, the table. He scratched the surface and sure enough the wood beneath the paint was revealed. He wasn't turning things to gold, simply covering them in paint. He looked at his finger and saw a tiny outlet. He touched an apple that was nearby while examining what was happening. "Aha – ionized electro-paint, that spreads quickly around the first object it touches" – thought Mr. Sloto. "This inventor must be delusional; he created a giant spray paint machine."
That evening, when the inventor would unchain him from the personal leash onto a metal pole in his quarters, Mr. Sloto had an idea. He touched the inventor and saw the ionized electro-paint cover him in gilded color. The inventor screamed as Mr. Sloto ran away as fast as he could…
This is an interactive series. Players get to vote on that next chapter of the story!
HELP US WRITE CHAPTER 23rd IN THE LIFE AND ADVENTURES OF Mr. and Mrs. Sloto!
1st option) Mr. Sloto roams the city to find Mrs. Sloto looking despondent, thinking Mr. Slot has been destroyed.
2nd option) Mr. Sloto runs to Victor Fluke, his inventor, to revert to his older normal self.  
3rd option) Mr. Sloto decides to use his special paint one last time before going to the police to explain the recent events. On the way to the police, he paints the city's main fountain to gold.
Send your vote to This email address is being protected from spambots. You need JavaScript enabled to view it. and be part of the evolution of this story!
Subcategories