Latest Online Casino News
A quick view of Viking Mythology
As featured on Sloto Magazine
According to Nordic mythology, in the beginning there was a big dark emptiness and from this abyss emerged two realms of existence, one full of fire and another frozen and cold. These two realms clashed and the heat of the first melted parts of the second. From the water drops emerged life and the first was Ymir, a giant who was eventually killed by Odin and his brothers. The Earth was created from his remains:
The blood became the oceans, rivers, and lakes.
The flesh became the land.
The bones became the mountains.
The teeth were made into rocks.
The hair became the grass and trees.
The eyelashes became Midgard (a.k.a. Earth).

Sounds like a magical world, right? Norse mythology comes from several sources such as the Poetic Edda and the Prose Edda, written in traditional Old Norse poetry. From these texts we discover a rich world of powerful gods and magical beings like elves and dwarfs.
One of the most famous gods is Thor, a human-protecting thunder-god. Then there is Odin, a god associated with wisdom, healing, sorcery, poetry and the runic alphabet. His wife, Frigg, was a paragon of beauty, love and fertility. There is also the mischievous Loki, a god that could shape-shift and had an ambivalent relationship with other gods, sometimes as friend and at other times as foe.
Many of the gods are said to live in Asgard, the home to the Aesir tribe of gods.
There are countless adventures between people and gods in the rich literature of Nordic mythology, which continues to inspire people around the world even today.

Travel back into Viking times and play our new game Asgard Deluxe!
Play it with a 177% Match + 77 Spins on top of your $50+ deposit
Redeem Code: PANTHEON
30x roll over + 5x on Asgard Deluxe spins winnings.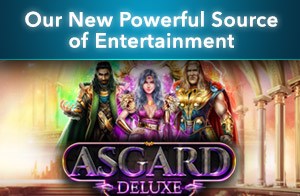 This July, enter a land of myths and wins, all rolled up into one! If you happen to be looking for a new source of entertainment, look no further than 'Asgard Deluxe', and play it with up to 50 Free Spins and a 225% Bonus!
The best features of Asgard Deluxe:

Wild Symbol: Appears on all reels during normal and free games, and substitutes for all symbols except scatters. Participating wins get doubled prizes!
Scatter Symbol: Get three or more in a spin to trigger the Free Games with Picking Bonus!
Random Wild Reels: This feature may trigger at random at the conclusion of a normal spin. Reels 1, 2, 3, 4 or all 5 reels are covered with multiplying Wild symbols before the remaining reels spins to award monumental winnings!
Free Games with Picking Bonus: You get 4 options for your Free Games.
Join Odin, Thor, Loki and Freya in this 3x5 slot game that features free games, a free spins bonus, free spins with bursting wilds, multiplying symbols and much more, including one of the most epic jackpot prizes around!
| Deposit | Get | Extra Info |
| --- | --- | --- |
| $25 | 75% Match | +15 Spins |
| $50 | 100% Match | +20 Spins |
| $100 | 125% Match | +25 Spins |
| $150 | 150% Match | +30 Spins |
| $200 | 175% Match | +35 Spins |
| $300 | 225% Match | +50 Spins |

Redeem Code: POWERSLOTS
Spins Game: Asgard Deluxe
Promo holds 30x roll over. Redeem TWICE per day throughout the month!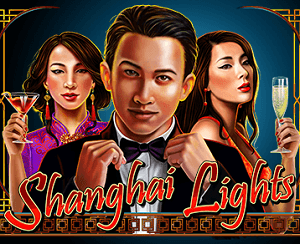 A Giant Metropolis Brings a Quality High-Variance Slot ????
This is one of the most populous and crowded cities in the world. Its name literally means 'on top of the sea', due to its location along the Yangtze River Delta. We are speaking of Shanghai, which is one of the busiest commercial hubs in the world. It contains about 25 million people and has the second tallest building in the world: the Shanghai Tower.
Shanghai has gone from being a tiny fishing town in the 19th century to one of the most dynamic cities in the world!

Want to get a feel of life in Shanghai? Play our high-paced 5-reel slot:

Shanghai lights is one of a kind 50-line slot machine. So keep in mind that it prefers to give larger payouts in longer intervals rather than small payouts frequently. Here's what we love so much about this game:
Shanghai Lights Free Games: 5 Free Games are awarded and Wild symbols may appear on reels 3, 4 and 5. Wilds involved in winning combination double the pay-table payouts. The feature can be re-triggered. At the end of this feature the Super Spin Free Games is automatically triggered.
Super Spin Free Games: Play at least 3 Super Spin games, with extra spin awarded for every scatter win during normal Free Games. The more Super Spins you trigger the higher bonus features are enabled, that include entire 3rd, 4th and 5th reel covered with expanded Wild symbol, tripled prizes and scatter prizes pay x5!
Feel like living the high life in Shanghai? Try this solid slot machine today!
Subcategories