Sloto School
Details

Category: Sloto School

A short history of St. Patrick's day (As featured on www.slotomagazine.com)
Today millions around the world celebrate St. Patrick's day but few know the origins of such a celebrated tradition. On March 17th the streets in many cosmopolitan cities such as New York and Chicago will harbor hundreds of thousand participants, as they march through a city painted green.

But how did it all begin?
It has to begin with the man himself, St. Patrick who, contrary to commonsense, was not born in Ireland but in Britain that was under control by the Roman Empire. He was kidnapped by Irish raiders and taken to Ireland where he converted to Christianity and spent much of his life there as a missionary.
Did you know that St. Patrick was not born in Ireland? 
He died on March 17th, 461 AD to be forgotten for centuries, until legend and myth grew around his name and Ireland adopted him as its patron saint.  A common legend tells of St. Patrick's great influence in Ireland by driving away all snakes from the island.
St. Patrick is reputed to have taught about the Holy Trinity with the three leaves of a shamrock (or three-leafed clover). In the 18th century Irish folk starting wearing shamrocks on their coats, to honor their Irish and Christian origins. Soon after, the Irish starting wearing entire suits in green.
In the 1840's there was a dreadful famine in Ireland, forcing many to migrate to the United States of America. Over half a million Irish reached New York harbors in this period known as the Potato Famine.
With a strong Irish community in New York, the first St. Patrick's parade was celebrated there in 1762. Today it is the Big Apple's largest parade with over 200,000 people participating in the parade while enjoyed by close to 3 million spectators!

As many as 90% of Americans celebrate this date every year!
Join us to celebrate this fun tradition with our St. Patrick's Day promo pack!
St. Patrick's Day Bonuses
17 Free Spins + 317% Match Bonus
Coupon Codes: FREEPADDY17 – PADDY317

Promos info:
$35 Min. Deposit and 40x slots or keno playthrough. Free Chip holds $350 max cashout.
Valid: Until March 18th, 2019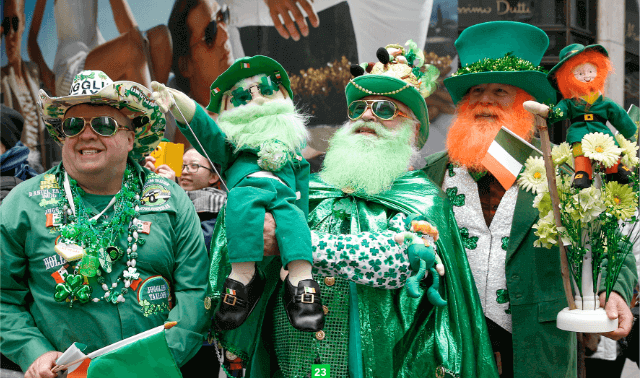 Details

Category: Sloto School

A New Generation of Slots
We are all familiar with how to win while playing a slot machine. Align identical symbols on a pay-line and you expect to receive a payout. For decades this has been the traditional way but this has changed thanks to All Ways Pays (AWP) slots!

Online slot technology has developed a new type of slot with no pay-lines at all and it couldn't get any simpler. All you have to do is land identical symbols from left to right on the reels. It doesn't matter where they appear on each reel. Some All Ways Pays slots also pay for same symbols running the opposite way, from right to left!
There are clear advantages with this type of slots. First, as opposed to traditional slots with pay-lines, you don't pay for each individual pay-line. Your total bet covers all possible pay-out combinations. Secondly, it becomes much easier to keep track of winning combinations as they arise. With some video slots having up to 50 pay-lines, it is hard to memorize all possible combinations. With All Ways Pays, just keep looking for those identical symbols from left to right as they emerge.
The number of winning combinations is quite large for this new type of slots. For a 5-reel video slot with 3 visible symbols per each reel, will have a total of 243 different ways of paying out. The 6-reel All Ways Pays slots have a total of 729 payout combinations. And the 5-reel video slots with 4 visible symbols on each reel have 1024 different payout combinations!

Sloto'Cash has now several All Ways Pays slots at your disposal including:

| | |
| --- | --- |
| AWP Slot | Winning Combinations |
| Asgard | 243 |
| Eternal Love | 243 |
| Halloween Treasure | 243 |
| The Mariachi 5 | 243 |
| Pig Winner | 243 |
| Plentiful Treasures | 243 |
| Samba Sunset | 243 |
| Stardust | 243 |
| Sweet 16 | 243 |
| Scuba Fishing | 729 |
| Super 6 | 729 |
| Ritchie Valens La Bamba | 729 |
| The Big Bopper | 729 |
| Fucanglong | 1024 |
| Panda Magic | 1024 |
| The Nice List | 1024 |
| Mermaid Pearls | 3125 |
Details

Category: Sloto School

Jacks or Better
Video Poker machines are one of the most popular games at any casino. By applying an optimal strategy you can reduce the house edge to 0.46% on Jacks or Better. This is if you apply a perfect advanced strategy, but with a basic strategy you can reduce the house edge to 0.54%, which is still quite decent. This applies for a full pay Jacks or Better machine. You can tell if a machine is full pay by looking at the Full House and Flush prizes on the pay-table. You should get 9 and 6 coin prizes respectively for those two hands. You also need to have 800 coin prize for a Royal Flush. So keep in mind that while Sloto Cash offers a full-pay Jacks and Better machine, the 800 coin prize per coin bet is only available when you play the machine on Max Bet (5 coins).
To apply this basic strategy, simply look at your initial 5 cards and hold the cards of the highest ranking hand on this list:
1.Four of a kind, straight flush, or Royal Flush
2. 4 cards to a Royal Flush
3.Three of a kind, straight, flush, full house
4.4 cards to a straight flush
5.Two pair
6.High pair (Jacks or higher)
7.3 cards to a Royal Flush
8.4 cards to a flush
9.Low pair (10s or lower)
10.4 cards to an outside straight (open-ended straight that can be completed on either end)
11.2 suited high cards (Jacks or higher)
12.3 cards to a straight flush
13.2 unsuited high cards (if more than 2 are available then pick the lowest 2)
14.Suited 10/Jack, 10/Queen, or 10/King
15.One high card (Jacks or higher)
16.Discard everything