Latest Online Casino News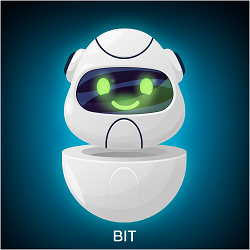 And so it begins, the start of a brand-new era at our Sloto World
Do you fancy taking a tour of the Slot Machines Factory, the beating heart of our Sloto World, where the games you love are born? 
From the design stages to the creation of the games, from production of the smallest components to the assembly of our fantastic machines: everything is here under the same roof. 
BIT, our own Basic Info Technician, will greet you at the start line and show you all about the elementary pieces of slot machines.
What's behind the flashing lights and spinning wheels?
Spaghetti wires: Deliciously complex! Our red, black, green and yellow network of wires are designed to connect the slot machines just the right way – the way to the jackpot prizes!
The Winning Crank: Everyone's favorite part and debatably the most important component of any slot machine: the spin button. This part makes the reels spin and eventually stop on your dream winning combo!
The Hamster Wheels: It's not a pet shop without a hamster spinning the wheel, right? The slot machine wheels are just like the hamsters' but the outside has a special layer where the magical combinations of cherries, bells, sevens and dollar signs spin round in those tempting combinations!
Take your time to roam around our manufacturing facility and get ready to get a feel for the controls.
You'll learn about the ins and outs of slot machines and get a chance to start using your ingenuity in this new world while it steadily opens up as you make progress. There are always new locations or edges of the map to explore!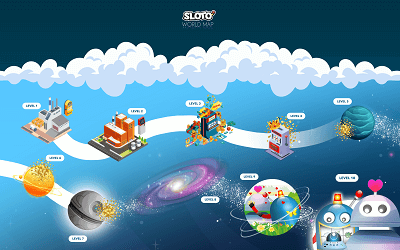 BIT
BIT is our Basic Info Technician and is responsible for guiding you through everything you need to know about Level 1 – our Slot Machine Factory.
Being BIT requires critical abilities that not everyone has. His interpersonal skills keep you on your toes and help you navigate through the factory as you avoid tripping on all those wires, bolts and colts lying around!
Said to be one of the friendliest characters in Sloto World existence, BIT has extensive knowledge of Level 1 – the Slot Machine Factory. He serves as your most trusted advisor here.
First Dialogue between BIT and Player
BIT: "You are formally invited to visit our fascinating Slot Machines Factory!"
PLAYER: "Fantastic! Where do we begin?"
BIT: "Just follow me and allow me to show you around our Slot Machines Factory, our own Willy Wonka land of slots! Want to know how our games are created?
PLAYER: "I am ready BIT, let's go!"
BIT: "Oh! I just remembered! I found a reward! I'm sure you need this to help you get going, so here, take it."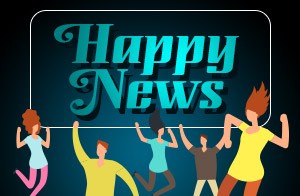 Time to focus on the good things happening around the world. Here is our selection of good news this month.

Lost in Wilderness

The Tsavo East National Park in Kenya is 66% larger than Yellowstone. This is the place where a 4-year-old was lost after going astray during a storm. The area is known to harbor hyenas, jackals, buffalos and rhinos. The community searched for the child for six full days until finally his uncle found him. The moment was captured from the air by a helicopter, just as the child's uncle swung him in the air in pure joy!
Oldest Known Comedy Skit

Lost in the archives of the National Library of Scotland, a 500 year-old parchment has just been uncovered which may hold the very first stand-up comedy sketch. The document was written by a cleric named Richard Heege, who was to recite the text at a feast. The material is full of humor, reminiscent of modern-day Monty Python, where characters get involved in many absurd situations. Full of self-irony, it's great to know people didn't take themselves too seriously in the Middle Ages!
Ending cancer
Researchers around the world are working day and night to find definitive cures for cancer. A research team at Israel's Hadassah-University Medical Center has found a treatment that has a 90% success rate on a specific kind of blood cancer. The results are ground-breaking and could signal further advances in ending the fight against cancer!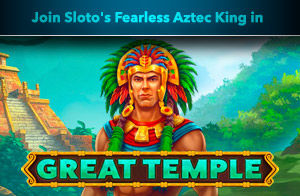 Our job is to bring you news about the latest games available to online slots enthusiasts. You are in for a treat today as a new 25-line online slot has come to light. It's time to delve into the lush tropical regions of Latin America while we play: Great Temple!
This slot is inspired by the mighty Aztec empire. Here is a civilization that was rich in gold and covered the middle region of modern-day Mexico. The new slot at Sloto'Cash revisits this glorious period, when pyramids rose above treetops and brave warriors conquered new lands.

Are you ready to conquer your finest jackpot this season? Here are the main features of Great Temple:

Wild: The Wild symbol substitutes for all symbols except scatters!

Scatters: Get at least 3 scatters in a spin to trigger the Free Games below
Free Games: Play 10 Free Games with doubled payouts and expanding wilds. Whenever a Wild symbol appears, it will expand to cover its entire reel. All pay-table prizes are doubled during this feature. The feature can be retriggered!

Progressive jackpots: This slot has two local progressive jackpots that can be won at the conclusion of any paid spin!
Reach the apex of jackpots when you play our new exhilarating slot, Great Temple!
Deposit $25+
Get 100 FREE SPINS on 🔝
Redeem Code: EASYTEMPLE

Offer holds 25x rollover on spins winnings ONLY!
Subcategories