Latest Online Casino News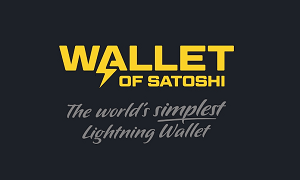 Wallet of Satoshi is an intuitive, self-custodial electronic wallet specifically created for Sloto's Bitcoin Lightning Network.
The Lightning Network is a recent addition to the main Bitcoin network. It speeds up the Bitcoin transactions while reducing the associated costs, bringing them close to nothing.  The ease of the Lightning Network can now be enjoyed when you have a crypto wallet that supports this new technology. 
With the Wallet of Satoshi, you can use both the Bitcoin Lightning Network and the standard Bitcoin Network. This wallet is very practical as it can immediately recognize which network you will use to send your funds. When you scan a QR code or enter the Bitcoin destination link, the Wallet of Satoshi will automatically know the type of payment to be made. 
We encourage users to use the Bitcoin Lightning Network when making deposits to Sloto'Cash. With this deposit method, you can now fund your player account within seconds!
Get your own Wallet of Satoshi by downloading the app via your iOS and Android app store. With a very simple layout, this is one of the easiest crypto wallets to operate today. With clear instructions to follow on screen, you can smoothly send and receive bitcoins through the Bitcoin Lightning Network!
| | | |
| --- | --- | --- |
| Deposit | Get | Coupon |
| Between $20 and $50 | 200% Match up to $100 | SUPERSATOSHI-1 |
| - | $50 FREE | SUPERSATOSHI-2 |
Promo codes must be redeemed in order!
Both offers hold 25x rollover ONLY! Win up to $500 EXTRA with your loyalty chip. Visit Mr. Sloto Crypto Zone for more exclusive crypto content.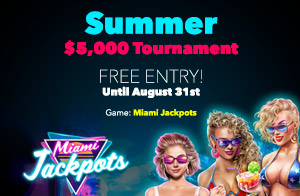 It's bonanza time at Sloto'Cash - we have just overhauled our tournament section by adding bigger prizes and more tourneys to keep you entertained all week long! 
Join the tournament that best fits your budget and schedule; we have one for all types of players:

Sloto Daily Nickel
Buy-in: $0.05
Add-on: $0.05
Play time: 5 minutes
Available: Monday through Sunday
Prize Pool: $50
Mr. Sloto Daily Freeroll
Buy-in: FREE
Add-on: $0.50
Play time: 10 minutes
Available: Every Monday and Thursday
Prize Pool: $250
Sloto Winner Takes ALL
Buy-in: $1
Add-on: $1
Play time: 10 minutes
Available: Every Monday
Prize Pool: $500
Sloto YES Its Friday
Buy-in: $10
Add-on: $10
Play time: 10 minutes
Available: Every Friday
Prize Pool: $1,000
Sloto 5x500 Winners
Buy-in: $25
Add-on: $25
Play time: 25 minutes
Available: Every Thursday
Prize Pool: $2,500
Sloto Mag 5k
Buy-in: FREE (get free passcode in our Sloto Magazine)
Add-on: $1
Play time: no limit
Available: Seasonal (every 3 months a new one begins)
Prize Pool: $5,000
Feeling lucky? Join every tournament and show everyone what you're made of!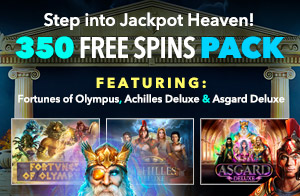 The deities of antiquity were known for granting lavish gifts and riches to their followers. This month we invite you to step into the realm of the miraculous when you play three of our otherworldly slots: Fortunes of Olympus, Achilles Deluxe, and Asgard Deluxe.
Play in the company of mighty divinities that will bestow their fortunes on you, especially when you redeem our special May Promo Package that gives you 350 Free Spins to play on the house!
As you fly through the heavens of luck, be sure to collect as many jackpots as possible so you make it to our top winners' list this month!
Play first with a:
100% Match + 50 Spins on top!
Coupon Code: JACKPOTHEAVEN-1
Game: Fortune of Olympus
Continue playing with a:
150% Match + 100 Spins on top!
Coupon Code: JACKPOTHEAVEN-2
Game: Achilles Deluxe
Get after:
200 FREE SPINS!
Coupon Code: JACKPOTHEAVEN-3
Game: Asgard Deluxe
Promo codes must be redeemed in order. Get started with your $25+ deposit. All offers hold 30x rollover. Win up to $500 EXTRA with your loyalty spins at the end of your jackpot heaven journey. All promos expire on May 15th.
Subcategories