Sloto Cash Blog
Details

Category: Mobile News
Smartphones are always a focus in the world market, with billions of users wondering what giants like Apple and Samsung are launching next and ready to buy the new models that suit them best. 77% of Americans, and 2.7 billion people around the world have smartphones, and nearly half of them say they couldn't live without their devices.
Tech giants around the world are constantly working on their next big model, each coming up with new models that suit different needs in the market: Some want the trendiest model, while others are interested on which phone has the best camera or the best screen resolution. These are some of the best models released in 2019 that caught our attention:
Apple iPhone 11: This mid-tier model is only $700 in the market and has an excellent camera with ultrawide-angle. A great pick for those looking for good capabilities without spending much.


Samsung Galaxy Note 10 Plus: The elegance of the feature-packed Note 10 Plus make this model one of the best premium smartphones, with a 6.8-inch screen, an all-day battery life and an enhanced camera.


Huawei P30 Pro: The P30 Pro has the best camera on any phone, allowing users to take incredible photos and videos. It also has an amazing battery life, which is a very sought-after feature nowadays.


OnePlus 7 Pro: This model works faster than its competitors and has a neat pop-up camera and a triple rear camera that take fantastic pictures. This is considered the best Android phone value of 2019.


Samsung Galaxy S10E: This smaller model has a fast chipset as well as a lengthy battery life. It can also wirelessly charge other phones and accessories. Those who still like a smaller grip on their phones should try this one out.
Details

Category: Sloto Magazine
By gaming astrologer Allison Stars
As featured on Sloto Magazine
Aries
Get ready for something big. Could be a big jackpot this year, even a progressive one. Jupiter, Saturn and Mercury are positioned in the tenth house. This alignment means a big accomplishment. Watch out for the temptation to cheat to earn even more money. Behave ethically to savor your success.

Recommended games: Crazy Vegas, Hillbillies Cashola, Plentiful Treasures, Snowmania and Three Kingdom Wars
Taurus

May seem like games are tight in the beginning of the year. On June 29th, Mars enters Aries and it may seem luck is slipping from your hands. Keep a strict budget. Pleasants surprises will come in the second half of 2020. The trick is to cash out regularly rather than wait for a huge bankroll to withdraw.

Recommended games: Cubee, The Nice List, Stardust, Rain Dance and High Fashion
Gemini
Financially this will be a good year. This does not mean you need to take big risks. From mid-May to mid-September Jupiter turns retrograde. While you will feel like luck is on your side, be careful to not overspend. Overall, you will be successful with your luck, especially in the last trimester of 2020.
Recommended games: Asgard, Dragon Orb, Lucky Tiger, Ocean Oddities and Secret Jungle
Cancer
Saturn, a weak Jupiter and Mars will be positioned in the seventh house. As these planets move together you will experience a rollercoaster in your luck. You will love the adrenaline rush but remain equanimous. Don't bet too high when on a high note; don't despair when the slots are tight. From May 11th onwards Saturn will retrogress to Aquarius. Be careful around this time and get ready to bounce back in luck when Mars enters Aries on June 29th.
Recommended games: Scuba Fishing, Vulcan, Ronin, Orc vs Elf, Green Light and Caesar's Empire.
Leo
This won't be a year of big risks. Stick to your normal playing style and you will get decent returns. The first trimester will be influenced by a Lunar Eclipse making your more sensitive to the nature of your luck in this period. Don't take it too personally. In September, Venus is in your decan and this is the time to exploit your luck. Expect surprisingly positive jackpots around this time.
Recommended games: Count Spectacular, Fantasy Mission Force, God of Wealth, Kung Fu Rooster and Nova 7s.
Virgo

The first two weeks of 2020 will bring lots of fortune. Sporadic peaks of luck will continue until the Solar Eclipse on June 21st. Things will stabilize more there and you will find moderate but constant sweet moments of entertainment throughout the rest of 2020. There is a risk of tight luck in October.

Recommended games: Zhanshi, Witch's Brew, Shark School, Polar Explorer and Panda Magic.
Libra
It will seem like everything is against you in the first couple of months of 2020. Be patient, between March 15th and July 10th, Saturn trine your decan and this will issue a force of good luck flowing through you. Venus in your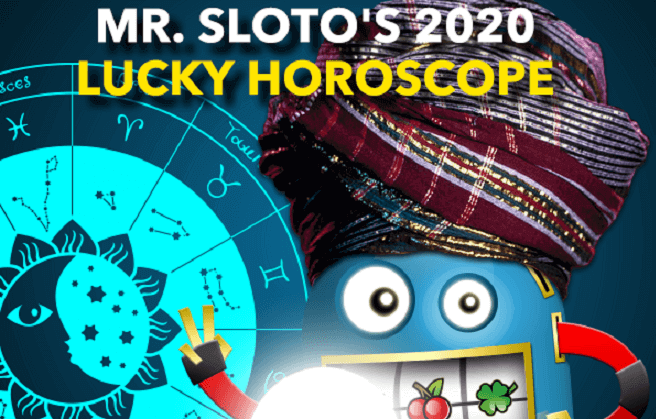 Details

Category: Exclusive Bonus
The art of winning can often be seen as a battle between your luck and the house edge.  Your every move is important, requiring concentration, intuition and determination.  This 2020 we challenge you to play your best moves and claim victory over the house!

Remember that the trick is to play the right game at the right time. Time your moves well, moving away from a slot machine when it's going dry and sticking to those games that are paying abundantly.

Inspired by the Ultimate Fighting Championship mixed martial art's competition, we have a series of Big Bonuses and Free Spins this month.  Play two rounds with a big bankroll and then claim 200 Free Spins on the house. 
The Free Spins are granted on the perfect Martial Arts online slots! You'll get to play Bruce Lee's Fire Dragon Slot, Jacki Chan's Eagle Shadow Fist Slot and end up being a Ninja Star!
Warm up your luck and get ready to be crowned champion at Sloto'Cash casino! 
1st: Round: 100% Bonus + 50 Spins
Redeem Code: UFCHALLENGE-1
Free Spins Game: Fire Dragon 
2nd Round: 150% Match + 100 Spins
Redeem Code: UFCHALLENGE-2
Free Spins Game: Eagle Shadow Fist 
Get Your 200 Free Spins Submission!
Redeem Code: UFC200CHALLENGE
Free Spins Game: Ninja Star
Terms:
Deposit bonuses require a $25 minimum deposit and they hold 30x slots or keno roll over and no max cashout. UFC200CHALLENGE coupon winnings hold $500 max cashout. Promo codes must be redeemed in order. Offers expire on February 15th.

Subcategories