Sloto Cash Blog

As featured on Sloto Magazine
Who would play slots if they didn't have bonus features? The bonus feature is the ultimate reward when playing slot machines and most players are aware that here is where they can make a big profit. Bonus features are often found on all slots machine above the 3-reel category.
Let's have a look of all the different kinds of bonus features a slot machine can offer. Once you understand all the varieties of bonus features, then you can target your play hours to those machines that have the most profitable and fun bonus rounds.
What is a bonus feature?
The bonus feature comes as an extra chance to win coin prizes without further bets needed from the player. It can come in many forms, usually as an independent arcade-like game within the slot machine's theme.
Before you start playing any slot machine it is recommended that you give the pay-table a good read to understand the variety of bonus features offered by the slot machine.
Free Games Feature
Most video and 3D slots offer Free Games features that can be triggered by landing a set of special symbols in a single spin. During the Free Games you can sit back and watch the spins reels at no cost to you. The normal range of Free Games ranges from 5 to 20 Free Games, but some slots can offer up to 100 Free Games.
During some Free Games the pay-table payouts are multiplied by as high as 10x! Also, you can have the expanding Wild Symbol fixed on one or several reels for the duration of the Free Games - allowing astronomical wins to occur!
The Bonus Round
When a bonus round is reached, the reels are often replaced by a game-within-game window. The player may only have to watch the unfolding of the bonus round where a random prize is granted. But often, the player must interact with the game to achieve a win, either by clicking on items to uncover prizes or by engaging in a puzzle-solving or action-driven game not unlike those in arcade machines. The interactive bonus rounds are the most fun since the decisions of the player will be crucial to the outcome of the bonus round.
Feature Guarantee
Sloto Cash has some slots that offer a guarantee that a Bonus Feature will be triggered within a certain number of spins, often 150 spins. The Feature Guarantee meter is on top of the slot. Each spin that goes by without triggering the feature will reduce the figure in the meter. If no feature is randomly triggered before the meter reaching zero, then you are guaranteed a Free Games Feature when the meter reaches the end.
You can also play the Instant Trigger feature. After each spin without a feature, the Instant Trigger chance increases. It starts at 0.04% chance of triggering a bonus feature and steadily increases up to 99%. By playing this game you will make a wheel with red and green bands spin. The higher the percentage means that more green bands are included in the wheel. If the tracker falls on a green band, the Bonus Feature is triggered.
Collapsible reels
A rare number of slots have reels that collapse after a spin are done. Certain icons will explode or vanish in order to make room for the upper symbols to fall in their place. This allows for several winning combinations to appear in a single spin.

Now that you know all the possibilities we invite you to pick a promo from our Weekly Bonus Chart and let the games begin!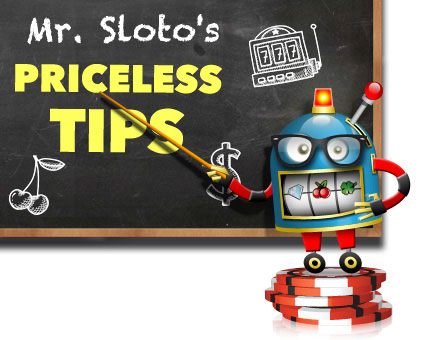 Debunking casino myths. As featured on Sloto Magazine
Keno is one of the most fascinating games inside casinos. It has an interesting history as we saw in a previous Sloto Magazine. It is a contender for being the oldest gambling game in the world. It was an early form of lottery that was developed in the Han dynasty in ancient China. A common myth states that the Great Wall of China was partially financed by the selling of Keno (a.k.a. lottery) tickets.
Keno is a game of chance. Players can pick a series of numbers from a card with 80 numbers. The game's pay-table varies depending on how many picks you make. You can pick between 1 and 15 numbers. The highest jackpot is a 100,000 bet prize if you guess all the numbers that appear, while choosing 10 or more numbers.
On the internet and in bookstores you may find articles and books that claim to have winning systems for Keno. You often have to pay considerably high prices for these tips, as high as $100 for a small booklet or PDF file. The general consensus is that these systems are misleading, as there are no proven ways to win consistently at Keno. Like any game of chance, there is always a risk of losing.
We want to make clear that we have not yet discovered a bullet-proof strategy that is proven to mathematically reduce the casino's house edge on Keno. Rather, what we present is in the form of tips, certain habits players have used in the past that worked well; but we do not claim these habits guarantee winnings.
Online Keno Tips and Good Habits:
1. Play only between 5 to 7 numbers. Keno experts claim this is the range where Keno has its highest return to the player. Increasing the number of picks will slightly lower the return to player.
2. Pick numbers in succession. If you are an avid Keno player, you will notice that often a lot of numbers appear in succession. Give it a try and see if it is your lucky day. Select a series of numbers in a row such as 7, 8, 9, 10, and 11.
3. The myth about hot and cold numbers. Do not guide your decisions based on the numbers that have appeared in previous rounds. Every number has equal chance of appearing as any other number in the next round because the new draw of numbers is always randomized.
4. Bet only within your budget. This tip is probably the best one and will keep your bankroll at its highest. By setting up a daily budget, you make sure you don't overspend in a single sitting and have more funds to play on a future date!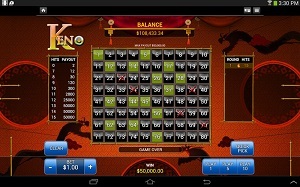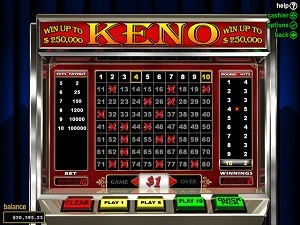 It is with big pleasure that we present our latest slot review: I, Zombie

Here's a plot twist to the zombie stories you've heard. This new 5-reel slot deals with Chinese Zombies –half-living beings with mad martial art skills!
Fun and neon symbols blaze on the reels. This innovative game plays well both on desktop and mobile devices.  I, Zombie is a 25-line video slot with medium variance (this means payouts are made in regular intervals, to get your dollars' worth!)
Besides sharp modern graphics, you also get heaps of bonus features:

Wild symbol:  The I, Zombie icon substitutes for all other symbols except scatters. It will expand randomly on some spins.
Scatters:  The Mirror icon serves as scatter and trigger for the Free Games below.  The Mirror icon can also generated expanding Wild Symbols on its reel.
Free Games:  Earn Free Games when three or more scatters appear anywhere on a spin. 2 Free Games are awarded for EACH I, Zombie and Mirror scatter in the triggering spin.  Both the wild and scatter symbols will expand to generate extra wild symbols on a free game!

If 4 scatters triggered the feature, all prizes are doubled. If 5 scatters triggered the round, then all prizes are tripled!
Throw yourself into the battle against wild Chinese Zombies and experience mortal joy as you win endless jackpots!
SUPER ZOMBIE BONUS
111% Match + 111 I,Zombie Spins on Top!
Coupon Code: 111ZOMBIE111
Promo info:
Offer requires a $35 min. deposit and it holds 30x playthrough + 5x roll over on spins winnings. Valid until October 31st
Subcategories