Sloto Cash Blog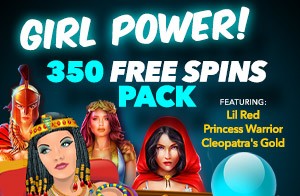 Girls are in control this month at Sloto'Cash and they are here to bring you abundant luck!
Begin spinning the reels of Cleopatra's Gold, Princess Warrior and the new Lil Red slot with our new monthly exclusive. The riches these women possess are ready to be shared with as many players as possible. All you have to do is spin these reels to watch their graceful jackpots pour into your balance!
Join us today to claim your 350 Spins and say yes to Girl Power! Here's what to look forward to:
Lil Red: It's our newest game and it is one of the coveted All-Ways-Pays (AWP) games with 243 unique ways of paying out. Bases on Little Red Riding Hood's classic story, except this time, she's all grown up. With the charming colours of an enchanted forest. The real treat of this new slot will be found in its unique bonus features!
Cleopatra's Gold: This is one of our most iconic 20-line slots that takes us back to ancient Egypt when the most famous and beautiful pharaoh was in power. You will find many recognizable symbols on the reels, including Egyptian cats, the eye of Ra, the pyramid of Giza and Cleopatra herself.
Princess Warrior: Inspired by Greco-Roman culture with a tinge of fantasy, this 40-reel slot is designed to empower women paired with its fantastic graphics and impressive animations for winning combinations.
Start with a
100% Match Bonus + 50 Lil Red Spins
GIRLPOWER-1
Continue playing with a
150% Match Bonus + 100 Cleopatra's Gold Spins on top
GIRLPOWER-2
Get after
200 Free Spins Reward on Princess Warrior
GIRLPOWER-3
Promotions must be redeemed in order. Get started with your $25+ deposit. All coupons hold 30x roll over and they are valid until March 15th.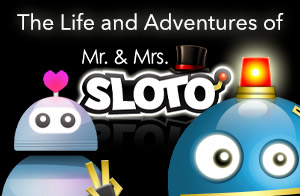 The Gold Slot
Mr. Sloto's eyes began to move. "Where am I" – he mumbled, unable to clearly see where he was.

"You are in my humble underground lab", replied a man dressed in rags but with an air of worldly importance.
"I have repaired you and in that process, I've reinvented you. I modified your inner machinery and now you are the most special slot machine in the world!"

Mr. Sloto could not understand what this man was saying, so he asked: "Why am I so special now, I still feel the same."

The inventor replied: "I've used some ancient knowledge now lost to humanity, the lost art of alchemy, to change your inner composition. Now, when you place a normal coin into your coin slot, it will undergo an alchemical process and you can spit it out as a coin made of pure gold!"
Mr. Sloto could not believe what he was hearing; he thought we must be dreaming or in a virtual world created by the MegaVirus he was supposed to defeat.
"Are you the MegaVirus?" Asked Mr. Sloto. "No, the MegaVirus is now gone, internet is back to normal. This is reality and you, my dear invention, are going to make me rich beyond imagination… hahahaha!"
The inventor placed a nickel coin into Mr. Sloto coin slot and pulled the lever on his side. Moments later a golden coin came out of Mr. Sloto's jackpot dispenser.
"It works, it works, it works!" screamed the inventor in jubilation. "Now, let's wait for dawn and we'll wander the streets asking for small change… hahaha, small change for the poor…. Hahahaha!
Mr. Sloto immediately realized he was in the hands of an incredibly greedy person and began planning his way to escape.  
This is an interactive series. Players get to vote on that next chapter of the story!
HELP US WRITE CHAPTER 22nd IN THE LIFE AND ADVENTURES OF Mr. and Mrs. Sloto!
1st option) Mr. Sloto and the inventor wander the streets while people hand pennies and other small change to them. The inventor converts all the money into gold, which he uses for building a rocket that will take him to Mars.  
2nd option) Mr. Sloto plays along like he will help the inventor amass his fortune, but before spitting out the next gold coin, he pretends to malfunction, only to spit the gold coin straight into the inventor's eyes as he was checking his jackpot dispenser.  The inventor dies and Mr. Sloto is charged with murder.
3rd option) Mr. Sloto's alchemical powers over time begin to get stronger and soon everything he lays a finger on turns into gold. CherryTown becomes the world's first city made of pure gold!
Send your vote to This email address is being protected from spambots. You need JavaScript enabled to view it. and be part of the evolution of this story!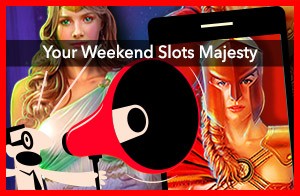 The same person has been sitting at the throne for as long as we can remember. Maybe it's time to spice it up, go for the bejeweled chair and have your own majestic weekend at the slots!
Princess Warrior also has bonus features that will result in many different ways of getting a payout prize. Enjoy these features in our new Princess Warrior:

Wild Symbol: The Princess Warrior character symbol will substitute all symbols except scatters.
Scatter: The game's logo is a scatter and will trigger the Free Games Pick Bonus feature below.
Princess Warrior Feature: When the wild symbol fills the entire third reel, a random extra feature is randomly added. These include:
2x to 4x multiplier on the payout
Random Wilds on all reels
Get an extra full wild reel
Olympic reward
Free Games Bonus Pick Feature: You'll be awarded 10 Free Games and you can pick from the following bonus features for your Free Games:
Free Games with random multipliers on every spin
Free Games with wild reels on every spin
Free Games with random wilds
Free games with all of the above 3 features (one feature per spin)
Progressive jackpots: The Major and Minor local progressive jackpots can be won separately or together at the conclusion of any normal spin!
Princess Warrior is here to inspire huge winnings to those that are looking for a new adventure!
Not everyone gets to wear a crown, but if you're going to, do it in winning royal style with a 77% Weekend Match plus 77 Free Spins!
Join Sloto's New Princess playing with a

77% Match Bonus + 77 Free Spins on top!
Redeem Code: SLOTO77WEEKEND
Freespins Game: Princess Warrior
Subcategories