Sloto Cash Blog

Chapter 6: The Ancient Volcano
As featured on Sloto Magazine
Co-written by Sloto'Cash player Geer Art 
Mr. Sloto opened his eyes, he had blacked out. A strange noise came from outside. Sounded like a very large vacuum cleaner sucking in all space... he looked out the time machine's window and was in shock! They landed in front of a black hole. It was slowly sucking them in and opposite the black hole was an asteroid field. They were in a bind.

Victor what shall we do!? VICTOR! – cried Mr. Sloto. Victor slowly woke up and immediately understood they were in danger once again.
Victor spoke: we have one of two options. Go into the black hole or fly through the asteroid field. I say we go towards the asteroids and try to maneuver out. Mr. Sloto disagreed; he wanted to go into the black hole.

Mr. Sloto reached into his coin slot and took out Triton's coin. Let's flip a coin, he said. Head is black hole, tail is asteroids.
He flipped the coin but it did not land on the floor. It got sucked out of the time machine through a small crack and into the black hole... Oh no! – both Mr. Sloto and Victor yelled!

A very dark and powerful voice spoke out of the black hole. Whose coin is this!?

It's Tritons coin, messenger of the sea! Mr. Sloto answered.

For this coin I grant you two wishes, the voice replied.

Mr. Sloto asked to go through the black hole without being harmed! Victor then said that they wanted to reappear somewhere close to civilization.
The voice consented and they were pulled through a vortex of light and magic.
When the time machine stopped moving, they looked outside and there were lush palm trees with ripe coconuts, cacao bean trees and at the distance they saw what appeared to be gigantic pyramids with symbols of jaguars, serpents and plumed eagles ….

Where have they landed? Will the next adventure inspire Victor and Mr. Sloto for a new slot machine theme?

As of January 1st, 2018...
The New Year brings with it a fresh start, new opportunities and a sense that anything can happen! And 2018 wont be an exception with Mr. Sloto's designing some of the most massive bonuses and gifts ever that are yours when depositing as little as $25 all throughout January!
Start celebrating 2018 with wins right off the bat when you claim the biggest bonuses you've ever seen. First, you'll be playing with a 1st 188% Bonus, then move on to a 2nd 288% Match and top it off with a celebratory $118 New Year's Gift!
May 2018 bring you joy and a truly fresh new start as you step into 365 opportunities to win with Mr. Sloto's promise that everything this year will be bigger!
188% 1st Bonus
Redeem Code: 2018BONUS1
288% 2nd Bonus
Redeem Code: 2018BONUS2
$118 Free Chip!
Redeem Code: 2018FREECHIP
Terms:
Deposit offers require a $25 minimum deposit and they hold 35x slots or keno playthrough and no max cashout. $100 Free Chip holds 40x roll over on slots or keno and $500 max cashout. Promotions must be redeemed in order! Valid until January 31st..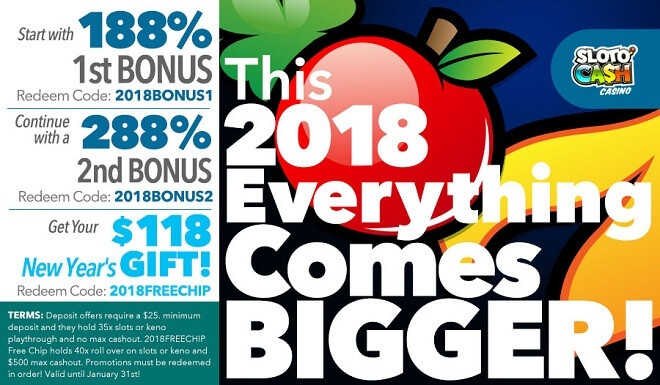 2018 is the Chinese Year of the Dog – a year for family, friends, health and wins! Play Mr. Sloto's newest Chinese-themed slot 'Fu Chi' and you'll soon be collecting huge wins with help from a 111% Match plus 33 Free Spins when you deposit $25 and up!
Play the 5 reels and 50 paylines of 'Fu Chi' where you'll find symbols such as the Lucky Wild Dog and other Zodiac images. Land three, four or five Scatters and collect 10, 20 or 30 Free Spins respectively. If there aren't any Wilds involved in the Free Spins, then the number of Spins will be doubled and even re-triggered for up to 120 Free Spins.
The Year of the Dog will be a lucky and prosperous for those who dare to visit the temple of wins that's hidden in the reels of 'Fu Chi'!

Play it with a 111% Match + 33 Free Spins!
Redeem Code: 111FUCHI33
Terms:
Promo requires a $25 min. deposit and it holds 30x slots or keno playthrough and no max cashout!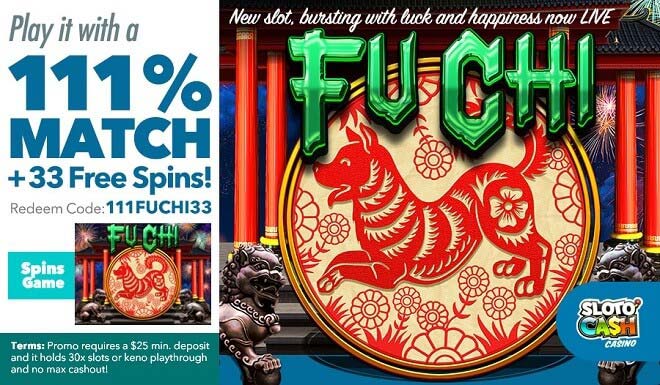 Subcategories