Sloto Cash Blog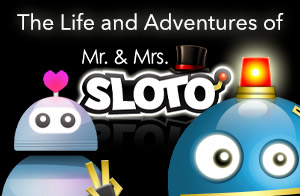 A Gift from Peace
"She's entering critical levels" shouted the robotics surgeon responsible for the birth of the robobaby. "We are picking up very high levels of radioactivity, this baby is going to blow soon, we must take Mrs. Sloto to the anti-radioactive chamber. I'm afraid they will detonate there, but at least this city will remain safe."

The team were just about to take Mrs. Sloto out of the room when suddenly Victor Fluke appeared at the door. "Stop, I have a solution!"
Mr. Sloto was relieved to see his genius inventor appearing at the nick of time.

"I've been to the Peace Department, where they are developing technology to secure world peace. They have just developed this plasma shield that can defuse any radioactive device within seconds."

Victor Fluke placed the plasma over Mrs. Sloto's belly. Shortly after this, the radioactivity levels began to drop.
"It worked!" the group shouted. "Now it's time to deliver this robobaby!" said the main surgeon.
After an hour-long procedure, Mr. Sloto could no longer wait to come into the delivery room and see what was happening. Finally, the doors opened and he was welcomed in.
"Mr. Sloto…. let us introduce you to your new family member…"
This is an interactive series. Players get to vote on that next chapter of the story!
HELP US WRITE CHAPTER 26th IN THE LIFE AND ADVENTURES OF Mr. and Mrs. Sloto!
1st option) Mr. Sloto walks into the delivery room to meet his robobaby, but the lights go out just the moment he is about to see him.
2nd option) Mr. Sloto finds the robobaby adorable but then complications with the birth put Mrs. Sloto in a frantic state.
3rd option) Mr. Sloto and Mrs. Sloto move back home with the robobaby, but they have no idea how to raise a baby since they were not programmed to do this task. 
Send your vote to This email address is being protected from spambots. You need JavaScript enabled to view it. and be part of the evolution of this story!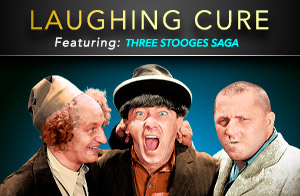 The Story behind The Three Stooges
As featured in Sloto Magazine
The Three Stooges has gone down in history as one of the longest-running and funniest entertainment productions of all time. The show ran for 50 years making it a hallmark comedy not only in the US but also in the rest of the world!
But how did it all start? 
The show started in 1922 and went through many transformations over the years. Even the name changed numerous times in the beginning. Did you know it was earlier called "Ted Healy and his Southern Gentlemen"?  Definitely not as catchy as the Three Stooges!
DID YOU KNOW? The Three Stooges were originally called Ted Healy and his Southern Gentlemen!
The show caught its recognized format in 1934 when the cast consisted of Moe, Larry, and Curly. Between 1935 and 1941, nearly every short film made by the stooges is acclaimed as a classic. But it was not only silly slapstick comedy. The Three Stooges got politically involved during World War II. While the US was still neutral, they aired an episode titled "You Natzy Spy!" which infuriated Hitler and his party, to the extent that Hitler put the three actors on his personal death wish list!
Guess what?! Hitler had a personal vendetta against Moe, Larry, and Curly
The show kept having changes in format and actors through the subsequent decades but ultimately ended when two of the main characters passed away in 1975. The legacy of the show is unchallenged, as it has inspired hundreds of comedians and actors throughout the years. 

Play our famous The Three Stooges slots saga and make the day even brighter with a jackpot won in your Sloto'Cash account!
125% Match Bonus + 125 Spins on top!
Redeem Monthly Code: EASYLAUGH
Spins winnings. Game: The Three Stooges II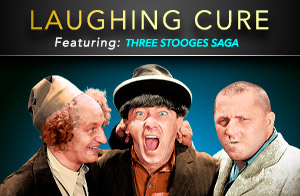 The Stooges Saga at Sloto'Cash 
As featured in Sloto Magazine 
Sloto'Cash is proud to have two official trademarks Three Stooges slot machines in our collection. You get to experience their timeless humor while hunting for big jackpots and great bonus features. 
The Three Stooges ® The Brideless Groom
In our slot you get tons of bonus features and real clips from the film that inspired the game. Here's what to look for in our trademark slot:
Wild Symbol: The Three Stooges symbol is a grouped wild and substitutes for all icons except scatters. 
Re-spins: When Moe, Harry or Shemp cover all of any of the middle 3 reels, 1 or 3 re-spins are granted! 
Stooge Picks Feature: The entire reels are filled with TV sets. Click on a combination of TVs to earn Free Spins and a Multiplier for the Free Spins!
Random Free Spins: The Lucky Stooge Spins may trigger at the end of any normal spin! Earn 9 or 33 Free Spins with tripled prizes!
This 3-reel slot is a bonus-packed classic. Featuring Moe, Larry and Curly and these irresistible features:
Wild Symbol: The Three Stooges II symbol is wild. Prizes a triple when 1 appears in a winning combination. Prizes are multiplied by 9 when two appear in a winning combo!
Curly's Cashola Feature: Earn 9 Free Games with doubled prizes!
Larry's Stash and Moe's Moolah Feature: Roll dice to earn prizes from the bonus ladder!
Progressive Jackpots and Win-Win Feature: This slot is complete with 3 progressive jackpots and a Win-Win feature to ensure regular bonus features are triggered!
Play our famous The Three Stooges slots saga and make the day even brighter with a jackpot won in your Sloto'Cash account! 
125% Match Bonus + 125 Spins on top!
Redeem Monthly Code: EASYLAUGH
Subcategories