Sloto Cash Blog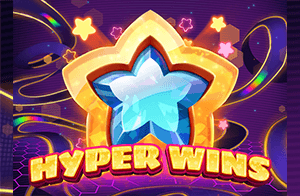 Your favourite slot reviewer is back with news from the cosmic horizon; today you can play our latest All-Ways-Pay slot: HyperWins!

This ultramodern 3-reel slot has the features most players love. With a 3x3 grid, winnings are easy to track as you only need to land at least three identical symbols ANYWHERE on the reels. You can potentially get up to 9-of-a-kind of any regular symbol, with monumental payouts ranging from 10,000 to 20,000 coin prizes!

Our new game has a futuristic feel to it, with symbols gliding down a slide to land on their positions. There are innovative bonus features here that will be the envy of many online casinos. Fortunately for you, you can now enjoy HyperWins at Sloto'Cash

Discover the exclusive bonus features on our new slot:

Wild Symbol: The Wild Moon substitutes for all symbols except the Bonus Star.
HyperWin Bonus: If three identical symbols appear on the bonus line (the centre row on the gameboard), they will transform into Wild Moons before pays are awarded.
Free Games Feature: Getting 3, 4, 5, 6, 7, 8, or 9 Bonus Stars in a spin will trigger respectively 5, 8, 15, 25, 50, 100 or 200 Free Games. That's not all, prizes are doubled and extra Wild Moons are added to the reels!

Hyper Prize Feature: If you trigger the Free Games with at least 4 Bonus Stars, you will receive a pick from 9 reel locations to reveal a prize up to 1,000x your bet before the Free Games Feature begins!

Lucky Feature:  Both the Hyper Prize and Free Games features can be awarded at random at the conclusion of any spin.
HyperWins is a clear example of the future possibilities of online slots. The future is here and you can enjoy it with abundant jackpots at Sloto'Cash
Play it with a 150% Match plus 50 Spins on top!
Redeem Code: HYPER150
$35+ deposit and 30x roll over + 5x on spins winnings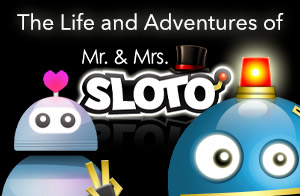 Born again
Mrs. Sloto was in tears. She held Mr. Sloto in her arms; he was unresponsive and smelling of burnt circuitry. Mr. Sloto had faced the MegaVirus head to head and had succumbed to the power of the malignant virus. Mrs. Sloto didn't know what to do; should she call an ambulance or a computer repair agent? She called the only person that came to mind: Victor Fluke – the creator of Mr. Sloto.
Mrs. Sloto dialed the number and asked for Victor. Victor answered the phone, "Hello? Who is this?".

"This is Mrs. Sloto, I'm the spouse of Mr. Sloto, the lovable slot machine robot you created. Mr. Sloto is hurt, badly damaged."
"Send me a location link and I'll come right away" replied Victor. "Oh, but there is no internet" retorted Mrs. Sloto.
Mrs. Sloto could hear a sense of excitement in Victor's voice when he replied: "It's coming back, everybody is coming back online. The MegaVirus is gone!"
Mrs. Sloto could not believe it; Mr. Sloto had defeated the virus. She sent the link to Victor and waited outside by the curb. Mrs. Slot was low on energy, so she went on standby-mode to save on battery life. Without warning, a recycling truck was making its run through the neighborhood. The men picked Mr. Sloto, thinking it was a defunct slot machine.

When Victor arrived to the scene, Mrs. Sloto returned to normal power levels only to discover Mr. Sloto was no longer there! "We have to find him, Victor – he's gone, he was just here, totally offline and powerless. Someone must have taken him while I was in standby-mode!"
That afternoon, the recycling truck piled all its electrical junk in a pile. A wandering homeless person set eyes on Mr. Sloto. What a curious machine, he thought. He put Mr. Sloto in the shopping cart he had with him. That night, he set to work, in his underground lab.
"This is my chance to prove them wrong" said the homeless man. "I'm no loser inventor; I'll turn this machine into one of the greatest inventions of all time!"
After a long night of work he was at last done. He switched on Mr. Sloto's power who slowly began to move…
This is an interactive series. Players get to vote on that next chapter of the story!
HELP US WRITE CHAPTER 21st IN THE LIFE AND ADVENTURES OF Mr. and Mrs. Sloto!
1st option) The homeless inventor turns Mr. Sloto into a lethal machine, designed to rob banks and vaults.
2nd option) The homeless inventor turns Mr. Sloto into a land-based counterfeit slot, so he could place him in casinos. Mr. Sloto would then exit the casino at night and bring back all the coins back to the inventor, so he can cash them in the next day.
3rd option) The homeless inventor turns Mr. Sloto into a modern-day Midas. Any metal coin that was put into Mr. Slot's coin slot was spit out as a coin of pure gold!
Send your vote to This email address is being protected from spambots. You need JavaScript enabled to view it. and be part of the evolution of this story!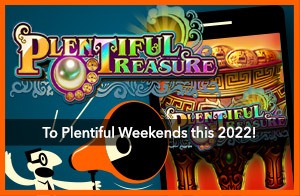 Our 243 All Ways Pays Slot 'Plentiful Treasures' is one of the most elaborated Asian slots ever released. Featuring four progressive jackpots, free games features, five different multipliers and a hierarchy of Golden Symbols. As an All-Ways-Pays slot, all you need for a payout is to land identical symbols from left to right on the reels, regardless of where they land!
You won't be able to resist playing Plentiful Treasures from Friday through Sunday these first weekends of 2022. Simply check out all these special bonus features:

Wild symbol: The Wild appears on reels 2, 3 and 4. It replaces all symbols except the Pearl symbol that appears in reel 3.
Multiplier: The Pearl symbol is appearing on the middle reel. It will increase a participating payout by a multiplier up to 5x the prize.
Free Games: Earn 8 Free Games when 3 or more scatters appear left to right. During the Free Games the card denomination symbols (A, K, Q, J, 10, 9) are removed, leaving only the high-yielding symbols on the reels.
Gold Coin Feature: When this feature is triggered you will see 12 Gold Coins on the screen. Click on the coins to reveal the Chinese God Symbols (Mini, Minor, Major and Grand). If you get four identical god symbols and you will be awarded the respective progressive jackpot.

Progressive Jackpot: There are 4 progressive jackpots: Mini, Minor, Major and Grand jackpot. To activate all 4 jackpots you have to play on max bet for your chosen denomination. You do so by clicking on all the golden symbols on the left side of the reels.
The exotic Plentiful Treasure has heaps of bonus features to keep you entertained at the edge of your seat for hours.
Play from Friday through Sunday with a:
77% Match Bonus + 77 Spins!

Redeem Code: SLOTO77WEEKEND
Freespins Game: Plentiful Treasures
Terms:
Promo requires a $35+ deposit and it holds 30x roll over + 5x on spins winnings and no max cashout. Redeem 2x per day from Friday through Sunday.
Subcategories