Sloto Magazine Blog
Defining Differences
As featured on Sloto Magazine
Eleven years ago Bitcoin was released to the world, and except for a handful of technology geeks, few people were excited about it. In fact, the vast majority of people continued living their lives without the slightest idea that a revolution was on its way.
Fast forward to 2019 and you can now find over 1,600 cryptocurrencies. A new technology has flourished and it promises to change the way we view money, financial transactions and online security.
Bitcoin is perhaps the most familiar of all cryptocurrencies, but it's not the only one available. In fact, it has two children that go by the name of Bitcoin Cash (BCH) and Litecoin (LTC), which are very similar to their predecessor. They were released to solve practical issues encountered by Bitcoin.
Litecoin appeared in 2011, and its goal was simple: to reduce transaction costs and transaction times.
Bitcoin Cash appeared much later, in 2017. Its creators aimed at increasing the scope and capacity of the cryptocurrency's network, while also lowering fees and transaction times.
Here's a look at the main differences between the 3 cryptocurrencies:
| | BITCOIN (BTC) | Bitcoin Cash (BCH) | Litecoin (LTC) |
| --- | --- | --- | --- |
| Max. Number of Coins | 21 million | 21 million | 80 million |
| Average Block Size | 1 MB | <200KB | 32 MB |
| Average Transaction Time | 10 minutes | 10 minutes | 2.5 minutes |
| Average Fee (USD) | $2 | $0.005 | $0.07 |

And what does all this mean to us?  It means that banking just got easier at SlotoCash online casino.  Login to the Sloto Cash casino lobby and go directly to Banking.  There you can choose from a wide range of banking options - including Bitcoin and Litecoin we've spoken about here.  Make your deposit and you're on your way to some mega online casino real money FUN!!!
As featured on Sloto Magazine Fall 2019 Edition
This is a 25-line video slot inspired by the immortal story of Count Dracula. Our records show this is one of our most popular slots!
That is easily explained by Count Spectacular's extensive bonus features. Also, this is a High-Variance game, so massive jackpots will be issued when the game is eager to pay!
Discover this timeless slot and its incredible bonus features:
TOP PRIZE: 10,000 coin prize awarded when Mr. Count Spectacular appears in all 5 reels.
SCATTER: The Castle symbol pays up to 200 coin prize per trigger bet!
WILD SYMBOL: Count Spectacular is a wild substitute for all other symbols including scatters. It EXPANDS to cover the entire reel prior to any payouts. If Count Spectacular appears on Reels 1 and 5, then you will get an option to choose from one of the following two bonus features:
12 FREE GAMES: The Free Games are played with Tripled Prizes.
or
RE-SPINS: Get 4 spins with an expanded wild Count Spectacular on Reels 1 and 5, which highly increases the probability of winning high payouts!
PROGRESSIVE JACKPOTS: The game features two local progressive jackpots that can be won at the end of any spin!
| | |
| --- | --- |
| DRACULA BONUSES | COUPON CODE |
| 100 Loyalty Spins for October Depositors! | LOYALBLOOD |
| 240% Dracula Match + 40 Free Spins! | 240DRACULA |
Promos information
In order to redeem LOYALBLOOD you are required to have completed a deposit of $20 or more this month of October. 240DRACULA requires a $30 min. deposit and it holds 30x roll over + 10x on spins winnings.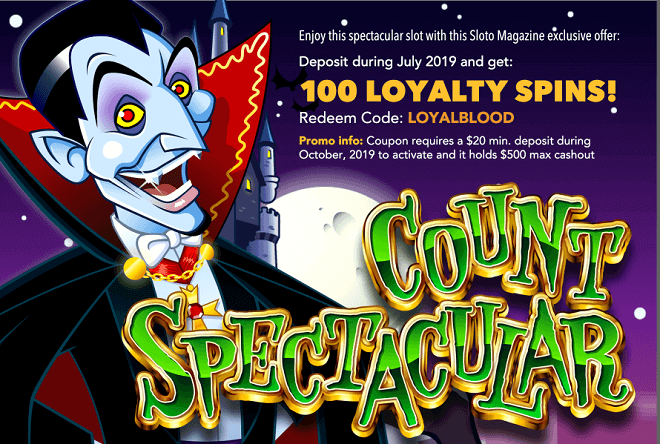 A quick look at the technology behind Bitcoin
It has taken a few years for the majority of us to understand how Bitcoin works. Many people are now fluent in the world of cryptocurrency, but there is still a related topic few people understand, the very technology that fuels Bitcoin: Blockchain.
Blockchain will become relevant in our modern world, as it is a very effective technology against corruption and fraud, and many industries have begun to implement Blockchain technology. Did you know the U.N. has been using Blockchain for their World Food Programme?
Blockchain, as its name implies, is a chain of blocks, and each block has information inside that connects to other blocks within the same network. It has the great advantage that it is very difficult to tamper with the chain of blocks: if you artificially modify any block (that could represent an amount of money sent from user A to user B), the entire network would be affected and the "guilty" block would easily be discovered. Imagine you are building a wall made out of Legos, and suddenly someone wants to change the shape and size (information) of a piece of Lego in the middle section of the wall. In order to do this, they would have to modify all the Lego blocks surrounding the modified piece, a task almost impossible to do.
Another advantage is that the chain of blocks is not stored in a single computer or mainframe. Rather, it uses a P2P (peer-to-peer) system. This means every user of a blockchain has a copy of the entire chain of blocks, making sure that the network is intact and in order, which makes Blockchain a very reliable bookkeeping method.
Thanks to its reliability, Blockchain technology is soon to be implemented in banking, for keeping medical records, collecting taxes, and even for voting in the elections!
WHAT IS BLOCKCHAIN TUTORIAL
HOW TO DEPOSIT WITH BITCOIN TUTORIAL
HOW TO DEPOSIT WITH LITECOIN TUTORIAL
And as soon as you've made your deposit using your Bitcoin or Litecoin - or any other deposit method you'd like to choose....head on over to the Sloto Cash casino lobby and get playing!  You'll find the BEST games (bonus slots, poker, blackjack and more), BEST promotions (free spins, free chips and matching bonuses), and BEST online casino real money fun at....SLOTOCASH ONLINE CASINO!!!