Sloto Magazine Blog
As featured on Sloto Magazine

Time travel has been a fascination of the 20th century. Before this century, few people considered the possibility of traveling through time. Early societies sometimes pictured dream scenarios where they returned to a Golden Age, but it was only in recent times that humanity gave this idea some real thought.
It all started with a small book titled 'The Time Machine' by H. G. Wells, published in 1895.  Since then the imagination of many has been inseminated with the fascination and contradictions of traveling through time. Popular culture has portrayed time travel in classic films such as: Back to the Future, Interstellar, and Terminator.

It is a fascinating subject, but is time travel even possible?
According to modern science, it is theoretically possible. Thanks to Einstein's theory of Special Relativity, we discovered that fast moving objects experience time slower – something known as Time Dilatation. So passanger flying in a spacecraft close to the speed of light would experience a trip as lasting only 24 hours, while for people on earth several years have elapsed before the spaceship returns!
Another theoretical possibility is to create wormhole through the fabric space-time. This is another idea derived from the work of Albert Einstein. Since all of space and time are connected in what is known as space-time, traveling through a wormhole would mean one could end up either in the past or the future in a complete different galaxy!
Do you get excited thinking about time travel? Why not try our new game Cubee (opposite page) whose main theme is traveling through different eras in history!
Next Generation Casino Game

A closer look at Cubee
Technology is moving in great strides and each year we see great breakthroughs in smartphones, laptops and other gadgets. But these are not the only advances in technology. Online casino games are also evolving and a clear example is the release of a new slot machine called: Cubee!
Cubee is unlike any other slot machine – in fact, it's hard to call it a slot machine! It has NO reels and it plays more like a computer game rather than a traditional slot. It breaks away from what most online slot machines do. It's time to think outside the box, or should we say, cube!
The protagonist is a fuzzy and adorable creature named Cubee. The goal of the game is to defeat enemies while traveling through 3 different ages: The Stone Age, The Era of Piracy, The Viking Age and finally culminating in CubeeLand – where Free Games with multipliers are played!
The new fantastic Cubee has these features:
Energy Ball: This symbol increases Cubee's strength, allowing him to defeat more powerful enemies and you earn higher jackpot payouts.
Rocco:  Cubee's main enemy. He stands opposite Cubee in each epoch. When a weapon appears in a game round, it will strike Rocco to lower his stamina. Once defeated, Cubee travels to the next epoch. 
Era of Piracy:  For each cannon symbol appearing in this round, the Free Games tally number will go up by a point.   

The Viking Age:  For each bow symbol appearing in this round, the multiplier number will go up by a point.   
Cubeeland: Payback time! Play your accumulated Free Games with the accrued multiplier!
Play Cubee with a 150% Match + 50 Free Spins on top!
Redeem Code: CUBEE150

Promo requires a $25 min. deposit and it holds 30x roll over and no max cashout. Redeem 1x weekly.

Endless summer luck!
If you are a serious about winning, then you must lay your hands on our latest Sloto Magazine - Summer Edition. This quarterly print magazine has dozens of free coupons and spins promotions to keep you spinning reels until late August! Join over 20,000 subscribers worldwide and read players' favorite gaming magazine! Had a read of our Sloto Magazine Spring 2019 Yet? If not, please visit this link and enjoy the read!
Summer 2019 Magazine Features:
The Enhanced Promotions Calendar
In every new Sloto Magazine we pack the most competitive and aggressive online casino promotions in the world! Special dates and holidays will get huge coupons for promotions well over 200% and hundreds of free spins! Redeem them throughout the summer to see your bankroll expand!
New Sections - New Experiences
We developed new sections in the magazine to help you optimize your life. We also look at interesting subjects like the Chinese Zodiac, famous casino scammers, time travel and the value of precious stones!
Exclusive tournament
Find the password to join our exclusive summer tournament and play to win thousands in cash prizes!
Old Classics
You still get some classic sections in our magazine such as The Life and Adventures of Mr. and Mrs. Sloto and the "Scan, Redeem and Win section"!
Summer has never been so good!
Time to invest for an exciting summer. Thanks to Sloto Magazine's promotions you'll be playing a lot more than most other players. Redeem the Bonus above now with a $30 deposit or more to be automatically subscribed to our Sloto Magazine Summer Edition.
| | |
| --- | --- |
| Subscriber Pack | Coupon Code |
| 100% Easy-Win Match Bonus | SUMMERMAG2019 |
| $100 Free Ticket | SUMMER2019 |

Promotions must be redeemed in order!
Deposit coupon requires a $35 min. deposit and it holds 25x slots or keno playthrough and no max cashout. $100 Subscriber ticket holds $500 max cashout. Valid until May 31st.
Enjoy the Summer and Good Luck!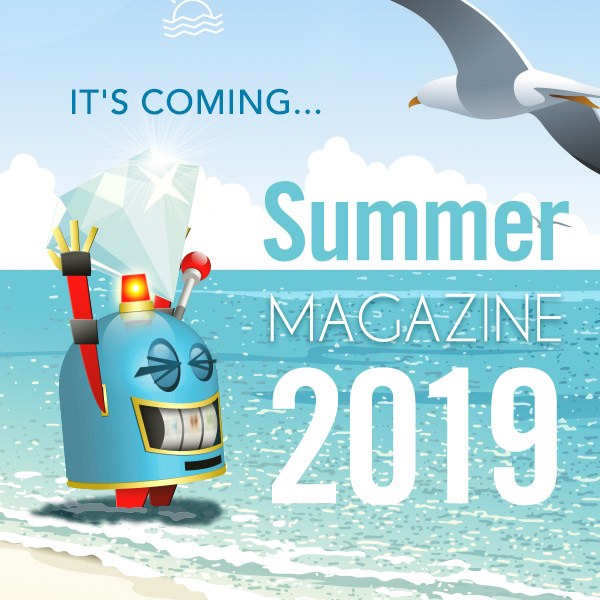 Article from Sloto Magazine Spring 2016
Week in and week out, SlotoCash has some of the most generous promotions while remaining fair to players so they have an authentic opportunity for winning at their games. Official reports at SlotoCash reveal that the following 4 promotions are redeemed the most number of times every week simply because players often get good results with these bonuses.
Coupon: WEEKLYMATCH
At the start of every week you are presented with a golden opportunity to hit the big one! Players get a 100% Match up to $1,000. But that's only half the story. You start the promotion with 50 Free Spins on a seasonal game that will increase your balance before you start playing with your 100% bonus on your deposit amount. This coupon can be redeemed repeatedly once a week Monday through Thursday, any week of the year!
How much: 100% up to $1,000
Availability: 1x per week (Monday through Thursday)
Games allowed: Slots, Keno and Scratch Cards
Playthrough: 30x (deposit+bonus) on Slots, Keno and Scratch Cards
Extra reward: 50 Free Spins on highlighted game of the season (No additional playthrough added!)
Coupon: SLOTOJACKPOT
SlotoCash has some of the most coveted progressive jackpots online. And we are not trying to shy players away from winnings them, on the contrary! You have a 50% Bonus up $500 that can be redeemed twice a day to play progressives. You also get to play their non-progressive slots, keno and scratch cards games with this bonus. Remember it is rare a progressive jackpot is under $100,000 at SlotoCash and you can easily find several that are over one million dollars - and constantly growing!
How much: 50% up to $500
Availability: 2x daily
Games allowed: Progressive Jackpot Slots, normal Slots, Keno and Scratch Cards
Playthrough: 15x (deposit+bonus) on normal Slots, Keno and Scratch Cards; 30x on other games.
Coupon: 65EASYWIN
It's hard to turn down a good deal when you see one. With this coupon you get a high reload for two deposits every day with a maximum bonus of $650 per instance. The playthrough requirement is as low as it can get and players often reap enormous winnings from this coupon.
How much: 65% up to $650
Availability: 2x daily
Games allowed: Slots, Keno and Scratch Cards
Playthrough: 15x (deposit+bonus) on Slots, Keno and Scratch Cards
Coupon: SUITEMUP
In 2015, SlotoCash released their 7th blackjack table variation called Suite'em Up Blackjack. Players can place a side bet before dealing of cards. If the two cards dealt to the player share the same suit, players win an instant prize. Get up to 60:1 payment for a pair of suited Aces. With this coupon you get to play this and all other Blackjack tables. Get a 100% bonus up to $1,000 and go show the dealer who's the boss!
How much: 100% up to $1,000
Availability: 1x monthly
Games allowed: Blackjack, Slots, Keno and Scratch Cards
Playthrough: 30x (deposit+bonus) on Slots, Keno and Scratch Cards; 60x on other games.