Latest Online Casino News

There has never been a time more appropriate than now to be on the good side of the "Guardians of the Holy" and "Protectors of the Heavens"! Please the Ancient Gods and fly high into the sacred spheres and massive wins with an almighty 100% Match + 75 Deity Spins!
Explore the heavenly reels of Ancient Gods where you'll need to butter up to dragons, a turtle, an eagle and a tiger. The Scatter golden medallion triggers the celestial free games and the yellow dragon will activate will substitute for other symbols and trigger even more free spins.
The ethereal mixes in with our realm in the reels of Ancient Gods where a 100% Weekly Match + 75 deity Spins are up for grabs when depositing $25!
Redeem Code: WEEKLYMATCH
Freespins Game: Ancient Gods
Terms and Conditions:
Offer available once per week from Monday through Thursday. It requires a $25 Min. Deposit and no max cashout!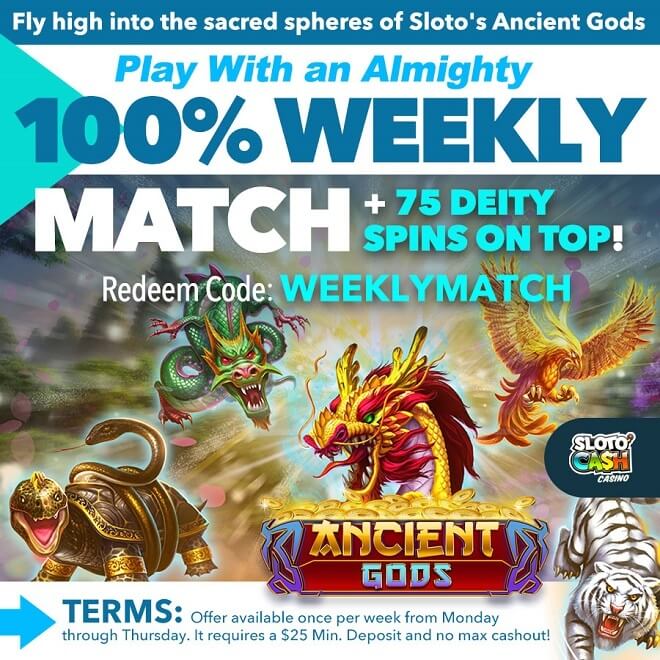 It's been said that adventure is out there for those who seek it – and that's certainly the case when it comes to Banana Jones! Join the most daring monkey of them all in this new adventure-themed Snakes & Ladders style board game as he embarks on a quest to find the Crystal Banana hidden in the ancient Temple! If you're daring enough to help Banana Jones in his expedition, you'll be rewarded with a 200% Match bonus and bragging rights!
Get ready to roll the dice 5 times per wager and when landing Banana Jones on the head of a Snake, he will move down to its tail and away from the temple. However, landing on the base of a Vine will bring him closer to the temple and the Crystal Banana. Cross your finger that you're be following the right path to help Banana Jones navigate the screen before the Crystal tropical fruit falls into the hands of our hero's enemies: the feared Leopold the Leopard and his guerilla snakes. 
Activate the special Treasure Wheel and Crystal Banana Quest features to trigger even more cash wins. Completing the path will give you a chance to open a chest where extra cash fruit prizes are added to the game's counter for more wins!
Play with a 200% Match Bonus up to $1,000!
Redeem Code: 200EXPEDITION
Terms:
Offer requires a $25 min. deposit andi t holds 30x playthrough and no max cashout.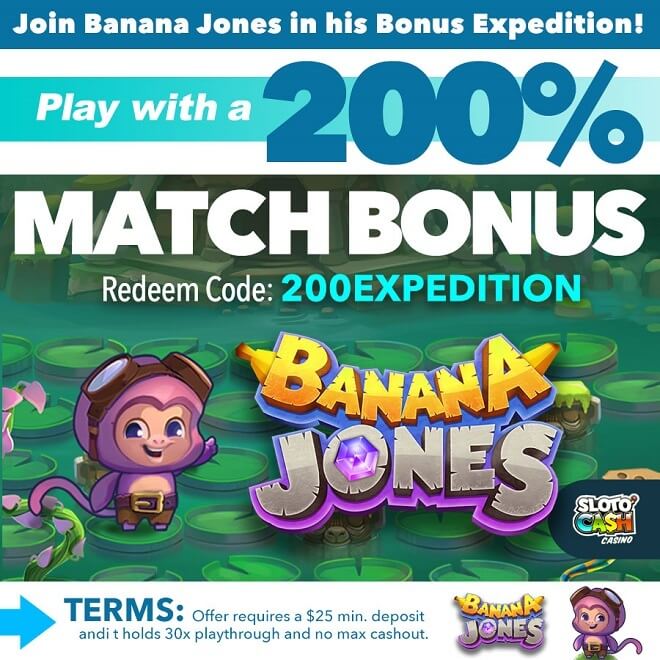 As featured on Sloto Magazine
Inspired by Facebook suggestion of Sloto'Cash player Nick Plashka
Mr. Sloto was tired, truly exhausted after running through time and yearning to see his beloved. They were plugging in the numbers: June 2018. Mr. Sloto needed rest before heading back to his home. He drifted into sleep mode to conserve battery and started a memory loop that transported him back into himself to the moment he met Mrs. Sloto.
Just then Victor had an idea: how about I take Mr. Sloto back to the moment when he met Mrs. Sloto. That way it will seem like no time past at all! He plugged in different numbers in the time machine and off they went.
It had been a few months ago, in between their adventures in time travel, they decided to take a week's vacation in beautiful sunny Monaco. Mainly to do research in all the big fancy casinos there but also to relax.
They entered the most technologically advanced land-based casino there. With slot machines 10 feet high. Light shows and holograms everywhere. And there she was, the future Mrs. Sloto or as she was called back then, serving bot CHERRY777. She was rushing to and fro serving patrons.
Mr. Sloto was magnetized by her. Her image was instantly burned into his circuits. Mr. Sloto was, as if by fate, rolling toward the female bot. By the time he was upon her he realized he didn't know what to say... He reached out and touched her shoulder she turned with a smile and asked if she could help him.... And he did the only thing a 'gentlebot' could do, he kissed her hand...
She pushed him away in shock and bewilderment. Mr. Sloto then said: is it random that we meet here today or was it programmed in the algorithm of life?
CHERRY777 was struck, finally meeting a creature that could speak her mathematical language…

Suddenly Mr. Sloto woke from his sleep and found himself in the same casino in Monaco. He wasn't sure if he was dreaming or not. Then he saw her once again, bot CHERRY777, the love of his life.

He came straight to her and said: I'm back my love… like I promised. Let's go now and get married.

CHERRY777 was completed confused. Victor Fluke slapped his face when he realized he brought Mr. Sloto minutes before he had actually met her in their first trip to Monaco.

Mr. Sloto then said: Can't you remember me? Have I dreamt it all? Is it random that we meet here today or was it programmed in the algorithm of life?
It was in that moment that CHERRY777 had a deja-vú, as if this moment had occurred before.
What will happen next? Will CHERRY777 fall in love again with Mr. Sloto?
LET YOUR IMAGINATION RUN WILD!
This is an interactive story so you can contribute with any idea or suggestion for the next chapter. Send us your suggestion to This email address is being protected from spambots. You need JavaScript enabled to view it. .
We thank Nick Plashka for submitting his idea. He has been rewarded with 200 FREE SPINS.
If we use your suggestion for next chapter, we will showcase your name as co-creator and award you too with 200 FREE SPINS!
Subcategories