Sloto Cash Blog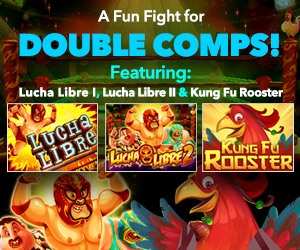 Test your might as you play three of our premium slots that have a physical combat theme. As you wager on the three slots below, you will start accumulating comp points at double the standard rate!
Comp points are a great way to increase your chances of winning at our games, by receiving extra cash to play and reduce the house edge.
Calling fighters and warriors from all countries, to compete for ultimate prizes this month at Sloto'Cash

Lucha Libre I
This 25-line video slot became an instant hit with Sloto'Cash players. It takes us down to Mexico, into one of its legendary underground wrestling arenas. It is a High Variance game where you get to experience frequent bonus features to keep you busy hunting for big jackpot prizes.

Lucha Libre II
This is the sequel and yet another high variance slot with heaps of bonus features. Meet Nacho Friend and Taco Malo, the two wrestlers that will fill the reels with jackpot prizes and hot bonus features. On the reels you will also find spicy Mexican salsas, nachos and chillies.
Kung Fu Rooster
This is a new modern-day Asian slot with 12 lines and sharp graphics. If offers a simplified format for easy access plus several bonus features to keep you playing for hours.
1st Bonus:
Deposit $25 get
77 Added Spins on top!
Redeem Code: FUNFIGHT-77
Game: Lucha Libre I
2nd Bonus:
Deposit $25 get
88 Added Spins on top!
Redeem Code: FUNFIGHT-88
Game: Lucha Libre II

Get after
99 Free Spins on top!
Redeem Code: FUNFIGHT-99
Game: Kung Fu Rooster


Coupons must be redeemed in order!
Deposit coupons hold 25x roll over on spins winnings. Free spins coupon holds $500 max cashout.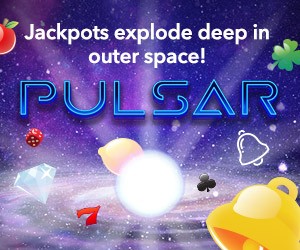 It may seem like the dream of science-fiction writers that we will one day live in other planets, but the reality is closer than most people think. As we saw in the previous page, NASA is taking very serious steps in learning about Mars and its potential as a second home for human beings.
Mars is a prime candidate for colonization. The land area of Mars is very similar to the Earth's; even though Mars is about half the size of Earth (Mars has mostly a dry surface, whereas we have plenty of ocean water on our surface).  Mars' gravity is 2.7 weaker than in our planet, which makes it reasonable for adaptation and for all the hard work that would be required for colonization.

Before humans can begin to live in Mars, scientists will need to develop technology for terraforming, which is the artificial modification of a planet's atmosphere. This would be essential since Mar's atmosphere is currently too thin and thus too cold, making it impossible to have water in liquid form.
Mars temperature is promising in some regards. The average high temperatures in Mars reach 30 ° C (86 ° F), which makes it very pleasant for a human being. The down side is that the low average temperatures reach -140° C (-284° F), a problem that can be fixed with terraforming over decades, but only with expensive heating in the beginning.
The challenges of colonizing a planet are enormous but that hasn't stopped many visionaries, engineers and scientists to begin exploring the possibility. Considering that there have been several mass extinction events on Earth, it does not sound like a bad idea to have a Planet B at our disposal.
Space exploration will surely take us to unimaginable places this 2021 and beyond. Are you ready for it?

Deposit $25 Get 200 PULSAR Spins on top!
Redeem Coupon EASYWINSPACE

Deposit $30 Get 150% Match Plus 50 Nova 7s Spins
Redeem Coupon 150NOVA50

EASYWINSPACE promo holds 27x roll over on spins winnings. 150NOVA50 requires a $30+ deposit and it holds 30x roll over + 5x on spins winnings. All deposit bonuses hold NO MAX CASHOUT.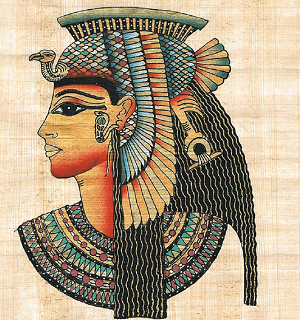 As featured on Sloto Magazine Summer 2021
Cleopatra is one of the immortal figures in world history. She remains one of the first few female rulers in the world, along with Kubaba (Queen of Sumer) and a handful of powerful women that ruled in Egypt prior to Cleopatra's time.
Fun Fact #1
Cleopatra was actually Cleopatra VII. We rarely talk about the other six Cleopatras, which include the original Cleopatra, who was Alexander the Great's sister.
Fun Fact #2
She is famous for having liaisons with powerful Roman men like Caesar and Marcus Antonius. But don't think she was seduced by these influential men; on the contrary, Cleopatra was an important and powerful woman whose clever power politics may have contributed in her relationships with these men.
Fun Fact #3

Cleopatra was in Rome at the time of Caesar's assassination.
Fun Fact #4

Cleopatra was not just a savvy ruler but also a writer. She wrote a treatise titled 'Cosmetics', but it wasn't something like a Cosmo article about makeup; it was a book with medical remedies for conditions such as dandruff and hair loss.
Fun Fact #5
Cleopatra made a bet against Marcus Antonius, when she boasted that she could host the most expensive dinner in history. To win the bet, she simply took one of the pearls from her earrings and dissolved it in a glass of vinegar and wine, before gulping it down!
Fun Fact #6
The Egyptian Queen is often depicted in film and art as a beautiful woman, but reports from her contemporaries state that her looks were not particularly striking. However, she is said to be a great conversationalist and had a great character which gave her presence an irresistible charm.
Subcategories