Sloto Cash Blog

The holiday season is upon us once again and joy can surely be felt all over Sloto'Cash. When we think about this time of the year we think about how this is a time for giving – and on that note, Santa and Mr. Sloto have teamed up to give away tons of cash and bring you one heck of a jolly December! And what better way than to kickoff the most wonderful time of the year than by playing for a $100 FREE SANTA TICKET!
Get ready to spin the reels for some Extras Xmas wins this December as you add a 150% match to your next deposit, followed by a 200% Match and top off your Xmas Tree with with $100 FREE TICKET!
150% 1st Bonus
Code: SLOTOSANTA1
200% 2nd Bonus
Code: SLOTOSANTA2
$100 FREE!
Code: FREE100SANTA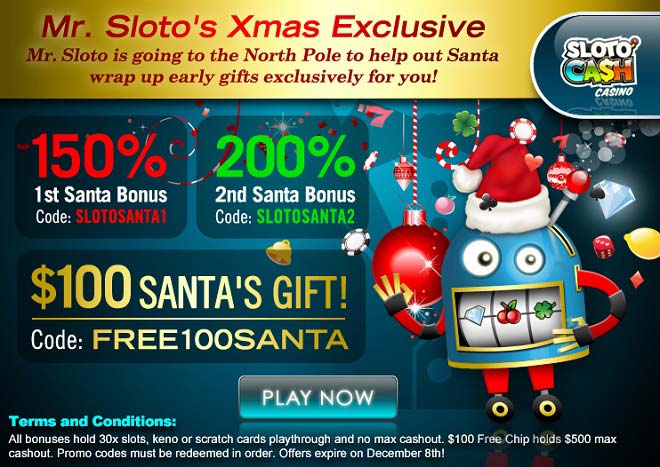 Arr, it's time to plunge into the dark waters of Ghost Ship – a new 25 and 5 reel online slot that will take you on an deep-sea adventure where you'll be spending time with a crew, that even though met their watery grave long ago, is still guarding their treasures! You and only you can uncover these gems!
Your thirst for adventure and treasure seeking thrives with symbols such as the Wild Ghost Captain that may fill the entire reel to create winning patterns. You'll also be gathering coins when you land the scatter Ghost Ship. When a Ghost Captain or Ghost Ship Scatter appear, Ghost Captains may fill the rest of the reel that they appear on.
In free games, Ghost Captains will always fill the reel they appear on! With 2 free games awarded for every Ghost Captain or Ghost Ship symbol appearing anywhere on the triggering game, you'll be amassing wins quickly!
Get ready to sail on through the rough seas of Ghost Ship and battling the crew over the hidden treasures found on this fantastic new slot with 20 Free Spins and a 100% Match +33 EXTRA Free spins* to be collected!

Yo ho ho mates, it's Ghost Ship time!
*Offers will be published on March 19th upon game release!

If you're a fan of playing exciting strategy-based card games such as Blackjack and you of course love to do it at Sloto'Cash, we'd like you to welcome a new and rewarding Blackjack side bet called Suit'Em Up and add a 100% Celebration Match bonus to your next deposit!
The Suit'Em Up side bet is easy to play and highly rewarding! This bet is based on your first two cards and the chance of drawing both of them in the same suit.
The pay out starts at any suited cards at 2-1 and will move up to 3-1 for a suited 11, 5-1 for a suited pair, 10-1 for a suited blackjack, and 60-1 for suited Aces!
Keep in mind that percentage of times you'll be drawing two cards of the same suit on the initial deal is pretty high and thusly, Suit'Em Up is one of the most popular and most rewarding side best you can make!
And it's especially rewarding when you claim our 100% Match to go along with your bet!
Redeem Code: SUITEMUP
PLAY NOW!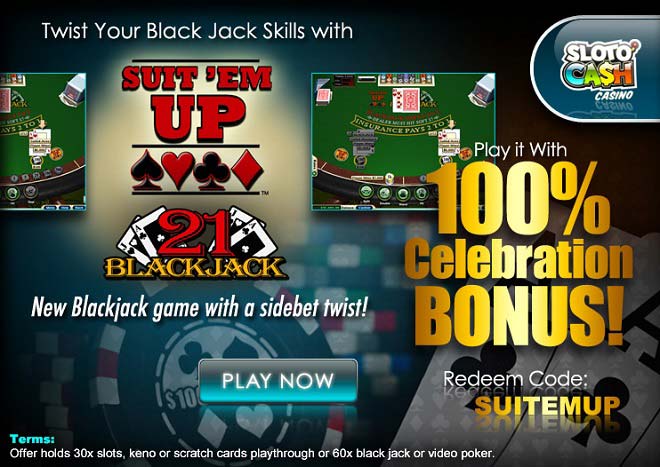 Subcategories