Latest Online Casino News

It has finally happened: Mr. Sloto has been hit by Cupid's arrow! And since our guy is now madly in love, he wants you to fall in love with February wins too!
Join Mr. Sloto as he welcomes the month of romance and you'll be soon glowing just like him when you pick up and play with a 150% February's 1st Bonus, continue celebrating the sprit of love with a 200% February's 2nd Bonus and take in all your heartfelt feelings with a $100 Luck n' Love Chip!
When Cupid's arrow strikes there's only one thing left to do: deposit as little as $25 and let your account be filled with love, bonuses and wins!
150% February's 1st Bonus
Redeem Code: LUCKANDLOVE1
200% February's 2nd Bonus
Redeem Code: LUCKANDLOVE2
Get after $100 Luck n' Love Chip!
Redeem Code: FREE100LUCK
Terms: Deposit offers require a $25. minimum deposit and they hold 30x slots or keno playthrough and no max cashout. $100 Free Chip holds 40x roll over on slots or keno and $500 max cashout. Promotions must be redeemed in order! Valid until February 28th.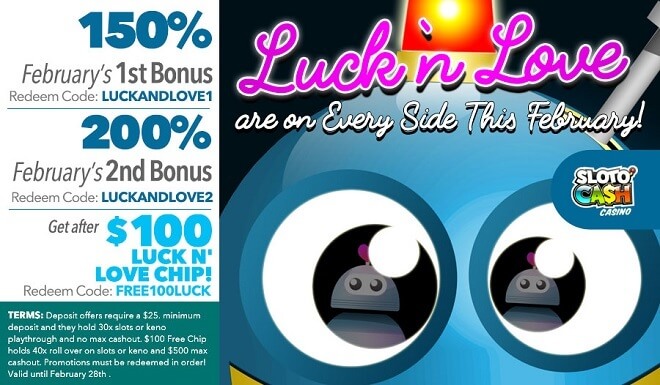 Jackie Chan is a living legend and you've got a chance to meet and greet him with Mr. Sloto! Become a legend too when playing our latest game addition: Fantasy Mission Force. Learning martial arts and packing wins has never been as easy as when playing with a 111% Match plus 33 Free Spins that are yours when depositing $25!
Your mission is to win, and you'll achieve this while spinning the 5 reels and 20 paylines available in Fantasy Mission Force. Win with help from Wild symbols, multipliers, jackpot prizes, a special Kaboom feature and much more!
Join the dream team in Fantasy Mission Force – Jackie Chan, Mr. Sloto and you will be linking forces and striking with full energy to collect the most epic of wins yet!

Play it with a 111% Match + 33 Free Spins!
Redeem Code: 111FANTASY33
Terms:
Promo requires a $25 min. deposit and it holds 30x slots or keno playthrough and no max cashout!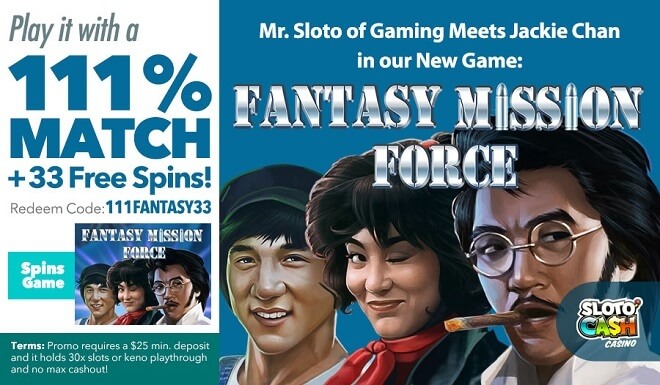 Chapter 7: The Ancient Volcano
As featured on Sloto Magazine
Co-written by Sloto'Cash player Zachary Hudak
Mr. Sloto opened his eyes, he had blacked out. A strange noise came from outside. Sounded like a very large vacuum cleaner sucking in all space... he looked out the time machine's window and was in shock! They landed in front of a black hole. It was slowly sucking them in and opposite the black hole was an asteroid field. They were in a bind.

Victor what shall we do!? VICTOR! – cried Mr. Sloto. Victor slowly woke up and immediately understood they were in danger once again.
Victor spoke: we have one of two options. Go into the black hole or fly through the asteroid field. I say we go towards the asteroids and try to maneuver out. Mr. Sloto disagreed; he wanted to go into the black hole.

Mr. Sloto reached into his coin slot and took out Triton's coin. Let's flip a coin, he said. Head is black hole, tail is asteroids.
He flipped the coin but it did not land on the floor. It got sucked out of the time machine through a small crack and into the black hole... Oh no! – both Mr. Sloto and Victor yelled!

A very dark and powerful voice spoke out of the black hole. Whose coin is this!?

It's Tritons coin, messenger of the sea! Mr. Sloto answered.

For this coin I grant you two wishes, the voice replied.

Mr. Sloto asked to go through the black hole without being harmed! Victor then said that they wanted to reappear somewhere close to civilization.
The voice consented and they were pulled through a vortex of light and magic.
When the time machine stopped moving, they looked outside and there were lush palm trees with ripe coconuts, cacao bean trees and at the distance they saw what appeared to be gigantic pyramids with symbols of jaguars, serpents and plumed eagles ….

Where have they landed? Will the next adventure inspire Victor and Mr. Sloto for a new slot machine theme?
Subcategories