Latest Online Casino News

Sloto's genie is finally out of the bottle this November – and you can count on more than 3 wishes. This is no regular genie; it's got the most phenomenal winning powers that can rub off on you!
In anticipation on your awaited Thanskiging feast, the genie is willing to grant you the wish to oficially kickoff your holiday season with up to a 225% Bonus plus 50 Aladdin's Wishes Spins!
| Deposit | Get | Extra Info |
| --- | --- | --- |
| $25-$49 | 75% Match | +15 Spins |
| $50-$99 | 100% Match | +20 Spins |
| $100-$149 | 125% Match | +25 Spins |
| $150-$199 | 150% Match | +30 Spins |
| $200-$249 | 175% Match | +35 Spins |
| $300+ | 225% Match | +50 Spins |
Redeem Code: SLOTOGENIE  
Spins Game: Aladdin's Wishes

Bonus Terms:
Offer available once per day throughout the month. It holds 30x slots, keno or scratch cards playthrough and NO MAX CASHOUT!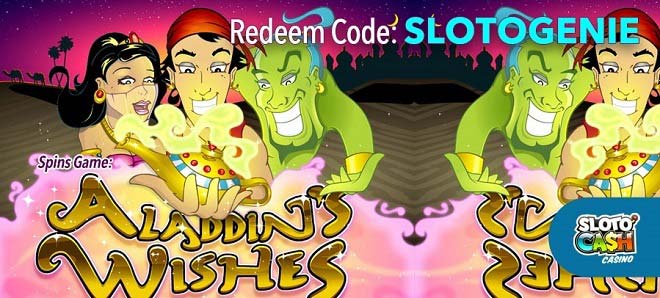 This November Mr Sloto has caught the Thanksgiving and Pre-Christmas spirits together! The festive season is already twinkling with two massive bonuses plus a $100 Free Gift!
Get started with a 150% 1st Slots Giving Bonus and continue playing with a 200% 2nd Match Bonus that will end up to a $100 Free Slots Gift!
Start with a 150% 1st Slots Giving Bonus
Redeem Code: SLOTSGIVING-1
Continue with a 200% 2nd Match Bonus!
Redeem Code: SLOTSGIVING-2
Redeem after a $100 Free Slots Gift!
Redeem Code: FREESLOTSGIVING
Terms:
Deposit offers require a $25 minimum deposit and they hold 30x slots or keno playthrough and no max cashout. $100 Free Chip holds 40x roll over on slots or keno and $500 max cashout. Promotions must be redeemed in order! Valid until November 30th.

Get inspired by these classic witches!(As featured on slotomagazine.com)
Impress this Halloween by dressing up as a classic Witch drawn from literature or pop culture! Here's a review of some of the most prominent witches in history:
The three sisters
Shakespeare's immortal play, Macbeth, features three witches that predict Macbeth's rise to the throne. They are remembered for reciting these words during a spell:
Double, double toil and trouble,
Fire burn, and cauldron bubble.
Recommended to do it with two other friends so you all go around casting spells together and quoting the genius bard!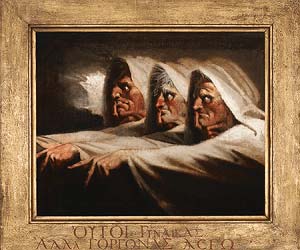 Wicked Witch of the West
Everybody will immediately recognize this green-faced witch, the villain of Wizard of Oz. She carries all the iconic features of the modern witch: greenish skin, pointed nose, black hat and the shaggy broom.
You can go around repeating her famous line: I'll get you, my pretty, and your little dog too!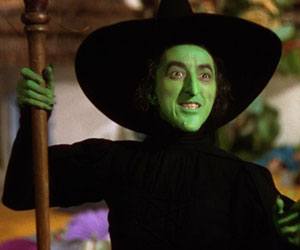 The White Witch
She is Jadis, one of the main characters in C.S. Lewis' classic book The Lion, the Witch, and the Wardrobe. She is famous for turning the entire world into perpetual winter. One of her memorable quotes you can go around saying is: Who has awaked me? Who has broken the spell?
And then cast white powdery material (bio-degradable best) around you as you walk along.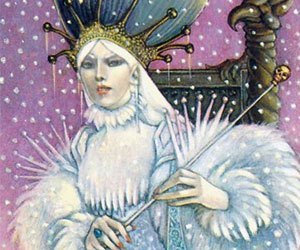 The Grand High Witch
The incredibly evil witch from Roald Dahl's novel, The Witches. Also see in a film adaptation, where the witch is played by Anjelica Houston. She starts like a classy and elegant middle-aged woman only later to turn into a grim nightmarish beast!
If you meet other witches along your way you can quote: A foolish witch without a brain, must sizzle into fire and flame! I witch who dares to say I'm wrong, will not be with us... VERY LONG!
The Grand High Witch uses the prototypical lure to turn children into mice: giving them poisoned candy!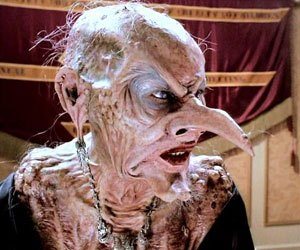 Sloto'Cash Witches
Hey, why not dress up as one of our most famous slot characters? We have three perfect witches for you this Halloween!
This 25-line video slot has a young and passionate witch that makes magical brews with big fat toads, eyeballs, and Goblin's blood!
Our 50-line Halloween classic slot features Winni the Witch, a sensual witch with flair for mischief.
The sequel to our Halloween classic has double the fun with one more witch appearing: Wanda Witch
Play these three top quality games to get inspired for your Halloween party this year!
Subcategories