Latest Online Casino News
In what has been a bumper year for Sloto, America's favorite casino destination has won yet another award, this time topping the VegasSlotsOnline.com list of the BEST USA CASINOS in 2015.
2015 has seen players flock to Sloto to enjoy a number of the site's new hit releases including Hillbillies Cashola, Lucha Libre, Ghost Ship, and The Three Stooges in Brideless Groom, as well as a number of old favorites including Cleopatra's Gold, Achilles, Pay Dirt and Texan Tycoon.
Speaking to Sloto, Mark Nelson the PR manager for VegasSlotsOnline said: "Winning our best casino award is no mean feat and clearly demonstrates the continued progress that Sloto' Cash has made this year in cementing itself as the players' number 1 choice of slot websites. To win this award, you need first class support, fast cash-outs, great games and above all else, a flawless reputation among players. Sloto ticks all these boxes and more, and as such is a deserved winner."
Sloto' Cash has big plans on the horizon including the release of several new games such as Pirate Isle and Bubble Bubble which are set to strengthen the games portfolio even further. Furthermore, we look to continue our mobile push with a number of exciting new mobile friendly games to be announced over the coming months.
With big plans for the present and even bigger plans for the future it's likely you'll be reading more success stories in the Sloto blog soon. Watch this space.

As featured on Sloto Magazine
The world has gone digital. There is no hiding from this fact. More and more of our daily lives is organized by mobile and digital technology. Many believe that the next phase will be when we use a global digital currency. Forget about bills, checks, credit cards. Soon, we might be using a Bluetooth wallet to pay all our bills.
Currently, the leading digital currency is Bitcoin. But there are many others arising every month. There are over 1,000 digital cryptocurrencies available today!
Digital currencies can be a great way to invest for the future. At the start, when Bitcoin was launched, each Bitcoin was valued for just a couple of cents. Today it is worth several thousand dollars. It is always a gamble to predict which digital currency will one day surge, but it is risk worth taking.
Sloto'Cash accepts Bitcoin for deposits and withdrawals. Plus we cover transaction fees for your Bitcoin withdrawals! Here's a tip for you to start investing in cryptocurrency:

Next time you have a big withdrawal; cash it out for FREE with Bitcoin. There are a number of online cryptocurrency exchange wallets such as CoinBase, Kraken and Cryptopia. Once you receive your withdrawal funds into your Bitcoin wallet, exchange some Bitcoin for other digital currency (like Etherum, Ripple, Bitcoin Cash, Cardano, etc) and store them for a few months. You'll be surprise how much their value will change from week to week. 
We recommend only using a small percentage of your winnings (10-15%) to invest in other currencies. It is a form of lottery and there are no guarantees that the digital currency you buy will become the next hit. But on the other hand, if it does… then you're golden!
Try your luck with any of our weekly offers all tailored-made to accept Bitcoin, Litecoin and Bitcoin Cash

Chapter 10 in the life and adventures of Mr. and Mrs. Sloto
Inspired by Facebook suggestion of Sloto'Cash player Cassie Stewart
Just as Mr. Sloto was raising CHERRY777's hand again to kiss it a loud commotion was heard. People were screaming and running. In a flash, an armed bandit takes hold of CHERRY777 as a hostage and takes her up to the main casino vault.
"Nobody move!" screamed the robber. "Who has the combination to this vault?!" asked the bandit. "Someone tell me or I'll shoot down this bot and all the rest of you too!" Mr. Sloto could not believe his eyes. He was shaking with fear but he summoned his courage and yelled back: "I do! I know the secret number combination!"
The robber signaled Mr. Sloto to come up closer while pointing his big assault weapon to his head. "Don't move any closer, what's the code?" commanded the robber.
Mr. Sloto started to panic. He had no idea what the combination would be, but he started shouting random numbers "9, 6, 2, 7, 8".
The robber still holding CHERRY777 close, started to plug in the numbers. Mr. Sloto then released a lot of coins from his slot coin dispenser. The robber thought the vault had burst open and all the money was coming out. He let down his gun to begin collecting the coins. At this moment Mr. Sloto spit out a coin straight into the robber's head knocking him unconscious.
The entire casino roared in celebration. Mr. Sloto was a hero!
CHERRY777 looked into Mr. Sloto's eyes and saw him as her robot in shining circuitry! Sparks of love raced through her circuits. Mr. Sloto knew instantly he had conquered her once again.
Their love was meant to be and now their adventure together would begin…
What will happen next? What is next in the life and adventures of Mr. and Mrs. Sloto?
This is an interactive story so you can contribute with any idea or suggestion for the next chapter. Send us your suggestion to This email address is being protected from spambots. You need JavaScript enabled to view it.
We thank Cassie Stewart for submitting his idea. He has been rewarded with 200 FREE SPINS.
If we use your suggestion for next chapter, we will showcase your name as co-creator and award you too with 200 FREE SPINS!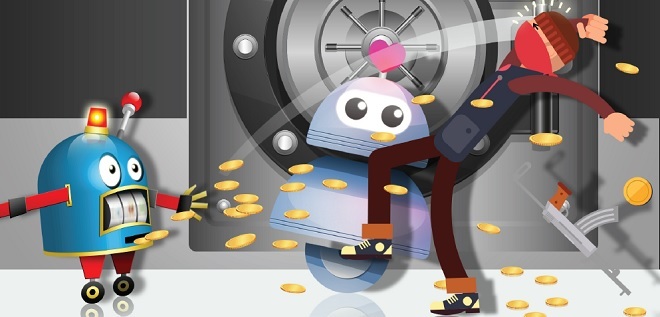 Subcategories