Latest Online Casino News

Halloween is the time of year to be creative and improve your winning strategies. Get into the spooky good mood as you bring October to life with Mr. Sloto's newest Hocus Pocus themed slot: Bubble Bubble 2!
Bubble Bubble 2 ups the ante with three giant features, triggered by selecting one of three scattered wands when they appear.The 'Greater Ghosts' Feature awards 20 free games with mischievous Wild Ghosts flying onto the reels after every spin! 
The 'Ultra Bewitched' Feature gives players 7 free games with up to two expanded Wilds on each game.
The powerful 'Wilder Witches' Feature awards 9 free games, with Winni and Wanda casting spells onto the reels when they appear. If both witches appear on the same spin, they will turn the middle reel wild, award 33 extra free games or both! The enthralling feature is topped off with the addition of the patented 'Win-Win' add-on, which awards players a bonus prize in the event of a low feature win. Wicked!
Deposit as little as $25 to spin the reels of the long-awaited sequel to the super successful Bubble Bubble slot and start massing wins with help from expanding wilds and multiplier symbols!
Play our new game with a 111% Match + 33 Free Spins!
Redeem Code: 111BUBBLE33
Terms: Offer requires a $25 min. deposit and it holds 30x slots or keno playthrough and no max cashout.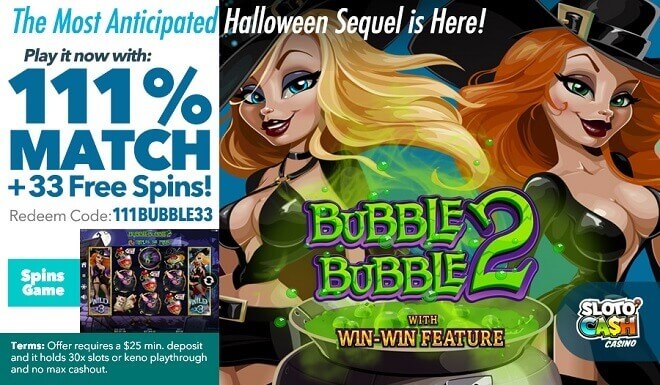 A spellbinding mid-October is in sight and Mr. Sloto knows it! It's time to officially celebrate Halloween with some of the spookiest wins of the month that take place as soon as you deposit as little as $25!
Spin the reels of our new Bubble Bubble 2 slot where Winifred the witch is back to gather round the black candle light and prepare a brew that will have you collecting more than candy! Free Spins, multipliers and tons of special effects will keep you company as you trick-or-treat for wins earlier than ever!
Hop on your broomstick these last few weeks of October and prepare to fly towards some of Mr. Sloto's eeriest wins of the season!
100% 1st Bonus + 50 Spins 
Redeem Code: WITCHSPINS1
Free Spins Game: Bubble Bubble
150% 2nd Bonus + 100 Spins 
Redeem Code: WITCHSPINS2
Free Spins Game: Witche's Brew
200 Free Spins Reward!
Redeem Code: FREE200WITCHES
Free Spins Game: Bubble Bubble 2
Terms: Deposit bonuses require a $25 minimum deposit and they hold 30x slots, keno or scratch cards playthrough and no max cashout. FREE200WITCHES coupon winnings hold $500 max cashout. Promo codes must be redeemed in order. Offers expire on November 15th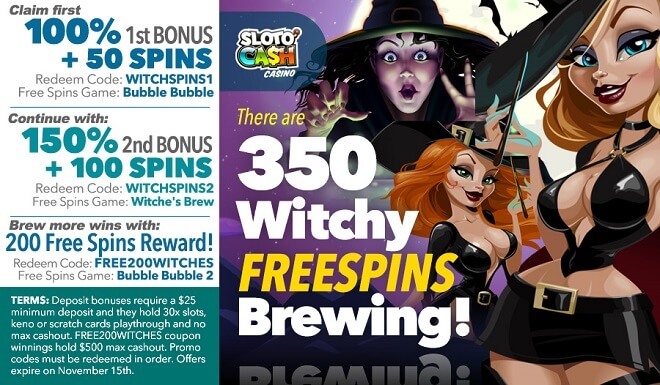 Safety measures for your online accounts and home internet usage. As featured on Sloto Magazine
Did you know that cybercrime costs businesses over $500 billion each year? By 2019 it is expected to cost close to $2 trillion! A lot of these crimes are done at high industrial or corporate levels, but some do occur to individuals as well. Therefore it is important to keep your online records and accounts tightly guarded against any abuse or misuse.
Your casino account needs to be protected just as your bank account. Your casino account contains sensitive information that must remain secure at all times. There a few simple tips you can employ to keep your Sloto'Cash account secure:
Change your password regularly. For maximum security, we recommend you change the password every month. If that is too much, then do it at least twice a year. If you have trouble remembering your new passwords, you can employ a simple pattern for every new password. If your current password is: cupcake33. The next password can be: 1cupcake33, the following 2cupcake33 and so on. This will make it easy to remember.

Don't access your account from unsecure locations. Public computers that are used by many users daily are a hazard. If you do use a public computer, make sure you log out properly before you leave the computer.

Phishing emails. We get unsolicited emails every day. Some attempt to lure you to click on links that will install malicious viruses on your computer, or try to fool you into revealing your passwords. Make sure you do not click any link inside suspicious emails from strangers or even relatives. Sometimes your relatives' emails may be hacked in order to send phishing emails to all their contacts. Beware!

Keep a good anti-virus running on your device at all times. There is malicious software that may infect your computer and try to steal your passwords. A good anti-virus will detect and block these malignant programs.

Keep your operating system updated. Microsoft, Apple and other operating systems constantly release updates to keep the system protected from new threats. Keep your system updating automatically to prevent attacks to your device.
These 5 tips can keep your casino and online accounts safe. Another important issue is to keep good control of the internet usage in your home. If you have underage children in your home, it is important that they don't access gambling and adults sites without your knowledge.
There's parenting software (Nanny, K9, Safe Eyes) you can install in your home's devices that will either block unwanted content and sites; or you can review the activity of internet usage with a monitoring program (eBlaster).  If there is only 1 main computer at home, make sure you have the master password to unlock the computer, so children are not using it without your consent.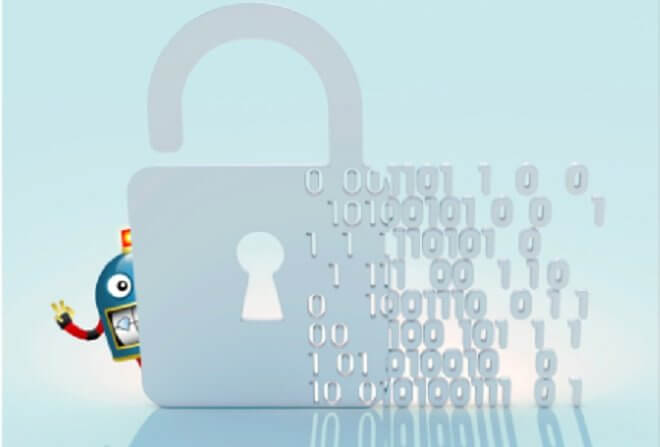 Subcategories