Latest Online Casino News

Have yourself a winning holiday season when spinning our newest slot Snowmania! Christmas is certainly in the Sloto Cash air and you'll feel it take over you when you deposit as little as $30 to play Snowmania with a 111% Match + 33 FREE Snowy Spins!
Keep warm during the winter months with wins that occur from spinning the 5 reels and 20 paylines of our icy and highly entertaining new slot. Christmassy music and symbols will get your holiday spirit going in no time as you create winning combinations and defrost the icons trapped in ice cubes. Whenever a winning combo occurs, the ice cubes will shatter and wins with multipliers will land your way.
Have yourself a super winning Christmas time this November and beyond when you deposit as low as $30 to play our Snowmania slot with a 111% Match Bonus + 33 Snowy Spins!
Redeem Code: 111SNOWMANIA33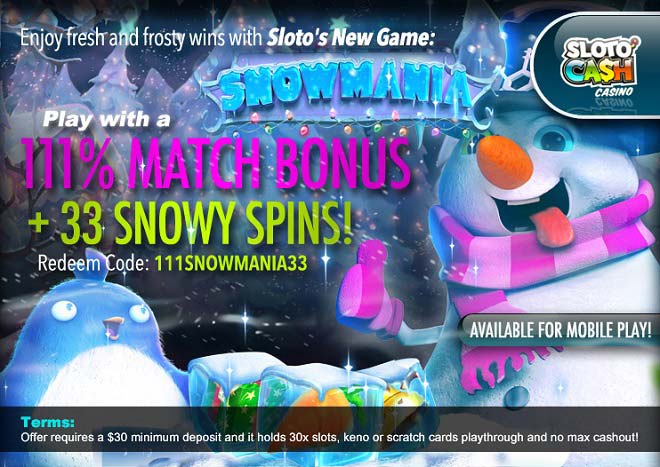 Mr. Sloto always throws the best parties around – and this time the party is happening on the reels of our newest slot Popiñata! Spin this celebration with an extra 111% Match + 33 Free Spins when you deposit as little as $25!
Popiñata encompasses all the magic of the traditional Mexican piñatas where kids take turns hitting the figure until it pops! And pop it will with wins when you hit the spin button and capture wins with the help from tacos, a sombrero, a donkey piñata, beer, jalapeños and fireworks!
Complete Popiñata winning combinations and help us celebrate Mr. Sloto's newest addition to his selection of slot machine games with a 111% Match Bonus + 33 Party Spins that are yours when you deposit $25!
Redeem Code: 111PARTY33
Terms:
Offer requires a $25 min. deposit and it holds 30x slots or keno playthrough and no max cashout!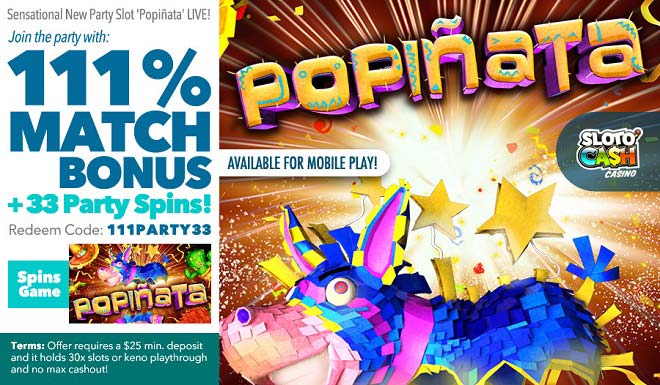 As we mentioned in a previous article the future of mobile gaming is looking very promising and will probably take over the other two platforms of online casinos: download mode and instant play mode. However, there are still very positive aspects in the latter two versions and slight disadvantages when playing solely in mobile version. Here's a look at the pros and cons of each platform.
Download Version
This was the original way to play online when casinos started appearing on the internet 15 years ago. It still remains quite a popular with a number of players and it is often combined with the other two platforms.
Pros:
·Complete portfolio of games & extra features

Downloading the casino to your computer will allow you to play all the games the casino has to offer. You have also access to other important features such as tournaments and instant live chat support.
·Best performance
Since the casino's data is stored in your computer you will therefore require minimum interaction with the casino's servers. This allows for near-flawless performance of the games on a functional computer with stable internet connection.
·Quick access

A downloaded casino is optimal for persons that play solely from a single device, usually at home. Players have easy access to the casino with a desktop icon and can opt to have the software remember their login information for a speedy launch of the casino platform.
Cons:
·Download time

Yes, you get to have all the games and access to tournaments once you have downloaded a casino. But downloading the software can take several minutes depending on the processing power of your computer. Today casinos don't make you download all the games at once, but rather only the interface of the casino. As you launch a game for the first time, then the software will download and save the game's data to your computer.
·Memory

Downloading games to your computer means they will be stored in your hard drive. Nowadays this is not much of a concern as computers and laptops have large hard drives, but could be an issue for older devices or if you have downloaded several online casinos.
·Operating system incompatibility
When online casinos started appearing at the start of the 2000's, they were designed for Microsoft's operating system. Since then other operating systems (Apple, Linux) have become quite popular and casino software is not always compatible with these other systems.
Click HERE to download Sloto'Cash software
Instant Play Version
Without any need to download any data to your computer, you are able to play online casinos on your internet browser if you have Adobe Flash installed on your device. This platform is very popular when you start trying out casinos to see if you like them, prior to downloading the software to your computer or laptop.
Pros:
·Operating system compatibility
Nearly all operating systems have adopted the multi-functional Adobe Flash software, thus you can access online casinos in their instant play modes from most laptops and computers.
·Privacy and broad access

This is a great solution if you don't only play on your personal computer. It allows you to have private and universal access to the casino from work (on your breaks, I'm hoping!), when traveling on business or on your holidays, or when using a friend's, family member's or public computer. No data is stored on the device and you can make sure your login information is deleted when you close the browser by using a private or incognito browser
Cons:
·Limited games

While instant play casinos or Flash casinos will have a large number of games, not all casinos make their entire collection of games available in instant play. But this is not a serious disadvantage as casinos try to make their best games available in both download and instant play versions.
·Connectivity issues

Since you are constantly communicating with the casino's server it is important you have a steady and fast internet connection. A powerful computer is not mandatory but one with enough processing power for it to run the Flash games plus any programs that may be running in the background.
Click HERE for Sloto'Cash Instant Play
Mobile Version
This will be the future of online gambling. Online casinos are investing heavily in this technology as it has become evident that it will be the preferred mode of playing for the newer generations. The sky's the limit but there are still some limitations when it comes to mobile gambling.
Pros:
·Universal access

Play anywhere, anytime of the day from your phone, tablet or hand-held device. With near universal access to wireless internet connection and 4G networks, you can quickly log into your casino account and play a few rounds as you commute to work or during the commercials of your favorite TV show.
·Unique mobile promotions

Online casinos are promoting hard their mobile platform and often have exclusive promotion for mobile games that are not available for download or instant play.
Cons:
·Fewer games with smaller graphics

It will be some time before casinos offer their entire repertoire of games on their mobile platform. So you don't get to play all the games you love on mobile. Another point to consider is that since the screen resolution on smart phones and small tablets is lower than on a laptop or computer, the games' graphics won't be so sharp looking as in download or instant play.
·Stalling and compatibility issues

Unless you have the latest gadget from Apple or Samsung, other phones don't have the power to run mobile casinos seamlessly. You may also experience stalling during your game play if you lose your mobile signal or step out of Wifi range. Finally, we are still in the early stages of mobile gaming and thus it is only available for the most popular mobile operating systems (iOS, Android, Microsoft). For other systems, we might still have to wait a couple of years.
As this reviews shows every platform has certain advantages and disadvantages and we encourage you try all of them to see what fits your routine, style of play and personal device(s).
Subcategories