Latest Online Casino News
Some of us may be spending most time at home than we were usually used to and watching movies might be a great way to pass the time after work or on the weekends. There is nothing better than a good family film to take a break from these crazy days and enjoy some time around with your loved ones. So, go ahead and order a pizza, get comfy and check these family films out that not only the tiniest family members will love:
Toy Story 4: The fourth and last installment of the Toy Story series was released just last year and follows Woody, Buzz Lightyear and their other toy friends under their new owner: Bonnie. Featuring voices from Tom Hanks, Tim Allen and Keanu Reeves, the toys embark on a road trip adventure and run into an old friend from Andy's house.



Inside Out:

This modern classic was released in 2015 and is set in the mind of a young girl named Riley, where her personified emotions: sadness, joy, anger, fear and disgust try to lead her through her life. This film features a smart storyline and a very interesting concept that young and not-so-young will enjoy.



Home Alone:

For some it's difficult to learn that this film turns 30 years in November. This hugely successful comedy featuring Macaulay Culkin and Joe Pesci follows an 8-year-old kid who must defend his house from two burglars after his family left him behind on Christmas. One thing is for sure: kids from this age will still definitely laugh out loud while watching this movie.

Monsters, Inc.:

Another successful film from the past that enjoyed critical acclaim is Monsters, Inc. Featuring the voices of John Goodman, Billy Crystal and Steve Buscemi, the film follows two monsters who make a living by scaring human children -which in turn generates power from their city.
What other feel-good movies you can think of that not only the kids in the family will love? There's no time like the present to go back and capture some of that childlike wonder you used to have and enjoy it now in your adult life!
Deposit $25+
Get 111 The Three Stooges® Brideless Groom Spins!
Redeem Coupon 111COMEDIES
Deposit $100+
Get 300% High Roller Bonus!
Redeem Coupon 300HIGHROLLER

Promos info:
111COMEDIES coupon holds 27x roll over. Redeem 2x weekly until May 31st. 300HIGHROLLER bonus holds 40x roll over and it is redeemable once this month.
Healthcare professionals have bridged the gap between science and society since ancient times; applying their vast knowledge to human health has been a crucial aspect of humankind and has allowed societies to flourish into what we are today.
Amid this global pandemic due to COVID-19, doctors and healthcare professionals around the world have adopted the role that the military used to take against a common enemy: they are the frontline soldiers against an invisible and sometimes fatal enemy.
Their priority is to put the lives of patients first, even if it means working through exhaustion while most of us are confined at home waiting for out healthcare army to bring patients back to their normal lives.
Doctors, nurses, paramedics and other healthcare professionals around the world have faced an unusual workload in overstretched facilities and with no end in sight. They have managed to deliver an amazing work to save the lives of millions of people while having to deal with the stress and fear of being vulnerable to catch the virus themselves.
How can we help our local doctors get through this emergency faster?

By staying at home, we reduce the odds of more people getting infected, eventually making the number of positive cases much lower and easier to handle. Remember, doctors might be on the frontline, but we are all in this together!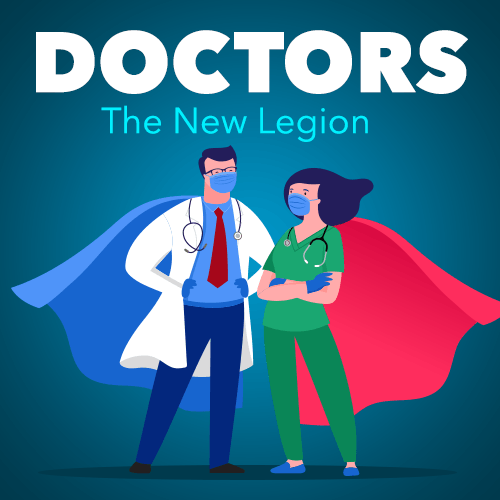 May is upon us and it's a month to reflect on all the good that the world has to offer – it's not about tough news, all the time.  For the whole month of May, Mr. Sloto want you to rely on positive things and celebrate positive news all around the world. Plus, he´ll even throw in there two huge bonuses, Free Spins and a $100 Gift!
Did you know that due to the coronavirus pandemic, wildlife now has more room to play in urban areas? Endangered turtles seem to nest in greater numbers along beaches suddenly empty of tourists and even coyotes have been spotted on San Francisco's empty streets. Celebrate positivity this May by filling your account with a 150% 1st Bonus + 25 Mariachi Spins, a 200% 2nd Match Bonus + 25 Mariachi Spins, and top off your positive energy with $100 Free Gift!
May has arrived to fill our hearts and mind with more positive vibes – and also to help your account grow with some serious wins!
Kick off the month with
150% 1st May Bonus + 25 Mariachi Spins
Redeem Code: HELLOMAY-1
Continue embracing the sun with
200% 2nd May Bonus + 25 Mariachi Spins
Redeem Code: HELLOMAY-2
Receive after
$100 Free Gift + 25 Mariachi Spins
Redeem Code: HELLO100MAY


Terms:
Deposit bonuses require a $25 min. deposit and they hold 30x slots or keno playthrough + 5x on spins winnings and no max cashout. Free Chip holds $500 max cashout. Promo codes must be redeemed in order. Spins game: The Mariachi 5.

Subcategories