Latest Online Casino News
Not every stroke of luck begins the same way...
Sometimes you must wait for that lucky number to make it your way and other times luck might just hit you with a double whammy. Fortunately, you're invited instantly to set your luck FREE with two HUGE bonuses + 350 Spins on top!
Play with a:
100% 1st Bonus + 50 Free Spins on top!
Redeem Code: SETYOURLUCK-1
Game: Lucky 6

150% 2nd Match + 100 Spins on top!
Redeem Code: SETYOURLUCK-2
Game: Lucky 8

Get after
200 Free Spins!
Redeem Code: FREE200LUCK
Game: Double Ya' Luck


Coupons must be redeemed in order!

Deposit bonuses require a $25 minimum deposit and they hold 30x roll over. All deposit bonuses hold no max cashout.  Free coupon holds $500 max cashout. Offers expire on September 15th.

Three months of pure luck...are awaiting you with our Sloto'Cash. Our world famous coupon and entertainment magazine is filled with Courtesy Spins, Contents, Trivia and Lifestyle Tips for the season.  Join thousands of readers and get your own Fall Sloto Magazine!
The Ultimate Promotions Calendar
This season you will have ample chances to hit a big payout at Sloto'Cash. Our promotions calendar is filled with exclusive coupons and promos for September, October and November!
The World Today
Our Magazine focuses on current world affairs, but we always look for empowering and positive news to share. We have tips for you to become strong and healthy in these uncertain times.
Crossword puzzle & Tournament
Our exclusive puzzle allows you to win a Free Spins Coupon, plus find the password for our exclusive fall tournament to win up to $1,000!
Lots of New Games
Discover our latest games and learn about their main bonus features to win big jackpots!
Entertainment guaranteed!
Join over 20,000 worldwide subscribers of Sloto Magazine and make this fall your lucky season of jackpots!
Read our Current Summer 2020 issue 
Some of the world's biggest celebrities celebrate their birthday in the month of August. People born on this month are either Leos or Virgos, which tend to be confident, strong and organized. Of course, these are traits that benefit celebrities, who have to be strong both physically and mentally as well as strong-willed. Some of the most famous birthdays this month include:
Madonna: She is perhaps one of the most recognizable singers and actresses in the world, being regarded as the "Queen of Pop" since the 1980's. Madonna is known for her continual reinvention which continues to this day. Her birthday is on August 16.


Jerry Garcia: Born on August 1, this rock and roll legend was the co-founder of the Grateful Dead - which ruled the hearts of music lovers not only in the US, but all over the world. His legacy continues to be remembered by millions.



Tom Brady:

Tom Brady spent 20 straight seasons playing for the New England Patriots, where he positioned himself as one of the NFL greats. He holds the Super Bowl appearances and victories record, with 9 and 6 respectively. He was born on August 3



Robert De Niro:

This celebrated Hollywood icon was born on August 17 and is best known for his role in Martin Scorsese films such as 'Taxi Driver', 'New York, New York', 'Raging Bull', 'Casino' and most recently 'The Irishman'. His birthday is on August 17.


Mother Theresa: Throughout her life, Mother Theresa served people selflessly along with her sisters of the Missionaries of Charity, becoming a symbol of love, care and compassion for the whole world. Her birthday is on August 26.


Michael Jackson: Born on August 29, the "King of Pop" is regarded as one of the most significant cultural figures of the 20th century, creating an empire in the global scene as one of the greatest entertainers in the history of music.
What other famous names come to mind that were born during August? Perhaps one of your all-time favorites or one of the newer stars?
Pick your favorite bonus and get ready to become rich and famous!
Deposit $25
Get 111 Texas Tycoon Spins
Redeem Coupon: 111FAME&FORTUNE 
Deposit $100
Get 300% High Roller Bonus!
Redeem Coupon : 300HIGHROLLER

Coupons info:
111FAME&FORTUNE coupon holds 25x roll over, Redeemable 1x weekly this month. 300HIGHROLLER bonus holds 40x roll over and it is redeemable once this month.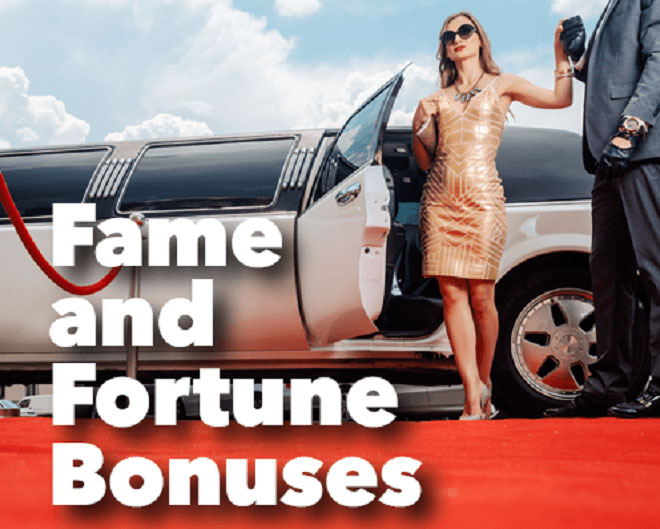 Subcategories