Latest Online Casino News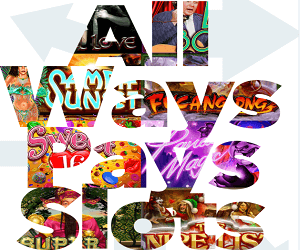 The perfect compromise between simplicity and excitement!
As featured on Sloto Magazine
Every player has a favorite kind of slot. Some like to play 3-reel slots only, while others enjoy more advanced games with abundant bonus rounds and interactive skill-based features. Those that like slots with fewer reels are attracted to the simplicity and ease with which you can follow the payouts, while missing on a lot of bonus features that could boost their luck. Those that prefer more advanced games, often times feel lost when interpreting a win due to complicated pay lines.
Luckily, there is middle ground with a new variation of games call AWP (All-Ways-Pays) slots. These games have changed the way slots are played in a very fundamental way. Most slot games have pay lines (or win lines), where you have to align identical symbols to create a winning combination. With AWP slots, there are no pay lines – in fact, all you have to do is get identical symbols on consecutive reels from left to right (and some cases from right to left too)!
AWP slots make it easy for players to keep track of special symbols as they align and produce wins on the reels, but that is not the only advantage. With traditional slots, you must pay a coin bet for each pay line on the reels. For example, a slot with 50 pay lines played at $0.01 denomination will equal to a $0.50 bet per spin. Increasing the denomination to $0.05, will already increase the total bet to $2.50. That's no longer the case with AWP slots, where you play at fixed bets for a much higher number of winning possibilities. Every AWP slot will state how many winning combinations are possible (the equivalent of pay lines) and often start at 243 ways to win, but can go up to 4,096 different ways to win!
AWP slots combine all the best features of a slot experience, which include:
• Easy track of winning symbols
• Fixed bets for more ways to win than pay line slots
• Bonus features, including Free Games, Wild Symbols, Bonus Features
• Progressive Jackpots
• High Quality Graphics and Design

Sloto'Cash now has several All Ways Pays slots at your disposal, including:

We invite you to watch our video article!
Can it reach $300,000 in 2021?
As featured on Sloto Magazine
In 2008 a person or group of persons under the pseudonym 'Satoshi Nakamoto' invented a cryptocurrency we today call Bitcoin. At that time, it was nothing more than an experiment in programming. No one could have foreseen this playful experiment would turn into a global phenomenon, the biggest digital currency in the world.  
Now in 2021, we are seeing Bitcoin boom in value and breaking everyone's expectations. In the last weeks of 2020 and the first couple of weeks of the current year, Bitcoin's price doubled in a dramatic fashion. Its value is under constant speculation, with some avid supports claiming it will supplant fiat currencies in the future; while skeptics retort that it will be nothing more than a market bubble. Whatever your position, it is hard to ignore its resilience and today, 13 years later after its inception, Bitcoin is starting to look like a technology that is here to stay for good.
Some financial experts, using a model that gauges the stock-to-flow ratio, estimate that Bitcoin's value could go as high as $288,000 by the end of 2021.  However, there are some challenges ahead, such as government intervention that might deter investors from betting on Bitcoin's success.

More prudent investors claim that you have to be patient with Bitcoin; its real value will be revealed years from now. Keep some Bitcoin tucked away for a rainy day long in the future, when its price could be well over a million dollars!
Grab daily a 88% Bitcoin deposit match bonus + 88 free spins on top!
Coupon code: 888BITCOIN
$30  min. deposit and 30x roll over with no max cashout. Redeem daily.
Watch our Bitcoin tutorial HERE
Deep below the surface of the Earth are riches beyond your wildest imagination. This week you get to play our jewel-encrusted slots Diamond Fiesta, Gemtopia and Mermaid's Pearls; slots that shine with beautiful gems and are eager to pay out big. Make your luck shine at Sloto'Cash – good luck!
Diamond Fiesta: This popular slot celebrates one of the most famous Mexican holidays: Day of the Dead. Join the festivities and take home a record jackpot playing this 50-line slot with several impressive features that will keep you rewardingly busy!
Gemtopia: This slot has gems, precious stones and jewels shining brightly all over its five reels. With two local progressive jackpots, this is surely a slot you won't want to miss!
Mermaid Pearl's: This is a brand-new AWP (All-Ways-Pays) 5-reel slot, so there are no pay-lines! Simply land identical symbols from left to right on the reels to get payouts. There are literally 3125 ways to win a jackpot!

1st Bonus
100% Match + 50 Diamond Fiesta Free Spins on Top!
Coupon: LUCKYGEMS-1

2nd Bonus
150% Match + 100 Gemtopia Free Spins on Top!
Coupon: LUCKYGEMS-2

Redeem both promos above:
Get 200 Free Spins on Mermaid's Pearls!
Coupon: LUCKYGEMS-3


Promotion must be redeemed in order! 
Deposit bonuses require a $25 minimum deposit and they hold 30x roll over + 5x on spins winnings. Free spins coupon winnings hold $500 max cashout.

Subcategories