Latest Online Casino News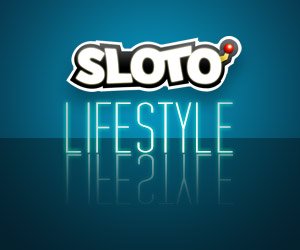 Mr. Sloto is here to bring you news that deserves a little more attention. There are many inspiring events happening around the world any given week that mainstream media may ignore or just give a small mention. At Sloto'Cash, we want to spread good vibes to our players. Here are the top news of the week:

Ban on caged farming

The EU Parliament has agreed to set a ban on caged farming by 2027, making it illegal to keep farm animals in cages after a petition with over 1.4 million signatures was submitted to the EU Commission. It is hailed as a historical decision that will ensure animal welfare for over 300 million animals that spend their lives in cages every year. 
Sharing is caring
A high-school student from Massachusetts heading to Harvard university has requested that a $40,000 scholarship be given to a student attending a community college instead. Verda Tetteh knows the value of community colleges as her mother attended one when she was 39. "I am so very grateful for this but I also know that I am not the one who needs this the most," she told graduation attendees.
Real integrity
Abhi Shah's family owns a Lucky Spot convenience store in Springfield, Massachusetts. One day he was going over tickets from the trash and noticed once was discarded without having a number scratched. He scratched the number and it revealed a one million dollar prize. The family knew to whom it belonged since the customer that discarded it came regularly there to buy those tickets. After two days of deliberation, they decided the right thing to do was return the ticket. The woman was handed the ticket next time she came into the store and she cried like a baby after hearing the good news.
Enjoy a 500 Good News Spins on Top of Your $25+ deposit!
Redeem Code: 500GOODNEWS
Promo info:

Offer holds 25x roll over. Redeem 1x weekly until end of the month. Game: Cubee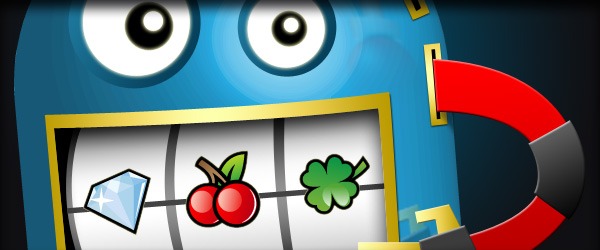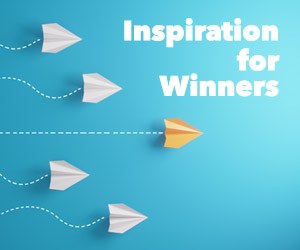 Even on a small budget, players can achieve incredible results. Learn to play in an optimal fashion so you can maximize your luck based on your available playing budget.

Spend Less, Play More

Let's say you have $50 to play with today. To get the best results you want to have as many wagers as possible with your available balance. Don't start on a $5 bet per spin, because that will equal 10 wagers. Instead, start low with $1 bets or less, that will guarantee at least 50 wagers to be placed.

If the payouts are coming your way, then feel free to make small increments on your wagers. Go from $1 to $1.25, for example. This strategy will keep you playing longer and getting more chances to hit a generous bonus feature that can reward you with big payouts.

Sloto'Cash allows you to wager in a wide range of denominations to accommodate players with any kind of budget. Wager as little as $0.10 per bet or as high as $75 per spin, and conquer our games at your own pace!
Deposit $25+ and get a
125% Easy-Win Match Bonus + 125 Spins on Top!
Redeem Code: MRSLOTO125

Offer holds 25x roll over + 5x on spins winnings. All deposit bonuses hold no max cashout.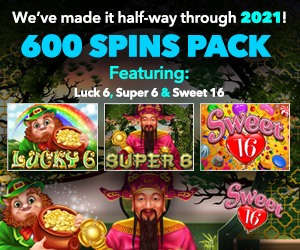 It's the sixth month of the year and we at Sloto'Cash have prepared a colossal free spins pack that awards you 600 Free Spins!
Some cultures, like the Chinese, consider the number 6 to be a very fortunate number. It symbolises things going smoothly or being well-off. It will be smooth sailing to reach your mid-year jackpot when you play with our special promo pack below, featuring:

Super 6: This is a unique 6-reel All-Ways-Pays machine with elegant graphics representing the most symbolic objects of the Far East. Collect prizes simply by aligning the same symbols from left to right or right to left, regardless of where they appear on each reel so get ready to experience also never before seen Bonus Features!
Lucky 6: This is a brightly colored Irish slot with a friendly Leprechaun and dozens of pots of gold up for grabs. Lucky 6 features 10 pay-lines, both from left to right and right to left. This is a high volatility slot, so you need to stick to it for some time until it is ready to release its flow of cash to you.
Sweet 16: Being an All Ways Pays slot, all you have to do is get symbols from left to right to achieve a winning combination. It is a high variance game promising great jackpots to those that play it while being hot and loose. Sweet 16 has a candy theme and it is irresistible to anybody with a sweet tooth.
Get started with a:
100% 1st Match + 150 spins on Super 6
Coupon Code: MIDYEAR-1
Continue playing with a:
150% 2nd Match + 150 spins on Lucky 6
Coupon Code: MIDYEAR-2
Get after 
300 Free Spins on Sweet 16
Coupon Code: MIDYEAR-3
Coupons must be redeemed in order!
Promotions require a $25+ deposit and they hold 30x roll over + 5x on spins winnings. 300 Free Spins hold 40x roll over and $500 max cashout
Subcategories