Latest Online Casino News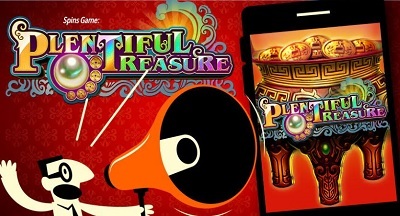 Some believe that treasures are hidden in secret coves somewhere far away. However, the truth is that when playing at Sloto, you are quite literally surrounded by them. Find astonishing prizes in the reels of the new Plentiful Treasures
You won't be able to resist playing Plentiful Treasures. Simply check out all these special bonus features: 

Wild symbol:  The Wild appears on reels 2, 3 and 4. It replaces all symbols except the Pearl symbol that appears in reel 3.  
Multiplier:  The Pearl symbol is appearing on the middle reel. It will increase a participating payout by a multiplier up to 5x the prize.
Free Games:  Earn 8 Free Games when 3 or more scatters appear left to right. During the Free Games the card denomination symbols (A, K, Q, J, 10, 9) are removed, leaving only the high-yielding symbols on the reels.
Gold Coin Feature:  When this feature is triggered you will see 12 Gold Coins on the screen. Click on the coins to reveal the Chinese God Symbols (Mini, Minor, Major and Grand).  If you get four identical god symbols and you will be awarded the respective progressive jackpot. 

Progressive Jackpot:  There are 4 progressive jackpots: Mini, Minor, Major and Grand jackpot. To activate all 4 jackpots you have to play on max bet for your chosen denomination. You do so by clicking on all the golden symbols on the left side of the reels.
The exotic Plentiful Treasure has heaps of bonus features to keep you entertained at the edge of your seat for hours. 
And get ready to claim 100 Free Spins with your deposit of $35 or more!
Redeem Code: PLENTIFUL100
Terms:
Promo holds 30x roll over on spins winnings and no max cashout. Redeem 1x weekly. For details on your daily match bonus please visit the casino cashier.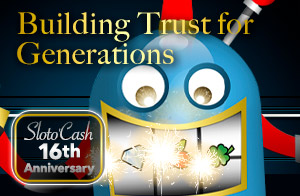 If you can't keep your hands off a slot machine, you need to learn how to treat it with respect. A slot machine is a whimsical lover; it can take you to the heights of ecstasy as quickly as to the pits of frustration.
Every slot player must learn basic rules and tips to make the most of every minute spent in the company of slot machines. Here are our suggestions for you when playing slot machines at Sloto'Cash or any other casino.
Max Bet Rule
It has been going as a rule of thumb that you must always play slots in Max Bet to get the best pay-back rates. This may be true in some land-based casinos, but Uptown Aces does not set independent pay-out rates per denomination. If a slot machine is set to pay at 95%, it will do so in every denomination allowed.
However, do note that some slots, especially 3-reel slots, have higher pay-table prizes when you play Max Bet. In this scenario, playing Max Bet is essential to get the best returns.
Play all Pay-lines
Slots allow you to select how many pay-lines you want to bet on. We recommend that you always play all paylines on any slot that has more than 3-paylines. This makes it easier to land winning combinations, especially in aligning special icons that will trigger the bonus features.
Pick your pay-out style
Are you someone that enjoys getting frequent wins or are you hunting for large prizes after long strenuous sessions? Identify what type of player you are and locate the slots that are ideal for you. Our games preview allows you to read whether the game has low, medium or high volatility. The lower volatility means that the game prefers to give small to medium prizes frequently. High volatility means the game will often go through dry patches only then to release higher jackpots.
When to stop playing
It is important to set a budget for every visit to the casino. Having a fixed amount to play with makes it easier for you to manage your money. If you want to play one evening with $30, you can set certain rules to your play. For example, to switch machines if you lose $10 of your original balance. This way you get to explore more games than if you keep playing carelessly without paying attention to you balance.
Every spin independent
Forget everything you have ever heard about how or when a slot machine will pay. Every spin is random and independent from the last. If a slot is tight after a few hundred spins, it doesn't mean it will loosen up. There is not a bullet-proof strategy that can help you beat a slot machine; you simply need pure luck: playing the right machine at the right time.
Exploit your comps
Be sure to be part of the Loyalty Program @ Sloto'Cash and play the slots with the highest comp point compensation. Ask the casino host for tips on which bonuses or slots have the highest comp rewarding scheme.
Entertainment value
Let's not forget that playing slots is all about entertainment. Modern slots have innovative bonus features that create suspense as you wait for the coming payout. Identify which bonus features you enjoy most in a slot machine. Is it Free Spins, Interactive Bonus Rounds, Expanding Wilds, Scatter Icons, Multipliers, or Collapsible Wilds? Once you have your list, go and find the slot games that offer those precise features and enjoy every minute.
Play with a 
400% Match Bonus + 40 Spins on Top!
Redeem Code: 400SLOTSTIPS
Offer requires a $50+ deposit and it holds 40x rollover + 10x on spins winnings. Valid for a limited time. Please check your inbox for details. Spins game: 777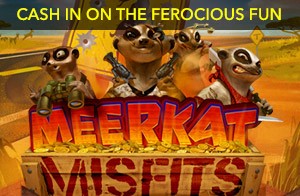 Meerkat Misfits is the hottest new game that just landed at Sloto'Cash. They may look cuddly, but they are vicious and ready to defend their territory. Fight alongside Scout, Hunter, Muscle, and Commander Meerkat to cash in on the ferocious fun!
So if you want to help them defend their turf, join them today and discover the exciting features of Meerkat Misfits:
Wild: When Scout, Hunter, Muscle, and Commander Meerkat appear, they will multiply your prizes by x1, x2, x3, and x4, respectively.
Free Games Trigger: When three or more Scatter symbols appear, it will trigger the Free Games with Stages feature.
Free Games with Stages: Progress through four different stages when you trigger this feature. In the first stage, you get 7 free games with all wilds adding a x1 multiplier. The second stage gives 8 free games with 2x multiplier, the third with 9 free games and x3 multiplier. The fourth stage ends with 10 free games and x4 multiplier.
Play it with a 150% Match Bonus + 50 FREE Spins on top!
RedeeM Code: MEERKAT150
The offer requires a $35+ deposit and it holds 30x rollover.
Subcategories