Latest Online Casino News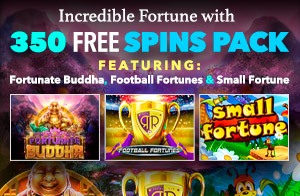 What does the Buddha, football and ants have in common? They are all going to bring you good fortune this month! Get ready to spin the reels of three exciting video slots: Fortunate Buddha, Football Fortunes and Small Fortunes!
We will award you a total of 350 Free Spins on these games. All three slots have Free Games Features, so your free spins can potentially multiply into many more!
Discover your fortune and redeem our sumptuous coupon codes below:
100% 1st Match Bonus + 50 Spins on top
Redeem Code: INCREDIBLE-1
Game: Football Fortunes

150% 2nd Match Bonus + 100 Spins on top
Redeem Code: INCREDIBLE-2
Game: Fortunate Buddha

Get after 200 Free Spins Reward
Redeem Code: INCREDIBLE-3
Game: Small Fortune
Promotions must be redeemed in order.
Get started with your $25+ deposit. All promos hold 30x rollover. Valid until June 15th.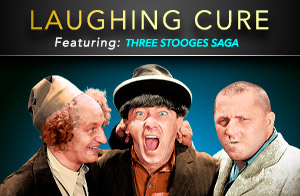 The Three Stooges are probably one of the funniest trios ever to appear on TV. In times where the world is struggling, there is no better remedy than a good laugh to set you in the right mood to face the day.

The beloved Stooges are masters in making us laugh. Here is one of our favorites quotes:
Ted: "What is this you're doing?"
Larry: "The elevator dance."
Ted: "Elevator dance?"
Larry: "Yeah, there are no steps to it."
They are sure funny but also profitable when you play our The Three Stooges signature slots that have fun features like Moe's Moolah and Larry's Stash!
Play with a 125% Match Bonus + 125 Spins on The Three Stooges II on top!
Redeem Code: EASYLAUGH
Enjoy it with your $25+ deposit. Promo holds 25x roll over ONLY + 5x on spins winnings.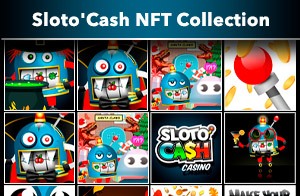 Collect our Seasonal NFTs to get Sloto'Cash Casino Gifts and Rewards!
Your Sloto'Cash experience will be abundantly enriched once you start collecting our exclusive Mr. Sloto NFTs. Not only do we expect our NFTs to increase in value over time, making your NFT collection a sort of investment portfolio that can bring you enormous profits some years down the line; we will also reward you every year for becoming one of our NFT collectors.

If you purchase one of our NFTs each season this year (spring, summer, autumn and winter), you are set to receive huge rewards come December:
$250 Sloto'Cash Casino Token
A gifted Limited Edition Xmas NFT
Entry to exclusive $10,000 BTC Tournament
Our NFTs are intentionally set at the lowest possible price so our valued customers like you can easily afford them. Collect your favorite NFT for only a few pennies and receive big rewards at the end of the year!
But hurry as we only release a limited amount of NFTs each season. Make sure you purchase your NFT before they are sold out!

Get your own Mr. Sloto NFT at our NFT 's Sloto Shop
Subcategories