New Games Blog

Are you ready to welcome the Hillbillies Cashola family to our selection of video slots? Roll out the red carpet and help us greet this new rich family with 33 Free Spins + a 100% Match on your next deposit!
With 5 reels and 20 paylines, this video slot game is packed with chances of you striking it big too! Win more with the help of free spins, multipliers, and even a progressive jackpot prize.
Expect to see all the members of the Cashola family on the reels, including Chase Billy Bob, Billy Bubba, and Billy Jo. Land all three of these good ol' folks and your payout will be multiplied times 20!
When you land at least two of the Hillbillies you'll be triggering the free spins round. If the characters appear during the free spins, you'll be claiming an extra eight spins, plus other special prizes!
Great graphics, outstanding prizes and tons of fun are waiting for you when you hit the spin button of Hillbillies Cashola! Start collecting riches immediately with 33 Free Spins + a 100% Match!

Redeem Coupon Code: 100CASHOLA33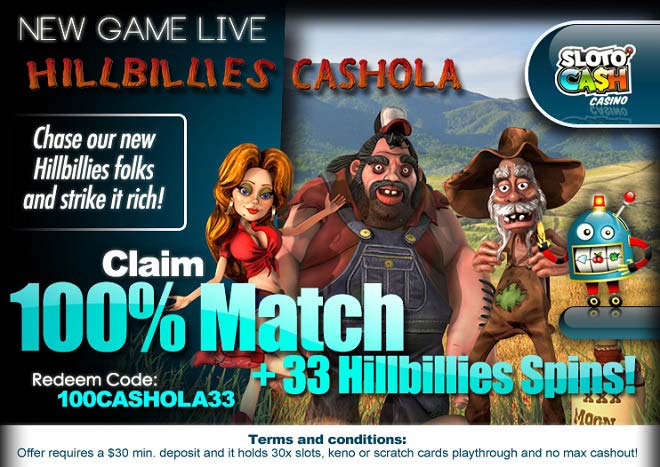 Arr, it's time to plunge into the dark waters of Ghost Ship – a new 25 and 5 reel online slot that will take you on an deep-sea adventure where you'll be spending time with a crew, that even though met their watery grave long ago, is still guarding their treasures! You and only you can uncover these gems!
Your thirst for adventure and treasure seeking thrives with symbols such as the Wild Ghost Captain that may fill the entire reel to create winning patterns. You'll also be gathering coins when you land the scatter Ghost Ship. When a Ghost Captain or Ghost Ship Scatter appear, Ghost Captains may fill the rest of the reel that they appear on.
In free games, Ghost Captains will always fill the reel they appear on! With 2 free games awarded for every Ghost Captain or Ghost Ship symbol appearing anywhere on the triggering game, you'll be amassing wins quickly!
Get ready to sail on through the rough seas of Ghost Ship and battling the crew over the hidden treasures found on this fantastic new slot with 20 Free Spins and a 100% Match +33 EXTRA Free spins* to be collected!

Yo ho ho mates, it's Ghost Ship time!
*Offers will be published on March 19th upon game release!

If you're a fan of playing exciting strategy-based card games such as Blackjack and you of course love to do it at Sloto'Cash, we'd like you to welcome a new and rewarding Blackjack side bet called Suit'Em Up and add a 100% Celebration Match bonus to your next deposit!
The Suit'Em Up side bet is easy to play and highly rewarding! This bet is based on your first two cards and the chance of drawing both of them in the same suit.
The pay out starts at any suited cards at 2-1 and will move up to 3-1 for a suited 11, 5-1 for a suited pair, 10-1 for a suited blackjack, and 60-1 for suited Aces!
Keep in mind that percentage of times you'll be drawing two cards of the same suit on the initial deal is pretty high and thusly, Suit'Em Up is one of the most popular and most rewarding side best you can make!
And it's especially rewarding when you claim our 100% Match to go along with your bet!
Redeem Code: SUITEMUP
PLAY NOW!