Mr. Sloto Presents
Mr. Sloto always surprises us with his wit, humor and endless promotions. Today he's here to share with us his latest collection of short jokes!


What do you have for us today Mr. Sloto?

What did the elephant say to the naked man?
"How do you breathe through that tiny thing?"

Great start Mr. Sloto, what's your second joke of the day?
A man goes to the zoo and the only animal there is one dog.
It is a shitzhu..

That got us thinking, haha! How about the last one Mr. Sloto?
A skeleton walks into a bar.
He orders a beer and a mop.

Good times are waiting for you at Sloto'Cash every week. Join us today for a big chance to win big at our games!


Deposit $25+ and get a
125% Easy-Win Match Bonus + 125 Spins on Top!
Redeem Code: MRSLOTO125
Offer holds 25x roll over + 5x on spins winnings. All deposit bonuses hold no max cashout. Game: Gemtopia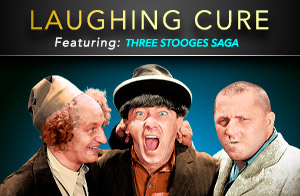 The Story behind The Three Stooges
As featured in Sloto Magazine
The Three Stooges has gone down in history as one of the longest-running and funniest entertainment productions of all time. The show ran for 50 years making it a hallmark comedy not only in the US but also in the rest of the world!
But how did it all start? 
The show started in 1922 and went through many transformations over the years. Even the name changed numerous times in the beginning. Did you know it was earlier called "Ted Healy and his Southern Gentlemen"?  Definitely not as catchy as the Three Stooges!
DID YOU KNOW? The Three Stooges were originally called Ted Healy and his Southern Gentlemen!
The show caught its recognized format in 1934 when the cast consisted of Moe, Larry, and Curly. Between 1935 and 1941, nearly every short film made by the stooges is acclaimed as a classic. But it was not only silly slapstick comedy. The Three Stooges got politically involved during World War II. While the US was still neutral, they aired an episode titled "You Natzy Spy!" which infuriated Hitler and his party, to the extent that Hitler put the three actors on his personal death wish list!
Guess what?! Hitler had a personal vendetta against Moe, Larry, and Curly
The show kept having changes in format and actors through the subsequent decades but ultimately ended when two of the main characters passed away in 1975. The legacy of the show is unchallenged, as it has inspired hundreds of comedians and actors throughout the years. 

Play our famous The Three Stooges slots saga and make the day even brighter with a jackpot won in your Sloto'Cash account!
125% Match Bonus + 125 Spins on top!
Redeem Monthly Code: EASYLAUGH
Spins winnings. Game: The Three Stooges II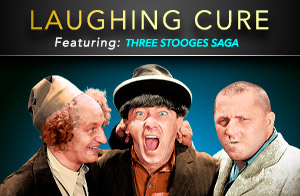 The Stooges Saga at Sloto'Cash 
As featured in Sloto Magazine 
Sloto'Cash is proud to have two official trademarks Three Stooges slot machines in our collection. You get to experience their timeless humor while hunting for big jackpots and great bonus features. 
The Three Stooges ® The Brideless Groom
In our slot you get tons of bonus features and real clips from the film that inspired the game. Here's what to look for in our trademark slot:
Wild Symbol: The Three Stooges symbol is a grouped wild and substitutes for all icons except scatters. 
Re-spins: When Moe, Harry or Shemp cover all of any of the middle 3 reels, 1 or 3 re-spins are granted! 
Stooge Picks Feature: The entire reels are filled with TV sets. Click on a combination of TVs to earn Free Spins and a Multiplier for the Free Spins!
Random Free Spins: The Lucky Stooge Spins may trigger at the end of any normal spin! Earn 9 or 33 Free Spins with tripled prizes!
This 3-reel slot is a bonus-packed classic. Featuring Moe, Larry and Curly and these irresistible features:
Wild Symbol: The Three Stooges II symbol is wild. Prizes a triple when 1 appears in a winning combination. Prizes are multiplied by 9 when two appear in a winning combo!
Curly's Cashola Feature: Earn 9 Free Games with doubled prizes!
Larry's Stash and Moe's Moolah Feature: Roll dice to earn prizes from the bonus ladder!
Progressive Jackpots and Win-Win Feature: This slot is complete with 3 progressive jackpots and a Win-Win feature to ensure regular bonus features are triggered!
Play our famous The Three Stooges slots saga and make the day even brighter with a jackpot won in your Sloto'Cash account! 
125% Match Bonus + 125 Spins on top!
Redeem Monthly Code: EASYLAUGH