Latest Online Casino News

As featured on Sloto Magazine
They say that gambling is as old as civilization itself. In its long history players and casino runners have come up with a lot of expressions regarding games or actions that are not common currency in our everyday language.

In this article you'll learn some of the most popular casino slang so you are ready next time you talk or chat with a gambling fanatic.
Action: The amount of money wagered (put into action) by a player during an entire playing session.  Example: How much action did you put into that slot machine today?
Bankroll: The total money a player has available for gambling. Example: After winning that jackpot, I doubled my bankroll.
Casino advantage (also House Edge): The advantage (often represented by a percentage) that the casino has over a player. Example: Blackjack has a casino advantage of 0.05%.
Deuce: The number two in dice or cards. Example: Deuces are wild in this video poker machine.
Expected Win Rate (also Return to player, Pay-back or Pay-out percentage): The total amount (often a percentage) that you are expected to win back in the long run. Example: This slot has 99% Win Rate, so you're likely to win $99 back of every $100 you wager this year.
Holding Your Own: Neither winning nor losing, breaking even. Example: I was able to hold my own after a week in Las Vegas.
Martingale: Betting system based on doubling-up after each loss. Example: I always use the Martingale when playing Roulette.
Paint card (also Face card): In poker or card games, Jack, Queen, and King cards. Example: I need a paint card to complete my Blackjack hand!
Snake Eyes: In Craps, when you roll a two, because the two dice look like eyes and they are bad news for the shooter. Example: I shot 3 Snake Eyes in a row, I need a break!

Whale: A high-roller player that makes very large bets. Example: This table is for whales only, minimum bet $100

As featured on Sloto Magazine

Complimentary (comp) points are a traditional way for casinos to reward their players. You get comp points for your wagers on casino games. Those points can later be converted into cash or used to redeem prizes and gifts.

At Sloto'Cash you begin earning comp points automatically. It couldn't be simpler. You don't have to sign up to a special loyalty program as land-based casinos require you to do; only then to receive a reward card that you must present at every table  or slot you visit. At Sloto'Cash the comps are generated as you play from day one.
Comp points are essential for you to get more play-time and bigger chances of winning at casino games.
How to use your comps?

Visit the Sloto'Cash cashier and open the "My account" tab. Click on "Comp Points" to see how many comps you have. For every 100 comps you can get $1. You are welcome to redeem as many points as you'd like every time.
How to get more comps?

If you want to generate comps at a higher rate, then you can apply to our VIP Program. VIPs get comps at a higher rate on most Sloto'Cash games.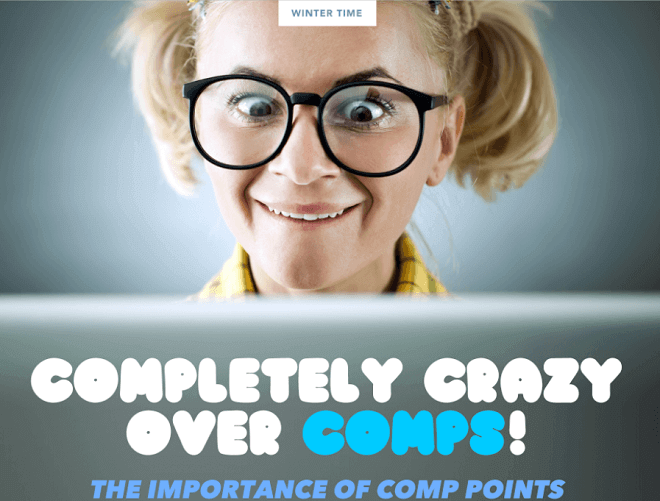 We all need balance in our lives to get the wheels turning. Luckily for us, the Sun and Moon help us find it in combination with the five elements: Metal, Fire, Water, Earth and Wood! Time for you to become the God of the Elements when you play the new Tian Di Yuan Su video slot with a 111% Match plus 33 Free Spins!
The 5 reels and 30 paylines of Gods of Nature (Tian Di Yuan Su) features the Scatter Spirit of the Moon symbol that triggers the Free Spins round where up to 8 free spins with doubled prizes are up for grabs. When the Wild Sun Spirit appears you'll get a chance to double all your winning combinations that include a Wild. During the free spins round land 3, 4 or 5 more Scatters and win up to 33 free spins with up to a 15x multiplier.
Learn to master the five elements and find the perfect balance to collect the biggest wins yet when playing the powerful Tian Di Yuan Su!
Play it with a 111% Match + 33 Free Spins
Redeem Code: 111NATURE33
Terms:
Offer requires a $25 min. deposit and it holds 30x slots or keno and no max cashout.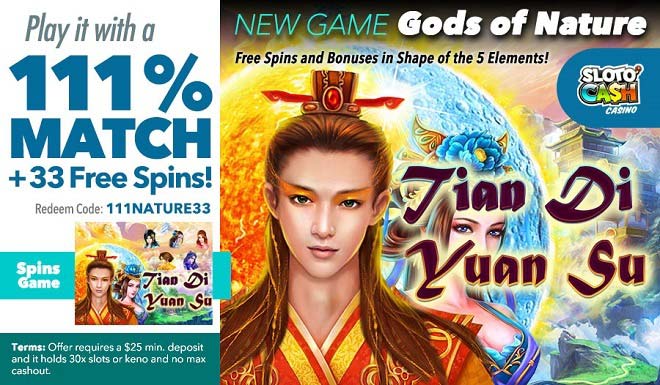 Subcategories