Latest Online Casino News
Just when you thought things couldn't get any better or bigger, out comes Mr. Sloto with a bang to kick start 2019 and bonuses plus Free Cash larger than we've ever seen before.
Things aren't just bigger in Texas – but also in the New Year and your chance to collect more wins with a 119% 1st Bonus, a 2nd Bonus of 219% and a Special Free Gift of $119!
Say goodbye to the year gone and welcome 2019 in a bigger, larger than life style when you deposit as low as $25!
Start with 119% 1st Bonus
Redeem Code: 2019BONUS-1
Continue with a 219% 2nd Bonus
Redeem Code: 2019BONUS-2
Get Your $119 New Year's Gift!
Redeem Code: 2019FREECHIP
Terms:
Deposit offers require a $25. minimum deposit and they hold 30x slots or keno playthrough and no max cashout. Free Chip holds 40x roll over on slots or keno and $500 max cashout. Promotions must be redeemed in order! Valid until January 31st!

A short history of Santa Claus
As featured on Sloto Magazine
The portly jolly white-bearded man known today as Santa Claus has evolved in very interesting ways throughout history. Today we can find him in most shopping centers around Xmas time. A few hundred years ago, you'll be lucky to find an old portrait in a cathedral of the man that inspired the modern day Santa Claus.

It starts with St. Nicholas of Myra, a bishop that lived in the 4th century AD in the Byzantine Empire in modern day Turkey. He was renowned for gift-giving and for leaving gifts in stockings. He was honored in Britain as the Father of Christmas.
The Dutch, on the other hand, based their legendary figure Sinterklaas on St. Nicholas and made him the patron of children. Sinterklaas was often depicted with a long white beard and a red cape over his bishop attire.
Did you know the Santa Claus you know was born in 1823?
The Santa Claus we know today started to emerge in the 19th century. A famous American Professor, Clement Clarke Moore, published in 1823 a Christmas poem titled A Visit from St. Nicholas or, better known as, The Night before Christmas.
With this poem he nearly single-handedly created the modern American vision of Santa Claus. He made Santa an elf rather than a priest, gave him a fur coat and a pipe! On his back he carried a sack full of toys for the children. Moore also gave him a sleigh and 8 reindeer that could fly, each with their own name.
Here enters Thomas Nast, a caricaturist from New York. He published a series of Christmas cartoons in Harper's Weekly (a leading magazine of that time). Nast transformed Moore's Santa elf by making taller. He gave him a home in the North Pole and made him read a Naughty or Nice list.
Today Santa Claus is a recognizable figure worldwide, part and parcel of the Christmas tradition.

Want to see if you made the Nice List this year? Play our The Nice List to get your Xmas jackpots!
200 XMAS WARM UP FREE SPINS!

Deposit $35 get 200 Spins on Top!!
Coupon Code: SANTAS200WARMUP

Terms:
Spins winnings hold 35x slots or keno roll over and NO Max Cashout. Game: The Nice List
Valid: Until December 23rd

As featured on Sloto Magazine

We've looked through hundreds of gift ideas to boil it down to some essentials you might want to get for you or your dear ones. Have a look at these state-of-the-art gifts that are practical, useful and simply too cool to ignore!

 Bluetooth Tracking Tag
There can't be anything more annoying than not finding your keys (or your tablet, or purse!). With this small Bluetooth tag made with real rosewood, you can easily track your belongings with an App on your phone.

Where to buy: uncommongoods.com
Price: $40

Echo Dot Speaker

Amazon has produced a sleek-looking and practical speaker that is powered by Alexa. What is Alexa? It is Amazon's voice recognizing technology that is now in millions of devices. This speaker will recognize your voice and follow your commands, whether it is to play your favorite playlist on Spotify, set a timer for pasta, or even to control lights and temperature in your home.

Small, elegant and affordable, Echo Dot makes a great gift for the tech-savvy.

Where to buy: Amazon.com
Price: $50


Eufy Lumos Smart Bulb
Here is another Alexa controlled device. A light bulb that will turn on when you ask it to. But it is much more than just that. It is also a multi-color light bulb that you can control from your smartphone. Change the light's color, intensity and even program the light to turn on/off at certain times of the day
Where you buy: Amazon.com
Price: $35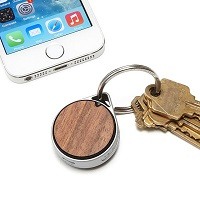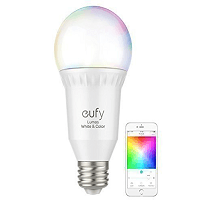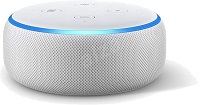 Subcategories