Latest Online Casino News
The future of Digital Payment solutions>
Some financial experts have made the forecast that in ten years' time many societies around the world will be operating without cash. Say goodbye to banknotes and coins, soon enough stores will display signs indicating that they will only accept contactless cards or mobile payment methods.

This has worried some but the trend is quite indisputable: a report from 2018 shows the projected decrease of cash payments over the next 4 years.
Chart by MerchantSavvy.co.uk | Data Source: Worldpay's 2018 Global Payment Report
What is interesting to note is that while cash payments are in a steady decline, there is an equally abrupt upward change with Mobile Payments. This is due to the rapid expansion of the Internet to all sectors of public and private life. In addition, new payment solutions are developed every year which compete with both cash and bank cards.
[DID YOU KNOW? In China, 525.1 million people now use mobile payments rather than cash!]
Countries like China are seeing a boom in Mobile Payments. Phone applications such as WeChat or Alipay allow the Chinese to pay with their phones in almost all shops and stores in their country.
In Denmark, a growing number of stores and restaurants allow you to pay by scanning a QR code with an app in your phone, allowing them to instantly deduct the funds from their bank account. Naturally, this is a concern for many: while cash also has its risks, contactless cards and mobile applications can easily be abused by thieves and fraudsters.
If the trend continues, governments may decide to stop printing and coining money in the near future. Many experts have voiced concerns against such a move, and financial experts usually address two sensitive topics if we choose to move to a cashless society.
First, the security of digital payment solutions is not as rigid as one would like it to be; a hacker can potentially drain the bank accounts of tens of thousands of users. The second point often addressed is that rural areas and economically poor regions will face an unfair disadvantage, as they don't necessarily have the means to own mobile phones or even open bank accounts.
The world is currently geared for rapid change and we have to be ready to adapt quickly to the new trends. Will a cashless society be the next step in the evolution of human civilization?
Play with a 125% Match + 25 Cash Bandits Free Spins on top!
Redeem Code: CASHLESS125
Terms:
Offer requires a $25 Min. Deposit and it holds 25x roll over ONLY!
You know you've got it inside you: the need to become the next god or goddess of the Sloto reels! From now and until October 15th, you're invited to fight for wins when you meet the most feared deities of the slots with two bonuses and 350 Free Spins!
First, you'll be fighting the Storm Lords with a 100% 1st Bonus + 50 Free Spins. Things will get even more heated as you make your way to the second round where you claim massive wins by beating the Ninja Star with a 150% 2nd Bonus + 100 Spins.
The fight only gets better when you become victorious against the Slots Gods in Asgard with a 200 Free Spins Reward!
Start your epic journey with
100% 1st Bonus + 50 Free Spins
Redeem Code: SLOTSGODS-1
Free Spins Game: Storm Lords
Make it to the next round to play with
150% 2nd Bonus + 100 Spins
Redeem Code: SLOTSGODS-2
Free Spins Game: Ninja Star
Reach the Slots Gods with
200 Free Spins Reward!
Redeem Code: 200SLOTSGODS
Free Spins Game: Asgard
Terms:
Deposit bonuses require a $25 minimum deposit and they hold 30x slots or keno playthrough and no max cashout. 200SLOTSGODS coupon winnings hold $500 max cashout. Promo codes must be redeemed in order. Offers expire on October 15th.

Day by day, 5G cellular network technology makes its way to surface with more features and tech releases being reported on the news. For example, China's commercial 5G network will be deployed on the high-speed rail link between Guangzhou and Shenzhen to Hong Kong, a line that stretches 142 km.
5G technology allows users to experience mobile data speeds up to 100 times faster than what the current 4G networks provide. It also offers a reduced latency, energy saving, cost reductions and a higher system capacity for the ever-growing number of internet plans subscribers. Artificial intelligence and cloud computing-backed applications will also be able to run on the 5G network coverage, which will improve system security and unlock new applications across different industries.
When 5G mobile services start to roll out for next year, cities will be able to support more technological advances and become even smarter, raising the full potential of what the internet of things can achieve.
On April 3 2019, South Korea became the first country to adopt 5G, and soon the United States followed. But only a handful of devices are currently out in the market that are compatible with this technology: In the US Motorola's 5G Moto Mod, in the UK are the Samsung Galaxy S10 5G, Oppo Reno 5G, OnePlus 7 Pro 5G, Xiaomi Mi Mix 3 5G, Huawei Mate 20 X 5G, and the LG V50 ThinQ 5G, and in Australia the Oppo Reno 5G, the LG V50 ThinkQ 5G and the Samsung Galaxy S10 5G are available.
The superfast 5G wireless technology promises a lot and we can almost feel it at out fingertips. Soon, we'll all be enjoying crazy stuff like mobile virtual reality, telemedicine and so much more.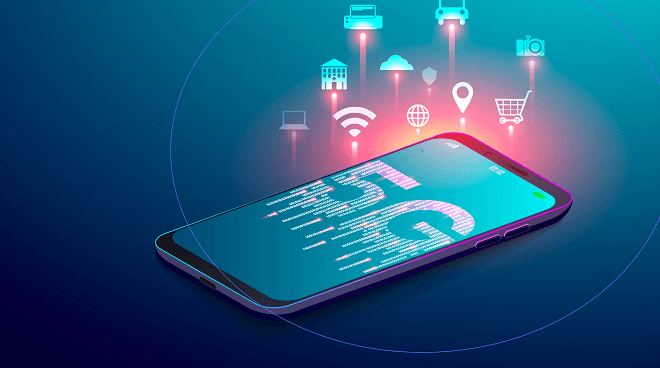 Subcategories